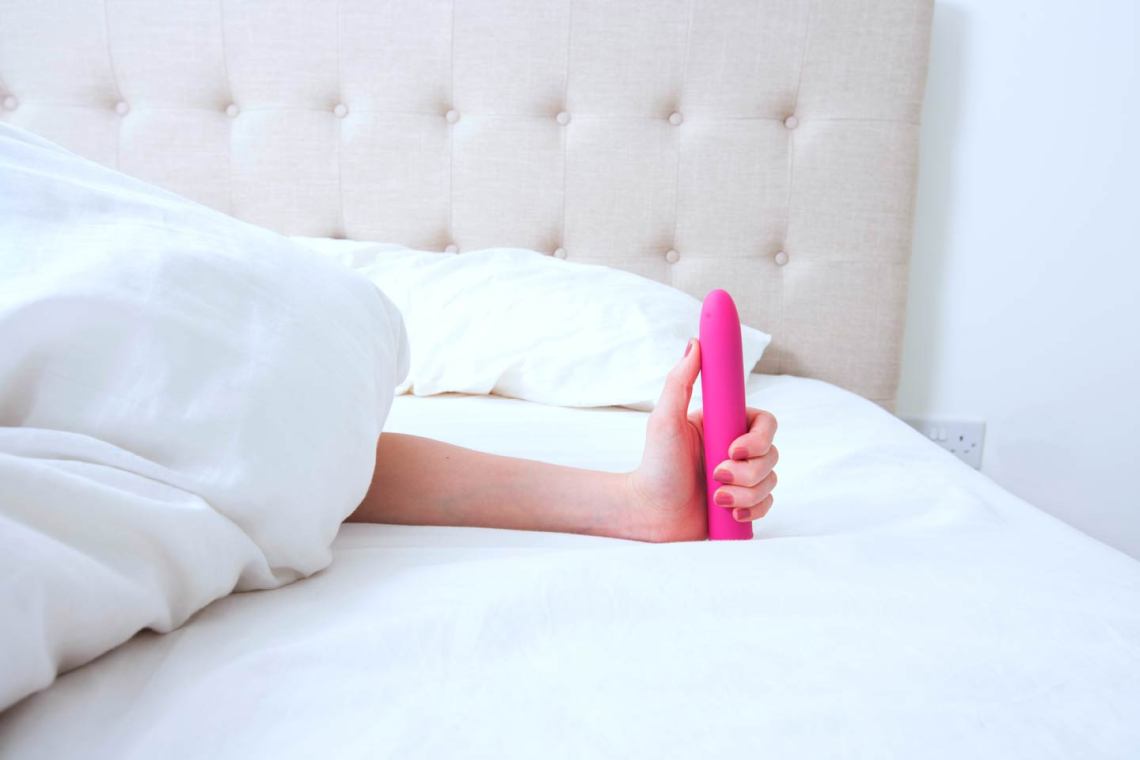 1. GOOD FOR YOUR HEALTH
Research has shown that women who use vibrators are more likely to visit the gynecologist for checkups, to achieve orgasm with or without a vibrator, and to have lower stress levels and fewer headaches than women who don't use them. What's not to like? (source)

2. UM, WHERE DO YOU PUT IT?
One study revealed that a whoppin' 83.8% of female vibrator users preferred to employ the device for clitoral stimulation rather than vaginal insertion. But hey, you can put it anywhere you like! (source)

3. A $1 BILLION MARKET
One billion dollars' worth of vibrators are sold every year, accounting for a bigger market even than condoms. (source)

4. A VIBRATOR FOR EVERY NEED
No two vaginas (or anuses) are alike, which is why sex-toy technicians have bequeathed us with a wide, wonderful, throbbing world of vibrators from which to choose. Some types, such as the monstrously sized and monstrously popular Hitachi Magic Wand, are sold as "back massagers" and are intended strictly for clitoral stimulation. Others are shaped like penises and are made for vaginal insertion. Some are waterproof, enabling you to rub one out in the shower or hot tub. The "rabbit" (more on that later) is two-pronged, with the larger prong for vaginal insertion and the smaller one for clitoral stimulation. Some are shaped to stimulate the G-spot or prostate gland. There are even "smart" vibrators than can be programmed over the Internet to include different vibration patterns and music to your self-pleasuring sessions. (source)

5. CLEOPATRA'S ANGRY BEES
As legend has it, Cleopatra, the Queen of Egypt whose seductive powers culminated in the Roman Civil War, invented the hand-held vibrator by filling a hollowed gourd with angry bees and then pressing it against her nether regions. Hail to the Queen Bee! (source)

6. CURING "HYSTERIA"
Back in the Sexual Dark Ages before men realized that women have orgasms, females' pent-up sexual frustration was diagnosed as a medical condition called "hysteria." The cure? Originally, it was a visit to the doctor's office, where a woman would receive a "pelvic massage"—i.e., a handjob—until she had a "hysterical paroxysm," which is now called an orgasm. For eons, physicians used their own hands. But amid the industrial hubbub of the 1800s, inventors coughed up a dizzying area of giant steampunk contraptions designed to cure "hysteria"—some of them required two people to operate them, and a few were even steam-powered. (source)

7. THE FRENCH WIND-UP TOY (1734)
The first "modern" vibrator was a little hand-powered box invented in France and called le tremoussoir. You cranked it up like a music box, but instead of playing "Twinkle, Twinkle, Little Star," it gave you an orgasm. (source)

8. THE FIRST ELECTRIC VIBRATOR (1883)
In 1883, British doctor J. Mortimer Granville patented a forty-pound electromechanical monster that was the first modern "hysteria" cure powered by electricity. He quickly became the most popular doctor in England—among women, at least. (source)

9. THE FIRST HAND-HELD PERSONAL VIBRATOR (1902)
These "hysteria" cures became so popular that in 1902, Hamilton Beach patented the first handheld, electro-powered personal vibrator for home use. Vibrators were only the fifth electrical device in history to receive a patent—after the toaster, sewing machine, fan, and tea kettle. American women were using vibrators at home before they were using vacuum cleaners. (source)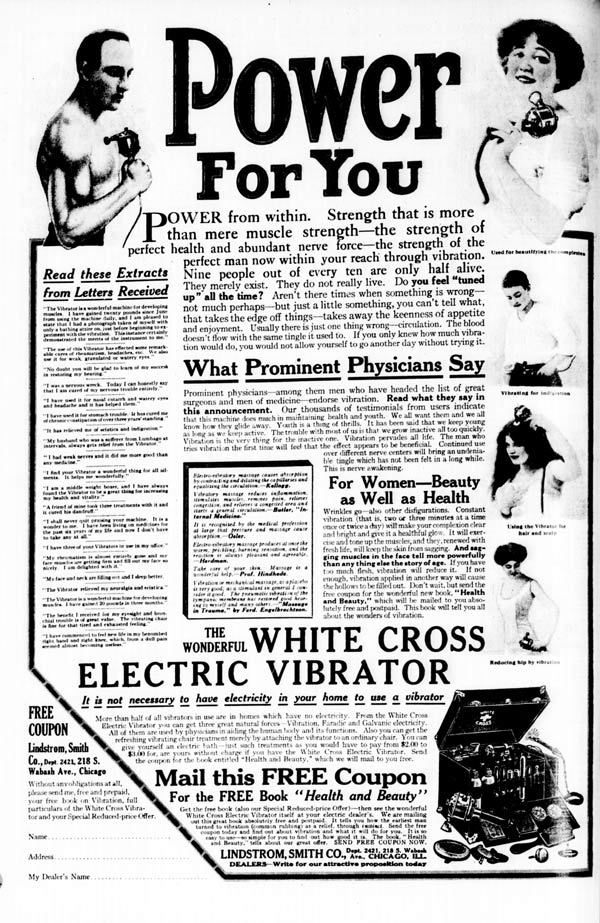 10. THE DARK AGES OF MODERN VIBRATORS
By the 1920s, it began slowly dawning on American men that their wives were using electrical vibrators at home for sexual gratification. That's how slow they were back then! This led to an outright ban on vibrators that lasted all the way until the late 1960s. The prohibition on alcohol, which started around the same time as the prohibition on vibrators, only lasted 11 years. But vibrators were banned for at least 40 years. Get your priorities straight, Americans! (source)

11. THE CORDLESS REVOLUTION
Amid the social tumult of the 1960s came the Sexual Revolution. One of the primary tools of this revolution, along with birth-control pills, was the cordless personal vibrator. In 1968, a patent was issued for a "Cordless Electric Vibrator for Use on the Human Body," and the buzzing has never stopped. (source)

12. LOUD VIBRATIONS FROM DOWN UNDER
You may think of New Zealand as Australia's homely little sister, but the Pacific island nation has the world's highest rate of vibrator ownership—38% of Kiwis own a vibrator. (source)

13. DON'T BELIEVE THE STEREOTYPE
Contrary to stereotypes that women use vibrators because they can't snag a living penis, one study showed that four out of every five female vibrator users was in a relationship. (source)

14. MOST MEN ARE NOT THREATENED BY THEM
Despite the popular notion that men experience severe castration anxiety and fear of mechanical cuckoldry whenever they see a vibrator, one study showed that seven out of ten men were absolutely A-OK with their lady friends using vibrators. (source)

15. VIBRATOR-INDUCED HOSPITAL VISITS
In 2014, a Kansas woman was rushed to the hospital because a tiny, pinkie-sized vibrator got caught in her urethra and managed to vibrate itself all the way up to her bladder. In 2013, a man live-tweeted his hospital visit for getting a vibrating dildo stuck up his rectum. (source1) (source2)

16. ALABAMA: NO VIBRATORS FOR YOU!
Alabama's Anti-Obscenity Enforcement Act bans the sale of "any device designed or marketed as useful for the stimulation of human genital organs." If you want to get a vibrator in Alabama, you'll need a doctor's note. (source)

17. MORE RELIGION = FEWER VIBRATORS
Religious belief is negatively correlated with vibrator ownership, but you probably already suspected that. (source)

18. SILLY RABBIT!
The two-pronged "rabbit" vibrator, made famous in an episode of Sex and the City, contains a phallic prong and a smaller prong that directly stimulates the clitoris. It was initially designed in Japan to look like a rabbit because of a Japanese law forbidding the sale of items that look like penises. According to some, it is now the world's biggest-selling sex toy. (source)
[youtube https://www.youtube.com/watch?v=o-RozcHd08k&w=854&h=480%5D

19. THE $55,000 VIBRATOR
The world's priciest sex toy is fashioned from white gold and is covered in 117 diamonds. The cost? A highly reasonable $55,000. (source)

20. MEET "BOB"
That's an acronym for "Battery-Operated Boyfriend." If you can come up with a cuter name for your vibrator, go for it! (source)