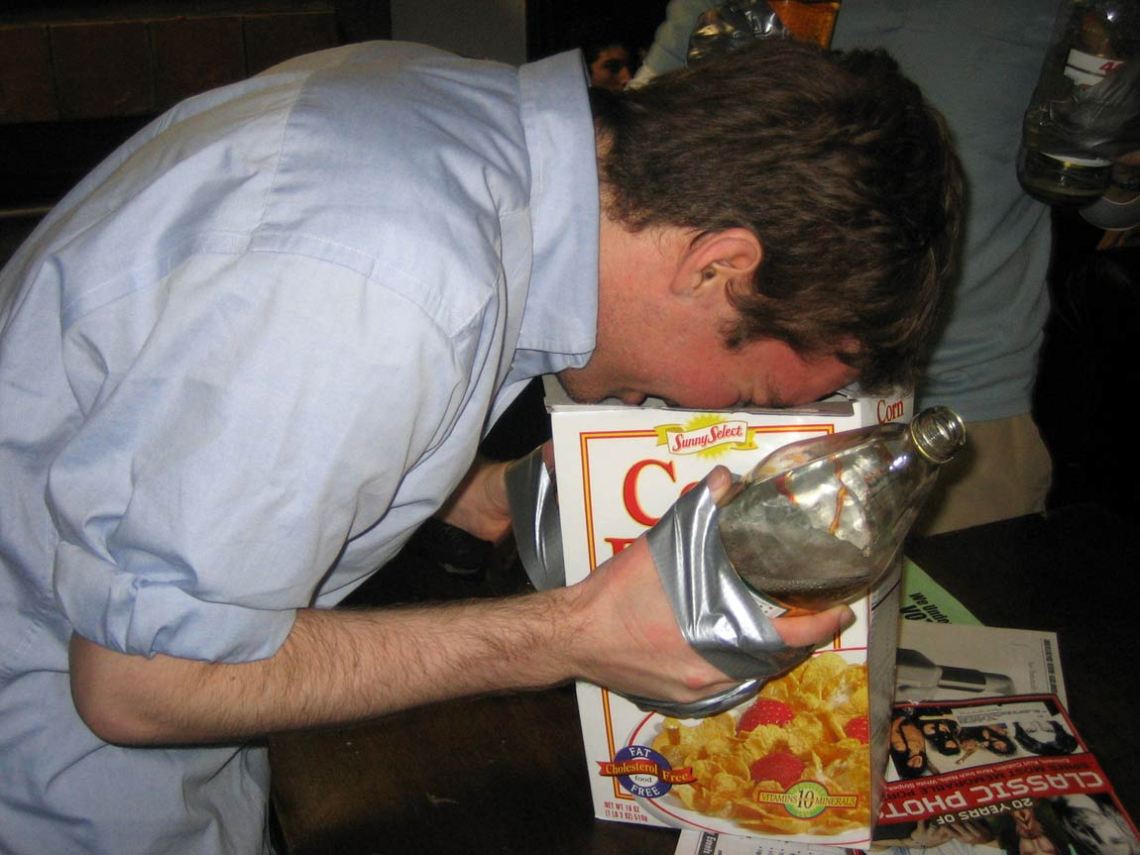 1. The Elephant Walk
This is like the Human Centipede, only it involves naked males and their thumbs, penises, anuses, and mouths. In one version, a male will suck his own thumb while planting his thumb up the anus of the male standing in front of him. Or he'll grab the penis of the male behind him. And then they'll all walk, either in a circle or a straight line. And there's absolutely nothing gay about any of it. (source)

2. Passing the Egg
A row of males lies on their backs. A group leader breaks a raw egg into the mouth of the male next to him, and so on. This proceeds until someone breaks the yolk, at which point that person is physically punished.
[youtube https://www.youtube.com/watch?v=QT9TgiPl-WM&w=854&h=480%5D

3. Swimming in Poop
During a 2012 hazing incident at Dartmouth College, a student says that pledges were forced to swim in a kiddie pool that was stuffed to the gills with human feces, rotten food, and huge stinking gobs of semen. (source)

4. Cocaine or Sex Toy?
The Hazing Prevention Center claims to have received an email describing a sorority practice where a naked female pledge either had to snort a line of cocaine or pleasure herself with a dildo while all her "sisters" gawked at her. (source)

5. Extreme Paddling
These incidents don't involve playful, faux-naughty spanking; they involve beatings so hard that they result in "blood clots, kidney damage, blood in urine…and death in many cases." In a recent New Jersey case, a female sorority pledge was struck over 200 times and wound up in the hospital. (source1) (source2)

6. Ass-Branding
It's not just for bulls! In one case, a member of Kappa Sigma at Texas Christian University had his frat's Greek symbols branded onto his ass using a hot coat hanger while he was passed out drunk. OUCH! (source)

7. H20verdose
Water is fundamental to life and is good for you—up until a certain point. But at California State University in Chico, one student who was forced to guzzle FIVE GALLONS of water died of brain swelling due to water intoxication. (source)

8. Alcohol Poisoning
There's a difference between drinking yourself under the table and drinking yourself six feet under. There have been several documented cases of fraternity pledges being forced to swill so much rotgut liquor, they died of alcohol poisoning. In one fatal case at Northern Illinois University, one student fell down dead after being forced to drink a whopping 40 ounces of vodka in 90 minutes. (source)

9. The Human Garbage Can
A woman named Britteny Starling says that during her hazing at the Zeta Phi sorority in Berkeley, she was forced to take garbage from other girls and carry it in her pockets. She also claims they forced her to mop up the floor using her back. (source)

10. Boob Ranking
Girls are forced to strip naked in a cold room, then stand in a line in order of their boob size. The group leader then mocks the girls with the smaller breasts. (source)

11. Walking Backwards Into the Ocean
In 2002, two girls in California who were being hazed for the Alpha Kappa Alpha fraternity were forced to perform hours of intense exercise, and then walk backwards into the ocean. Both of them drowned. (source)

12. Naked Jiggle Test
Nude girls sit on washing machines that are running, then their "judges" take a Sharpie and mark areas on their body that jiggled. (source)
13. Swallowing Raw Liver
In 1959 while pledging at Kappa Sigma at USC, a man named Richard Swanson was forced to swallow a chunk of raw liver described as "the size of a club sandwich." He choked to death. (source)

14. Snipe Hunting
Pledges are sent on wild goose chases to find things that don't exist, such as "brass magnets" and a "dough repair kit." (source)

15. Diapering
Men are forced to wear nothing but diapers in public or other humiliating accessories such as a dog collar and leash. (source)
16. Groveling
The would-be fraternity or sorority member is forced to beg, submit, fawn over, and obey their overseer. They may also have to prostrate themselves or even kiss their superior's body parts. (source)

17. Running the Gauntlet
The hapless masochist who isn't averse to surrendering every last shred of his or her individuality and dignity to join a group must run through that group and be kicked, punched, poked, and beaten. In 1885, a Pennsylvania student who "ran the gauntlet" died from kidney punches administered by his fraternity brethren. (source)

18. Stranded in the Wilderness
Pledges are driven off campus and far into the countryside, then dropped off and left to find their way back. Sometimes they're successful; other times they're struck dead by speeding vehicles, as were four men in three separate hazing incidents from 1950 and 1951. (source)

19. Wall-Slamming
You stand facing a concrete or brick wall so close that your nose touches it. If you so much as move, your face is smashed into the wall. (source)

20. Burning and Freezing
This ranges from tortures involving extreme heat (boiling water poured over one's back or being forced to hold hot coals in one's hand) to ones that employ extreme cold, such as being forced to stand in ice buckets until one loses sensation in their feet. (source1) (source2)