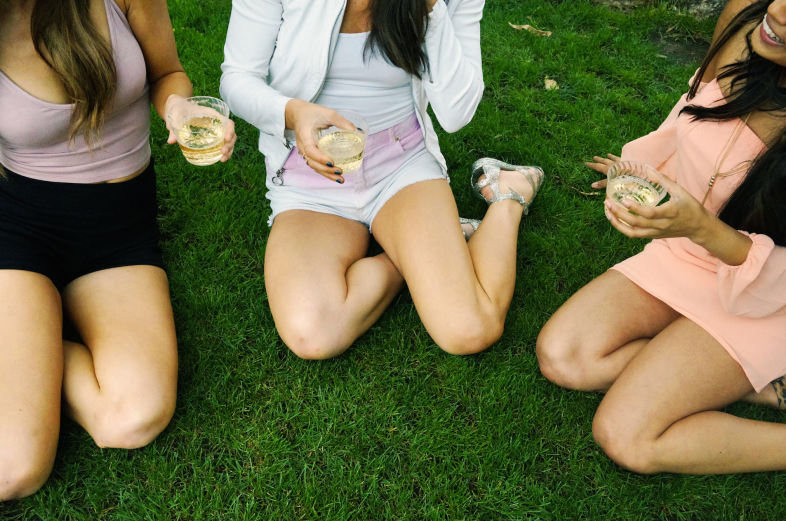 1. Maybe not surprisingly, but men are much better at giving blowjobs.
2. Female/35 here. One thing is obvious: it's much easier to reach orgasm with someone who has the same type of genitals as you, but whether that's a good thing, again, depends on the person.
3. Girls make their own lubricant. When having sex with guys, you always had to have lube.
4. The way girls kiss is staggeringly different from the way men kiss. I prefer to date men in terms of sexual compatibility, but Christ, are women better kissers. Women are softer and more responsive to physical cues, whereas men tend to be like, "This is what I've done before and no one ever said it sucked, so I'll keep doing it!" I am female, if that means anything to you.
5. One thing I noticed is that guys always want to sleep after sex, even if just for a little while. With girls you can like cuddle for a bit then go do whatever if it's the daytime. Also getting confused whose clothes is whose tends to not happen with people of the opposite gender.
6. I'm a lesbian and I see this happen a fair amount—downside is the "U-Haul lesbian" scenario where things move way too quickly, way too fast. I have had so many friends make these plans for the future within a month or so of dating, move in with each other after 6 weeks, etc., only to break up very shortly afterwards. The relationships between women seem pretty intense sometimes; it's like we instantly have to nest!
7. I'm a guy, and so far all I've done is a few dates with guys, and a lot more with women…women seem to care more about me being bisexual than guys do. Guys treat me just the same, but women say it makes me more attractive.
8. Lesbian for 15 years, Bisexual for the last year. Generally speaking:
Dating women:
Soft kisses, soft hugs, soft everything.
Sex is more of a leisurely stroll through a park.
Way easier to fall in love. The intimacy is intense when you're both speaking the same emotional language.
Oddly enough, it's harder to have that first connection because women can be really passive and not show they're interested.
PMSx2 is just as fun as it sounds.
More defensive, less cooperative.
Dating men:
Hard kisses, hard hugs, hard everything.
Sex is more of a roller coaster.
Figuring out what a guy wants emotionally when even he doesn't want to admit/knows is nearly impossible without sabotaging the whole thing by seeming too "needy."
Figuring out what a guy wants physically is wonderfully easy.
Less defensive, more cooperative.
9. Okay, so I'm 21 years old, gay, and in a serious relationship with another man. Throughout my entire life I thought I was straight or at the very most bisexual….I've dated women and many men….I think for me, I wasn't really attracted to the femininity of women, but more to the masculinity of men….The best part about men is the body hair! I just love running my fingers through chest hair! It drives me crazy!
10. Female bisexual here!
One huge thing I notice is that during sex men watch me and with women I watch them. When I'm intimate with a man I can feel myself being studied. My face, my sounds, my movements. I like it, it's like someone's saving an image for later. When I'm intimate with a woman I do that with them. I memorize her breathing, I watch her face and I'm just in awe of her completely in her own world.
11. Women open up about serious things more quickly than men (with the exception of my current boyfriend). It's really refreshing because while there can be nervousness about talking about deep things, it's generally met more warmly. There is nothing more beautiful than a woman orgasming. It's like angels singing.
12. Men are better cuddlers, hands-down. Women are better kissers. In my experience, men are more dramatic in relationships. Women will talk issues out. Men will bottle it up and act like dicks until it's forced out. Women don't get weird when I insist on paying or going Dutch. Women care a lot more about having shaved nether bits. Men, not so much. Sex is passionate on both ends, but in different ways. Men have this whole "I need you now' thing going on, where women are much slower and use that time to tell you how much they love you. Neither is better or worse. Just different.
13. Having sex with a boy, at least to me, feels a little less romantic than being with a girl. Don't get me wrong, I love it and sometimes my SO whips out the strap-on, but it's never been on the same level for me.
14. Bi female who is a fairly "butch" person; Women love that butch shit, guys are fairly repelled by it and try to tone me down a lot.
Guys are terrible kissers.
Women have stinky vaginas.
Guys don't know how to finger for shit.
Women are usually cold fish and don't take a lot of initiative in bed.
Guys are usually super-aggressive in bed and don't really care about female pleasure.
Neither sex knows how to give oral to a female well.
15. Girls are crazy. Seriously, I tried to seriously date women for a few years and could not deal with the need for constant validation, attention, and compliments. Couldn't deal. Not being able to date a woman made me realize that perhaps I wasn't bisexual, just slutty.
16. Dated a girl for 2 years and then dated a guy for 2 and married him. Guys are way more fun to tease. Every little touch near their dick or on it gets great reactions. Teasing women is harder. You can't just start near the vagina. There's a whole ritual of little touches everywhere else first. Though girl kisses are soft and sweet. Also just soft in general. I feel more protected in a male embrace than a female one.
17. Male bisexual here….Sex is greatly different. I get a lot more blowjobs and rimjobs with men. Less "penetration sex." Anal sex has to be planned and well prepared. With women, sex would be a lot more spontaneous.
18. Male here; in my experience women don't put anywhere near as much effort into giving foreplay, and they expect to receive a lot more. I know why this is, but put some effort in!
19. Men may have a mess around them, but know where everything is in that mess. Women will keep an environment that is clean and tidy, but lose small things like keys or purses.
20. Men are harder. No, seriously. Women tend to be soft and squishy, and men tend to have less give. You could never tell just by looking, I mean they both seem to have the same amount of fat. But it's a huge and consistent difference. Definitely caught me off-guard.
21. Let me tell you what didn't surprise me. Everyone is crazy. No gender is crazier than the other. There are crazy bitches and crazy dickheads on both sides.