Here are actual quotes from the 3 biggest mass murders of the 20th century. Can you guess who said what?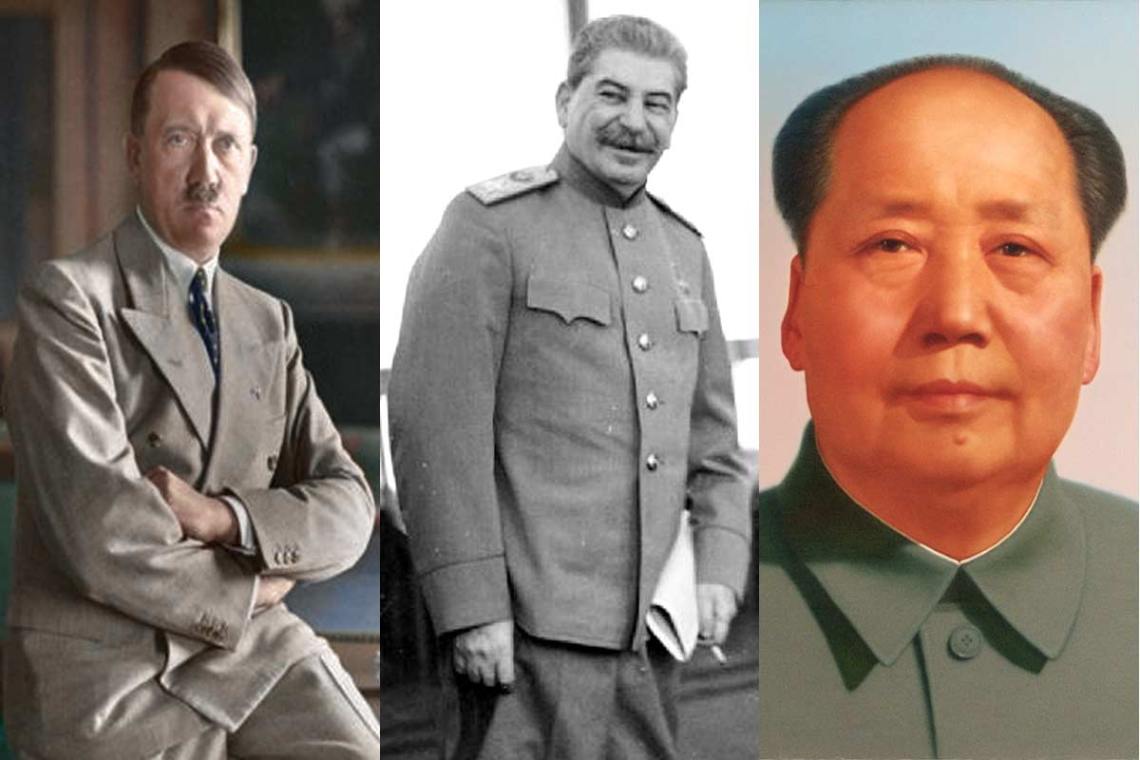 1.
If you win, you need not have to explain…If you lose, you should not be there to explain!
---
2.
Do not compare yourself to others. If you do so, you are insulting yourself.
---
3.
What luck for rulers that men do not think.
---
4.
Those who want to live, let them fight, and those who do not want to fight in this world of eternal struggle do not deserve to live.
---
5.
The man who has no sense of history, is like a man who has no ears or eyes.
---
6.
He alone, who owns the youth, gains the future.
---
7.
The victor will never be asked if he told the truth.
---
8.
To conquer a nation, first disarm its citizens.
---
9.
As in everything, nature is the best instructor.
---
10.
No politician should ever let himself be photographed in a bathing suit.
---
11.
A single death is a tragedy; a million deaths is a statistic.
---
12.
Those who vote decide nothing. Those who count the vote decide everything.
---
13.
Ideas are far more powerful than guns. We don't let our people have guns. Why should we let them have ideas?
---
14.
Education is a weapon, whose effect depends on who holds it in his hands and at whom it is aimed.
---
15.
Death is the solution to all problems. No man – no problem.
---
16.
I trust no one, not even myself.
---
17.
If the opposition disarms, well and good. If it refuses to disarm, we shall disarm it ourselves.
---
18.
The only real power comes out of a long rifle.
---
19.
I believe in one thing only, the power of human will.
---
20.
Gratitude is a sickness suffered by dogs.
---
21.
To read too many books is harmful.
---
22.
War can only be abolished through war, and in order to get rid of the gun it is necessary to take up the gun.
---
23.
It's always darkest before it becomes totally black.
---
24.
Firstly, do not fear hardship, and secondly, do not fear death.
---
25.
Political power grows out of the barrel of a gun.
---
26.
Passivity is fatal to us. Our goal is to make the enemy passive.
---
27.
Letting a hundred flowers blossom and a hundred schools of thought contend is the policy for promoting the progress of the arts and the sciences and a flourishing culture in our land.
---
28.
What we need is an enthusiastic but calm state of mind and intense but orderly work.
---
29.
Not to have a correct political point of view is like having no soul.
---
30.
If you have to shit, shit! If you have to fart, fart! You will feel much better for it.
---
---
ANSWERS: 1-10 are Adolf Hitler, 11-20 are Joseph Stalin, and 21-30 are Mao Zedong.