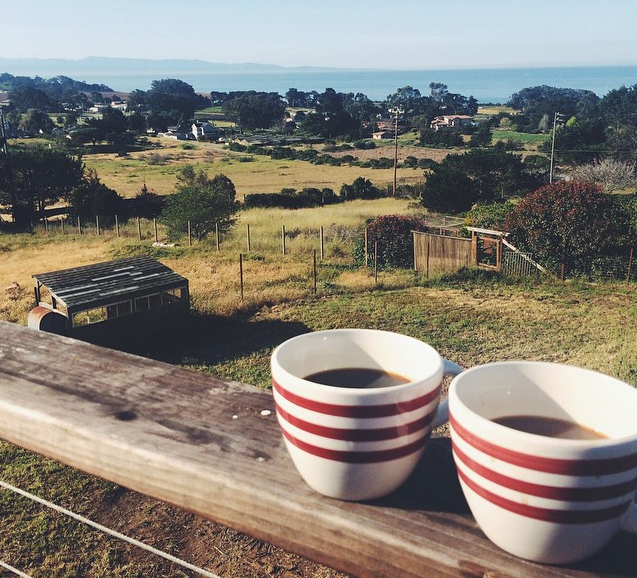 1.
Life's too short to drink crappy coffee and cry over boys who don't care.
—Matty Healy
---
2.
I think if I were a woman I'd wear coffee as a perfume.
—John Van Druten
---
3.
Sometimes, they just make coffee cups too small.
—Michelle M. Pillow
---
4.
Coffee and smoking are the last great addictions.
—Lara Flynn Boyle
---
5.
"I have only two wishes," said Jean. "The first is for strong coffee, and the second is for stronger coffee."
—Scott Lynch
---
6.
I gave up coffee. It's almost worse than giving up a lover.
—Sandra Bullock
---
7.
Coffee is a girl who never tells a boy no.
—Andrew Smith
---
8.
I like coffee because it gives me the illusion that I might be awake.
—Lewis Black
---
9.
I must get up. My coffee needs me.
—Anonymous
---
10.
Given enough coffee, I could rule the world.
—Anonymous
---
11.
Life is a beautiful and endless journey in search of the perfect cup.
—Barbara A. Daniels
---
12.
Pretending to drink coffee was similar to faking an orgasm.
—Darynda Jones
---
13.
I decide to turn to my old faithful solution to all that is wrong in life. Coffee.
—Lisa Renee Jones
---
14.
People don't stop eating, and they don't stop drinking coffee.
—Magic Johnson
---
15.
A silent yawn is a scream for coffee.
—T. Haque
---
16.
There were some problems only coffee and ice cream could fix.
—Amal El-Mohtar
---
17.
I don't know how people live without coffee, I really don't.
—Martha Quinn
---
18.
Water is the most essential element of life, because without it you can't make coffee.
—Anonymous
---
19.
I USED TO
make love.
Now I
Make coffee.
—Chocolate Waters
---
20.
Even bad coffee is better than no coffee at all.
—David Lynch
---
21.
I never said I liked coffee better than sex. I said I'd had it more.
—Kevin Sinnott
---
22.
As long as there was coffee in the world, how bad could things be?
—Cassandra Clare
---
23.
A morning without coffee is like sleep.
—Anonymous
---
24.
Some of the world's most effective thoughts happen over a brew of morning's coffee.
—Prabhukrishna M
---
25.
Coffee and humanity both sprang from the same area in eastern Africa. What if some of those early ape-men nibbled on the bright red berries? What if the resulting mental stimulation opened them up to a new way of looking at old problems, much as it did Europeans? Could this group of berry nibblers be the Missing Link, and that memory of the bright but bitter-tasting fruit be the archetype for the story of the Garden of Eden?
—Stewart Lee Allen
---
26.
I believe humans get a lot done, not because we're smart, but because we have thumbs so we can make coffee.
—Flash Rosenberg
---
27.
We want to do a lot of stuff; we're not in great shape. We didn't get a good night's sleep. We're a little depressed. Coffee solves all these problems in one delightful little cup.
—Jerry Seinfeld
---
28.
As soon as you sit down to a cup of hot coffee, your boss will ask you to do something which will last until the coffee is cold.
—Anonymous
---
29.
Presently the small of coffee began to fill the room. This was morning's hallowed moment. In such a fragrance the perversity of the world is forgotten, and the soul is inspired with faith in the future…
—Halldór Laxness
---
30.
I'd rather take coffee than compliments just now.
—Louisa May Alcott
---
31.
Sleep is a symptom of caffeine deprivation.
—Anonymous
---
32.
The influence of coffee in stimulating the genital organs is notorious.
—John Harvey Kellogg
---
33.
Right, Holden said. No coffee. This is a terrible, terrible planet.
—James S.A. Corey
---
34.
I hereby arm myself for today with coffee and the willingness to be wrong.
—Audrey Assad
---
35.
Decaffeinated coffee is the devil's blend.
—Anonymous
---
36.
Coffee was only a way of stealing time that should by rights belong to your slightly older self.
—Terry Pratchett
---
37.
I don't really like coffee, she said, but I don't really like it when my head hits my desk when I fall asleep either.
—Brian Andreas
---
38.
Coffee is a language in itself.
—Jackie Chan
---
39.
Chocolate, men, coffee—some things are better rich.
—Anonymous
---
40.
Coffee smells like freshly ground heaven.
—Jessi Lane Adams
---
41.
The coffee's done? I LOVE IT WHEN THE COFFEE'S DONE!
—Craig Benzine
---
42.
To me, the smell of fresh-made coffee is one of the greatest inventions.
—Hugh Jackman
---
43.
It rather goes without saying that Katherine drank her coffee black. Katherines do, generally. They like their coffee like they like their ex-boyfriends: bitter.
—John Green
---
44.
There's nothing sweeter than a cup of bitter coffee.
—Rian Aditiamar
---
45.
He liked the idea of coffee quite a lot—a warm drink that gave you energy and had been for centuries associated with sophisticates and intellectuals. But coffee itself tasted to him like caffeinated stomach bile.
—John Green
---
46.
Coffee was introduced to Europe only in 1615. The achievements of antiquity are quite enough to cow the modern human, but when you realize that they did it all without caffeine it becomes almost unbearable.
—Mark Forsyth
---
47.
Forever: Time it takes to brew the first pot of coffee in the morning.
—Anonymous
---
48.
On the eighth day God created coffee so that people like me could experience those seven other days.
—Anonymous
---
49.
I have measured out my life with coffee spoons.
—T. S. Eliot
---
50.
Coffee is a hug in a mug.
—Anonymous
---
51.
I had some dreams, they were clouds in my coffee.
—Carly Simon
---
52.
Decaf is like masturbating with an oven mitt!
—Robin Williams
---
53.
Coffee is far more than a beverage. It is an invitation to life, disguised as a cup of warm liquid. It's a trumpet wakeup call or a gentle rousing hand on your shoulder….Coffee is an experience, an offer, a rite of passage, a good excuse to get together.
—Nichole Johnson
---
54.
Hot coffee and cold winter mornings are two of the best soul mates who ever did find each other.
—Terri Guillemets
---
55.
Actually, this seems to be the basic need of the human heart in nearly every great crisis—a good hot cup of coffee.
—Alexander King
---
56.
It's amazing how the world begins to change through the eyes of a cup of coffee!
—Donna A. Favors
---
57.
I ordered a single espresso because I wanted a drink I could hook up with.
—Randy Kagan
---
58.
I like my coffee like my women: hot, strong, steamy.
—Anonymous
---
59.
No matter what historians claimed, BC really stood for "Before Coffee."
—Cherise Sinclair
---
60.
I never drink coffee at lunch. I find it keeps me awake for the afternoon.
—Ronald Reagan
---
61.
Retirement is one great big giant coffee break.
—Anonymous
---
62.
Taking away coffee from Americans is like taking away oil from the motors.
—M.F. Moonzajer
---
63.
Once you wake up and smell the coffee, it's hard to go back to sleep.
—Fran Drescher
---
64.
The voodoo priest and all his powers were as nothing compared to espresso, cappuccino, and mocha, which are stronger than all the religions of the world combined, and perhaps stronger than the human soul itself.
—Mark Helprin
---
65.
I just realized I'm not a morning person—I'm a coffee person.
—Anonymous
---
66.
A guy's gotta live, you know, gotta make his way and find his meaning in life and love, and to do that he needs coffee, he needs coffee and coffee and coffee.
—Libba Bray
---
67.
The coffee was so strong it snarled as it lurched out of the pot.
—Betty MacDonald
---
68.
It doesn't matter where you're from—or how you feel….There's always peace in a strong cup of coffee.
—Gabriel Bá
---
69.
If it wasn't for the coffee, I'd have no identifiable personality whatsover.
—David Letterman
---
70.
The morning cup of coffee has an exhilaration about it which the cheering influence of the afternoon or evening cup of tea cannot be expected to reproduce.
—Oliver Wendell Holmes Sr.
---
71.
Science may never come up with a better office communication system than the coffee break.
—Earl Wilson
---
72.
I don't know where my ideas come from. I will admit, however, that one key ingredient is caffeine. I get a couple cups of coffee into me and weird things just start to happen.
—Gary Larson
---
73.
If I asked for a cup of coffee, someone would search for the double meaning.
—Mae West
---
74.
Put the coffee on, bubbles, I'm coming home.
—Richard Brautigan
---
75.
I sipped my own coffee, heavy on the sugar and cream, trying to make up for the late work the night before. Caffeine and sugar, the two basic food groups.
—Laurell K. Hamilton
---
76.
I envy
the cup of coffee
that gets
to kiss
your sleepy lips
awake
every cold and
bitter morning.
—Sade Andria Zabala
---
77.
Our culture runs on coffee and gasoline, the first often tasting like the second.
—Edward Abbey
---
78.
The relationship between a perfect cup of coffee and a writer is just like the couple who always stand by and feel proud of being committed to each other.
—Himmilicious
---
79.
That's something that annoys the hell out of me'I mean if somebody says the coffee's all ready and it isn't.
—J. D. Salinger
---
80.
Coffee and chocolate—the inventor of mocha should be sainted.
—Cherise Sinclair
---
81.
I am a coffee fanatic. Once you go to proper coffee, you can't go back. You cannot go back.
—Hugh Laurie
---
82.
Sure some medical experts say coffee could be a health hazard, but they obviously never built a web site before!
—Geoff Blake
---
83.
I shall mention in passing just one example of a gift from the Arabs that I for one am rather grateful for: coffee—especially as it was originally banned in Europe as a "Muslim drink."
—Jim Al-Khalili
---
84.
Love is blind. Especially in the morning, because I can't see a damn thing before having coffee.
—Aleksandra Ninkovic
---
85.
What's a rainy day
without some delicious
coffee-flavored loneliness?
—Sanober Khan
---
86.
Almost all my middle-aged and elderly acquaintances, including me, feel about 25, unless we haven't had our coffee, in which case we feel 107.
—Martha Beck
---
87.
What doesn't KILL me makes me stronger….Except for the extinction of COFFEE… that might kill me.
—Tanya Masse
---
88.
I went out the kitchen to make coffee—yards of coffee. Rich, strong, bitter, boiling hot, ruthless, depraved. The lifeblood of tired men.
—Raymond Chandler
---
89.
Although oil is a commodity, it's still not a commodity like coffee, which, thank God, we will have with us always. At some point the oil will run out.
—James Surowiecki
---
90.
Never drink black coffee at lunch; it will keep you awake all afternoon.
—Jilly Cooper
---
91.
Coffee is not about having something to drink in cool weather, it's about having something to drink when you are not sleeping.
—Bobby Darnell
---
92.
I drink coffee. Without coffee, I probably couldn't write.
—Jonathan Ames
---
93.
No one can understand the truth until he drinks of coffee's frothy goodness.
—Sheik Abd-al-Kadir
---
94.
My workday begins around 11 A.M., with a cup of black coffee in each hand. If I had more hands, there would be more coffee.
—Aaron Levie
---
95.
Taste of coffee varies with the person on the other end of table.
—Anonymous
---
96.
It is surely easier to confess a murder over a cup of coffee than in front of a jury.
—Friedrich Durrenmatt
---
97.
The fresh smell of coffee soon wafted through the apartment, the smell that separates night from day.
—Haruki Murakami
---
98.
If this is decaf, I'm going to pour it on your head.
—Audrey Bell
---
99.
Drink your coffee, it clears out the brain in the morning.
—Sergei Lukyanenko
---
100.
Till such time that there are strong men in this world, a woman would prefer strong coffee!
—Manoj Vaz