1.
In the beginning, God created man, but seeing him so feeble, He gave him the cat.
—Warren Eckstein
---
2.
There is something about the presence of a cat…that seems to take the bite out of being alone.
—Louis J. Camuti
---
3.
The idea of calm exists in a sitting cat.
—Jules Renard
---
4.
God made the cat to give man the pleasure of stroking a tiger.
—Joseph Méry
---
5.
As every cat owner knows, nobody owns a cat.
—Ellen Perry Berkeley
---
6.
If cats could write history, their history would be mostly about cats.
—Eugen Weber
---
7.
If a cat spoke, it would say things like 'Hey, I don't see the problem here.'
—Roy Blount, Jr.
---
8.
If cats could talk, they wouldn't.
—Nan Porter
---
9.
If there were to be a universal sound depicting peace, I would surely vote for the purr.
—Barbara L. Diamond
---
10.
In ancient times cats were worshipped as gods; they have not forgotten this.
—Terry Pratchett
---
11.
A cat is only technically an animal, being divine.
—Robert Lynd
---
12.
No matter how much cats fight, there always seem to be plenty of kittens.
—Abraham Lincoln
---
13.
The purity of a person's heart can be quickly measured by how they regard cats.
—Anonymous
---
14.
If you are worthy of its affection, a cat will be your friend, but never your slave.
—Theophile Gautier
---
15.
One must love a cat on its own terms.
—Paul Gray
---
16.
One cat just leads to another.
—Ernest Hemingway
---
17.
Every life should have nine cats.
—Anonymous
---
18.
A cat is never vulgar.
—Carl Van Vechten
---
19.
It is impossible to keep a straight face in the presence of one or more kittens.
—Cynthia E. Varnado
---
20.
Cats were put into the world to disprove the dogma that all things were created to serve man.
—Paul Gray
---
21.
There are two means of refuge from the miseries of life: music and cats.
—Albert Schweitzer
---
22.
Who hath a better friend than a cat?
—William Hardwin
---
23.
A cat is nobody's fool.
—Heywood Brown
---
24.
The great charm of cats is their rampant egotism, their devil-may-care attitude toward responsibility, their disinclination to earn an honest dollar.
—Robertson Davies
---
25.
Essentially, you do not so much teach your cat as bribe him.
—Lynn Hollyn
---
26.
Who among us hasn't envied a cat's ability to ignore the cares of daily life and to relax completely?
—Karen Brademeyer
---
27.
Cats look beyond appearances—beyond species entirely, it seems—to peer into the heart.
—Barbara L. Diamond
---
28.
Cats have it all—admiration, an endless sleep, and company only when they want it.
—Rod McKuen
---
29.
The cat is the only animal which accepts the comforts but rejects the bondage of domesticity.
—Georges Louis Leclerc de Buffon
---
30.
It doesn't do to be sentimental about cats; the best ones don't respect you for it.
—Susan Howatch
---
31.
A cat is a puzzle for which there is no solution.
—Hazel Nicholson
---
32.
When a cat chooses to be friendly, it's a big deal, because a cat is picky.
—Mike Deupree
---
33.
An ordinary kitten will ask more questions than any five-year-old boy.
—Carl Van Vechten
---
34.
If you yell at a cat, you're the one who is making a fool of yourself.
—Unknown
---
35.
If I die before my cat, I want a little of my ashes put in his food so I can live inside him.
—Drew Barrymore
---
36.
There is, incidentally, no way of talking about cats that enables one to come off as a sane person.
—Dan Greenberg
---
37.
Cats know how to obtain food without labor, shelter without confinement, and love without penalties.
—Walter Lionel George
---
38.
A kitten is the most irresistible comedian in the world. Its wide-open eyes gleam with wonder and mirth. It darts madly at nothing at all, and then, as though suddenly checked in the pursuit, prances sideways on its hind legs with ridiculous agility and zeal.
—Agnes Repplier
---
39.
It is easy to understand why the rabble dislike cats. A cat is beautiful; it suggests ideas of luxury cleanliness, voluptuous pleasures.
—Charles Baudelaire
---
40.
The cat is such a perfect symbol of beauty and superiority that it seems scarcely possible for any true aesthete and civilized cynic to do other than worship it.
—H. P. Lovecraft
---
41.
Who would believe such pleasure from a wee ball o' fur?
—Irish Saying
---
42.
A cat never discusses his business with humans, not even Princesses. A cat never explains and never apologizes. A cat never alibis. You must accept a cat as it is and for what it is and not expect more than the pleasure of its company.
—Terry Brooks
---
43.
Those who'll play with cats must expect to be scratched.
—Miguel de Cervantes
---
44.
Most humans know better than to cross a wizard. A cat does not care.
—F. T. McKinstry
---
45.
You cannot look at a sleeping cat and feel tense.
—Jane Pauley
---
46.
When my cats aren't happy, I'm not happy. Not because I care about their mood but because I know they're just sitting there thinking up ways to get even.
—Percy Bysshe Shelley
---
47.
People that don't like cats haven't met the right one yet.
—Deborah A. Edwards
---
48.
Just watching my cats can make me happy.
—Paula Cole
---
49.
Cats conspire to keep us at arm's length.
—Frank Perkins
---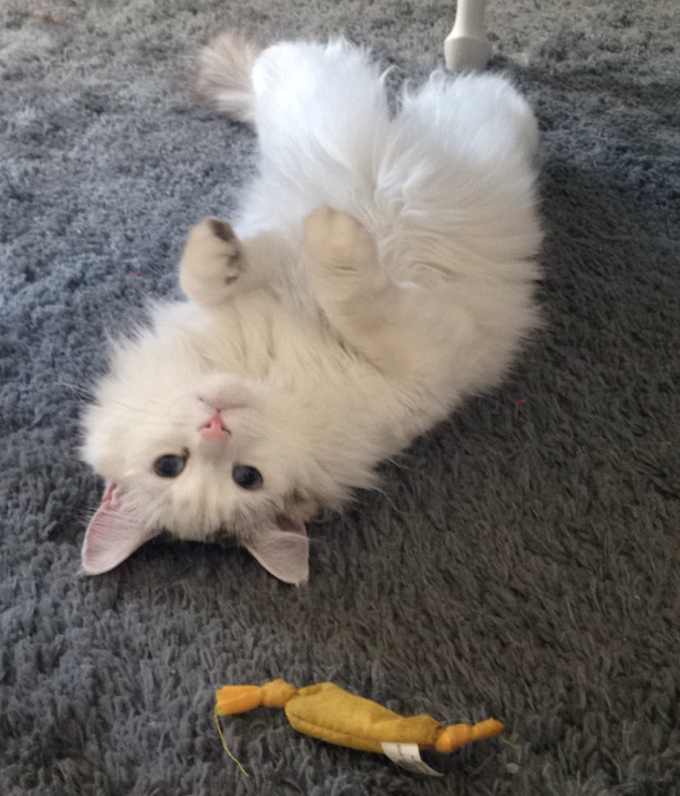 50.
Indeed, there is nothing on this earth more peaceful than a sleeping, purring cat.
—Jonathon Scott Payne
---
51.
I believe cats to be spirits come to earth. A cat, I am sure, could walk on a cloud without coming through.
—Jules Verne
---
52.
A cat isn't fussy—just so long as you remember he likes his milk in the shallow, rose-patterned saucer and his fish on the blue plate. From which he will take it, and eat it off the floor.
—Arthur Bridges
---
53.
Like a graceful vase, a cat, even when motionless, seems to flow.
—George F. Will
---
54.
People that hate cats will come back as mice in their next life.
—Faith Resnick
---
55.
Time spent with cats is never wasted.
—Sigmund Freud
---
56.
Cat hate reflects an ugly, stupid, loutish, bigoted spirit. There can be no compromise with this Ugly Spirit.
—William S. Burroughs
---
57.
The cat is domestic only as far as suits its own ends.
—Saki
---
58.
Some people say that cats are sneaky, evil, and cruel. True, and they have many other fine qualities as well.
—Missy Dizick
---
59.
My cat speaks sign language with her tail.
—Robert A. Stern
---
60.
The city of cats and the city of men exist one inside the other, but they are not the same city.
—Italo Calvino
---
61.
Cats rule the world.
—Jim Davis
---
62.
You will always be lucky if you know how to make friends with strange cats.
—Proverb
---
63.
Cats come and go without ever leaving.
—Martha Curtis
---
64.
I love cats because I enjoy my home; and little by little, they become its visible soul.
—Jean Cocteau
---
65.
The cat seldom interferes with other people's rights. His intelligence keeps him from doing many of the fool things that complicate life.
—Carl Van Vechten
---
66.
I wish I could write as mysterious as a cat.
—Edgar Allan Poe
---
67.
When a cat flatters…he is not insincere: you may safely take it for real kindness.
—Walter Savage Landor
---
68.
Cats are rather delicate creatures and they are subject to a good many different ailments, but I have never heard of one who suffered from insomnia.
—Joseph Wood Krutch
---
69.
Human beings are drawn to cats because they are all we are not—self-contained, elegant in everything they do, relaxed, assured, glad of company, yet still possessing secret lives.
—Pam Brown
---
70.
Cats don't like change without their consent.
—Roger Caras
---
71.
Cats have a scam going—you buy the food, they eat the food, they go away; that's the deal.
—Eddie Izzard
---
72.
I had been told that the training procedure with cats was difficult. It's not. Mine had me trained in two days.
—Bill Dana
---
73.
Cats seem to go on the principle that it never does any harm to ask for what you want.
—Joseph Wood Krutch
---
74.
when I am feeling
low
all i have to do is
watch my cats
and my
courage
returns
—Charles Bukowski
---
75.
I have lived with several Zen masters—all of them cats.
—Eckhart Tolle
---
76.
Five cats and a woman. That is all I need in life.
—Alejandro Jodorowsky
---
77.
I have studied many philosophers and many cats. The wisdom of cats is infinitely superior.
—Hippolyte Taine
---
78.
My cat is not insane, she's just a really good actress.
—P. C. Cast, Untamed
---
79.
Cats can work out mathematically the exact place to sit that will cause most inconvenience.
—Pam Brown
---
80.
A cat pours his body on the floor like water.
—William Lyon Phelps
---
81.
There's no need for a piece of sculpture in a home that has a cat.
—Wesley Bates
---
82.
Time spent with a cat is never wasted.
—Colette
---
83.
The cat is the only animal without visible means of support who still manages to find a living in the city.
—Carl van Vechten
---
84.
I read that when cats are cuddling and kneading you, and you think it's cute, they're really just checking your vitals for weak spots.
—Kandyse McClure
---
85.
The smallest feline is a masterpiece.
—Leonardo da Vinci
---
86.
If there is one spot of sun spilling onto the floor, a cat will find it and soak it up.
—J. A. McIntosh
---
87.
Kittens are born with their eyes shut. They open them in about six days, take a look around, then close them again for the better part of their lives.
—Stephen Baker
---
88.
When I play with my cat, who knows if I am not a pastime to her more than she is to me?
—Michel de Montaigne
---
89.
People say the Internet's made of cats. The reason isn't because of cats; it's because people like to have an emotion where they say 'aww' all at the same time.
—Jonah Peretti
---
90.
A cat is an example of sophistication minus civilization.
—Author Unknown
---
91.
The human race can be roughly divided into two categories: ailurophiles and ailurophobes—cat lovers and the underprivileged.
—David Taylor
---
92.
The reason cats climb is so that they can look down on almost every other animal—it's also the reason they hate birds.
—K. C. Buffington
---
93.
A cat can be trusted to purr when she is pleased, which is more than can be said for human beings.
—William Ralph Inge
---
94.
Cats are connoisseurs of comfort.
—James Herriot
---
95.
After scolding one's cat one looks into its face and is seized by the ugly suspicion that it understood every word. And has filed it for reference.
—Charlotte Gray
---
96.
Kind old ladies assure us that cats are often the best judges of character. A cat will always go to a good man, they say.
—Virginia Woolf
---
97.
The cat could very well be man's best friend but would never stoop to admitting it.
—Doug Larson
---
98.
All cat stories start with this statement: My mother, who was the first cat, told me this…
—Shirley Jackson
---
99.
There are few things in life more heartwarming than to be welcomed by a cat.
—Tay Hohoff
---
100.
If cats looked like frogs we'd realize what nasty, cruel little bastards they are. Style. That's what people remember.
—Terry Pratchett