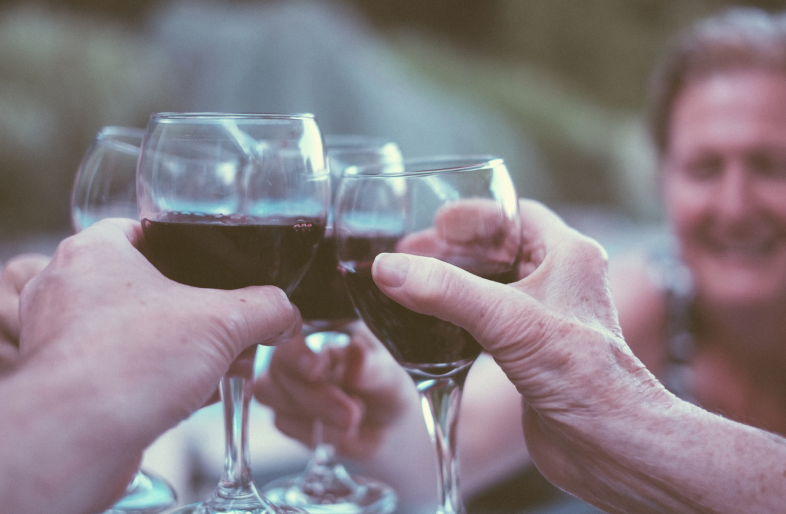 1.
Wine is to women as duct tape is to men, it fixes EVERYTHING!
—Tanya Masse
---
2.
A gourmet meal without a glass of wine just seems tragic to me somehow.
—Kathy Mattea
---
3.
The wine—it made her limbs loose and liquid, made her feel that a hummingbird had taken the place of her heart.
—Jodi Picoult
---
4.
Wine, like food, is so emotional. If you think about it, so much of the courting ritual is surrounded by wine and food. There's a built-in romance to wine.
—Padma Lakshmi
---
5.
I do love my wine. I'd opt to drink my calories rather than eat them every time, so I cut out the breads, potatoes, pastas, cheeses and desserts in an effort to get my healthy angel and unhealthy demon to compromise.
—Rachel Nichols
---
6.
Wine is for sharing. What's the fun of swirling, swishing, sloshing and yakking
if my friends can't join in?
—Jennifer Rosen
---
7.
I never taste the wine first in restaurants, I just ask the waiter to pour.
—Nigella Lawson
---
8.
I drink sherry and wine by myself because I like it and I get the sensuous feeling of indulgence…luxury, bliss, erotic-tinged.
—Sylvia Plath
---
9.
Wine is just a conversation waiting to happen.
—Jessica Altieri
---
10.
In wine, there's truth.
—Pliny the Elder
---
11.
A loaf of bread, a jug of wine, and thou.
—Omar Khayyam
---
12.
Who loves not women, wine and song remains a fool his whole life long.
—Unknown
---
13.
Either give me more wine or leave me alone.
—Rumi
---
14.
Wine is bottled poetry.
—Robert Louis Stevenson
---
15.
Wine. How classy people get wasted.
—Unknown
---
16.
Wine gives courage and makes men more apt for passion.
—Ovid
---
17.
Where there is no wine there is no love.
—Euripides
---
18.
A bottle of wine contains more philosophy than all the books in the world.
—Louis Pasteur
---
19.
Wine is constant proof that God loves us and loves to see us happy.
—Benjamin Franklin
---
20.
Wine is earth's answer to the sun.
—Margaret Fuller
---
21.
When there is plenty of wine, sorrow and worry take wing.
—Ovid
---
22.
To take wine into our mouths is to savor a droplet of the river of human history.
—Clifton Fadiman
---
23.
Wine makes all things possible.
—George R. R. Martin
---
24.
Wine makes every meal an occasion, every table more elegant, every day more civilized.
—Andre Simon
---
25.
His lips drink water, but his heart drinks wine.
—e. e. cummings
---
26.
Without bread and wine, love goes hungry.
—Latin Proverb
---
27.
I cook with wine; sometimes I even add it to the food.
—W. C. Fields
---
28.
The only way of rendering life endurable is to drink as much wine as one can come by.
—James Branch Cabell
---
29.
WINE! Because these problems aren't going to forget THEMSELVES!
—Tanya Masse
---
30.
Wine makes a symphony of a good meal.
—Fernande Garvin
---
31.
Wine cheers the sad, revives the old, inspires the young, makes weariness forget his toil.
—Lord Byron
---
32.
A man will be eloquent if you give him good wine.
—Ralph Waldo Emerson
---
33.
I shall drink no wine before it's time! OK, it's time.
—Groucho Marx
---
34.
Give me books, French wine, fruit, fine weather and a little music played out of doors by somebody I do not know.
—John Keats
---
35.
Wine gave a sort of gallantry to their own failure.
—F. Scott Fitzgerald
---
36.
I prefer my water in wine form.
—P. C. Cast
---
37.
Of all things known to mortals wine is the most powerful and effectual for exciting and inflaming the passions of mankind, being common fuel to them all.
—Francis Bacon
---
38.
The discovery of a wine is of greater moment than the discovery of a constellation. The universe is too full of stars.
—Benjamin Franklin
---
39.
Wine is sunlight, held together by water.
—Galileo
---
40.
Sorrow can be alleviated by good sleep, a bath and a glass of wine.
—Thomas Aquinas
---
41.
Beer is made by men, wine by God.
—Martin Luther
---
42.
Wine is the most healthful and most hygienic of beverages.
—Louis Pasteur
---
43.
We are all mortal until the first kiss and the second glass of wine.
—Eduardo Galeano
---
44.
Fan the sinking flame of hilarity with the wing of friendship; and pass the rosy wine.
—Charles Dickens
---
45.
Give me wine to wash me clean of the weather-stains of cares.
—Ralph Waldo Emerson
---
46.
Days of wine and roses laugh and run away, like a child at play.
—Johnny Mercer
---
47.
If we sip the wine, we find dreams coming upon us out of the imminent night.
—D. H. Lawrence
---
48.
Always carry a corkscrew and the wine shall provide itself.
—Basil Bunting
---
49.
Drink freely the wine life offers you and don't worry how much you spill.
—Marty Rubin
---
50.
The juice of the grape is the liquid quintessence of concentrated sunbeams.
—Thomas Love Peacock