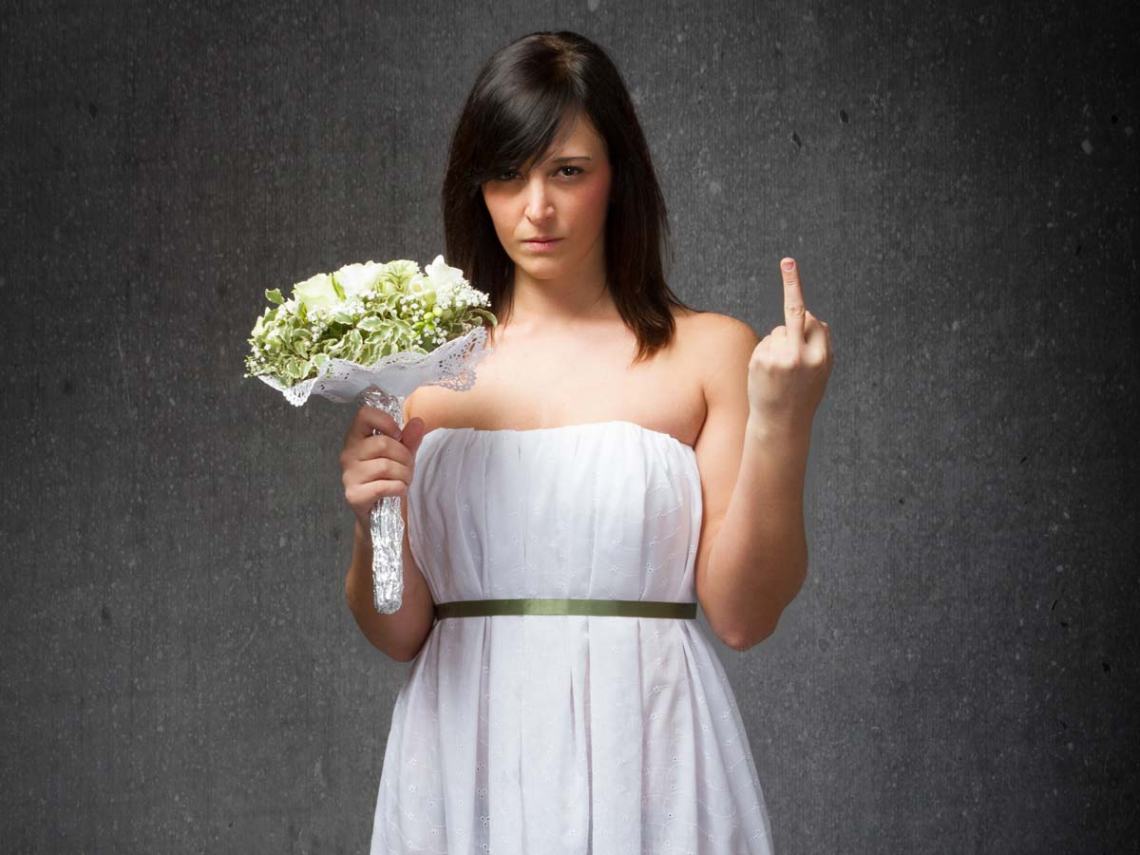 1.
I was married by a judge. I should have asked for a jury.
—Groucho Marx
---
2.
Marriage can be viewed as the waiting room for death.
—Mike Myers
---
3.
Marriage is the death of hope.
—Woody Allen
---
4.
I used to be married…but I'm much better now.
—Unknown
---
5.
Marriage is an exercise in torture.
—Frances Conroy
---
6.
Marriage is like putting your hand into a bag of snakes in the hope of pulling out an eel.
—Leonardo da Vinci
---
7.
Marriage is the tomb of love.
—Giacomo Casanova
---
8.
Marriage is give and take. You'd better give it to her or she'll take it anyway.
—Joey Adams
---
9.
Married men live longer than single men. But married men are a lot more willing to die.
—Johnny Carson
---
10.
A wedding is a funeral where you smell your own flowers.
—Eddie Cantor
---
11.
The secret of a happy marriage remains a secret.
—Henny Youngman
---
12.
When a man steals your wife, there is no better revenge than to let him keep her.
—Sacha Guitry
---
13.
A man in love is incomplete until he has married. Then he's finished.
—Zsa Zsa Gabor
---
14.
The music at a wedding procession always reminds me of the music of soldiers going into battle.
—Heinrich Heine
---
15.
Always get married in the morning. That way if it doesn't work out, you haven't wasted the whole day.
—Mickey Rooney
---
16.
Personally, I know nothing about sex, because I have always been married.
—Zsa Zsa Gabor
---
17.
Married life had taught him the futility of arguing with a female in a dark-brown mood.
—Isaac Asimov
---
18.
One should always be in love. That is the reason one should never marry.
—Oscar Wilde
---
19.
Most marriages don't add two people together. They subtract one from the other.
—Ian Fleming
---
20.
My wife and I were happy for twenty years. Then we met.
—Rodney Dangerfield
---
21.
Men marry women with the hope they will never change. Women marry men with the hope they will change. Invariably they are both disappointed.
—Albert Einstein
---
22.
I love being married. It's so great to find that one special person you want to annoy for the rest of your life.
—Rita Rudner
---
23.
The trouble with some women is that they get all excited about nothing – and then marry him.
—Cher
---
24.
A good marriage would be between a blind wife and a deaf husband.
—Michel de Montaigne
---
25.
Never marry at all, Dorian. Men marry because they are tired, women, because they are curious: both are disappointed.
—Oscar Wilde
---
26.
Some people claim that marriage interferes with romance. There's no doubt about it. Anytime you have a romance, your wife is bound to interfere.
—Groucho Marx
---
27.
There is nothing in the world like the devotion of a married woman. It is a thing no married man knows anything about.
—Oscar Wilde
---
28.
Do you know what it means to come home at night to a woman who'll give you a little love, a little affection, a little tenderness—It means you're in the wrong house, that's what it means.
—Henny Youngman
---
29.
Marriage is an attempt to solve problems together which you didn't even have when you were on your own.
—Eddie Cantor
---
30.
All men make mistakes, but married men find out about them sooner.
—Red Skelton
---
31.
My husband and I have never considered divorce…murder sometimes, but never divorce.
—Joyce Brothers
---
32.
Keep your eyes wide open before marriage, half shut afterwards.
—Benjamin Franklin
---
33.
Bigamy is having one wife too many. Monogamy is the same.
—Oscar Wilde
---
34.
If you want to sacrifice the admiration of many men for the criticism of one, go ahead, get married.
—Katharine Hepburn
---
35.
Marriage is not a process for prolonging the life of love, sir. It merely mummifies its corpse.
—P.  G. Wodehouse
---
36.
There's only one way to have a happy marriage and as soon as I learn what it is I'll get married again.
—Clint Eastwood
---
37.
They say all marriages are made in heaven, but so are thunder and lightning.
—Clint Eastwood
---
38.
Before marriage, a girl has to make love to a man to hold him. After marriage, she has to hold him to make love to him.
—Marilyn Monroe
---
39.
Marrying means to halve one's rights and double one's duties
—Arthur Schopenhauer
---
40.
Happiness in marriage is entirely a matter of chance.
—Jane Austen
---
41.
Marriage is the only adventure open to the cowardly.
—Voltaire
---
42.
A marriage of two independent and equally irritable intelligences seems to me reckless to the point of insanity.
—Dorothy L. Sayers
---
43.
Men have a much better time of it than women. For one thing, they marry later; for another thing, they die earlier.
—H. L. Mencken
---
44.
When a girl marries, she exchanges the attention of many men for the inattention of one.
—Helen Rowland
---
45.
Marriage is like a cage; one sees the birds outside desperate to get in, and those inside equally desperate to get out.
—Michel de Montaigne
---
46.
Loving the same man or woman all your life, why, that's like supposing the same candle could last you all your life
—Leo Tolstoy
---
47.
Marriage, n: the state or condition of a community consisting of a master, a mistress, and two slaves, making in all, two.
—Ambrose Bierce
---
48.
I learned that day that there is no more lonely state than being in a lonely marriage.
—Julie Metz
---
49.
…it seemed marriage by its very design was meant to seek out love and destroy it.
—Kelly O'Connor McNees
---
50.
Never get married in college; it's hard to get a start if a prospective employer finds you've already made one mistake.
—Elbert Hubbard
---
51.
In every marriage more than a week old there are grounds for divorce. The trick is to find and continue to find grounds for marriage.
—Robert Anderson
---
52.
Marriage is an adventure, like going to war.
—Gilbert K. Chesterton
---
53.
Marriage…the most advanced form of warfare in the modern world.
—Malcolm Bradbury
---
54.
Any intelligent woman who reads the marriage contract, and then goes into it, deserves all the consequences.
—Isadora Duncan
---
55.
And pray where in earth or heaven are there prudent marriages—Might as well talk about prudent suicides.
—G.K. Chesterton
---
56.
Many a man in love with a dimple makes the mistake of marrying the whole girl.
—Stephen Leacock
---
57.
Staying married may have long-term benefits. You can elicit much more sympathy from friends over a bad marriage than you ever can from a good divorce.
—P. J. O'Rourke
---
58.
Bachelors know more about women than married men; if they didn't they'd be married too.
—H. L. Mencken
---
59.
It doesn't much signify whom one marries, for one is sure to find out the next morning that it was someone else.
—Samuel Rogers
---
60.
I like getting married, but I don't like being married.
—Don Adams
---
61.
Marriage is like the Middle East, isn't it—there's no solution.
—Willy Russell
---
62.
Love: A temporary insanity curable by marriage.
—Ambrose Bierce
---
63.
To marry is to narrow one's possibilities horribly.
—Jude Morgan
---
64.
A husband is what is left of a lover, after the nerve has been extracted.
—Helen Rowland
---
65.
Better be a desperate single with many options than a desperate married with no option.
—Amen Muffler
---
66.
Instead of getting married again, I'm going to find a woman I don't like and give her a house.
—Lewis Grizzard
---
67.
Men marry women hoping they'll never change. Women marry men hoping they will.
—David Mitchell
---
68.
Marriage must incessantly contend with a monster that devours everything: familiarity.
—Honore de Balzac
---
69.
All in all, death is something like marriage.
—Louis-Ferdinand Céline
---
70.
Marriage is nature's way of keeping us from fighting with strangers.
—Alan King
---
71.
Death stands behind every bride, every groom.
—Catherynne M. Valente
---
72.
All marriages are happy. It's the living together afterward that causes all the trouble.
—Raymond Hull
---
73.
Marriage is a feast where the grace is sometimes better than the dinner.
—Charles Caleb Colton
---
74.
If you want to read about love and marriage, you've got to buy two separate books.
—Alan King
---
75.
Marriage is an alliance entered into by a man who can't sleep with the window shut, and a woman who can't sleep with the window open.
—George Bernard Shaw
---
76.
I support gay marriage. I believe they have a right to be as miserable as the rest of us.
—Kinky Friedman
---
77.
The one charm about marriage is that it makes a life of deception absolutely necessary for both parties.
—Oscar Wilde
---
78.
What is marriage but prostitution to one man instead of many?
—Angela Carter
---
79.
A marriage is no amusement but a solemn act, and generally a sad one.
—Queen Victoria
---
80.
Marriage is really tough because you have to deal with feelings… and lawyers.
—Richard Pryor
---
81.
Marriage destroyed my relationship with two wonderful men.
—Marilyn Monroe
---
82.
How marriage ruins a man! It is as demoralizing as cigarettes, and far more expensive.
—Oscar Wilde
---
83.
Marriage is like life—it is a field of battle, not a bed of roses.
—Robert Louis Stevenson
---
84.
After marriage, the other man's wife looks more beautiful.
—Navjot Singh Sidhu
---
85.
Divorce is probably of nearly the same date as marriage. I believe, however, that marriage is some weeks the more ancient.
—Voltaire
---
86.
Marriage: A friendship recognized by the police.
—Robert Louis Stevenson
---
87.
Marriage, a market which has nothing free but the entrance.
—Michel de Montaigne
---
88.
The secret to a long marriage is to stay gone.
—Dolly Parton
---
89.
The most happy marriage I can picture or imagine to myself would be the union of a deaf man to a blind woman.
—Samuel Taylor Coleridge
---
90.
It was a perfect marriage. She didn't want to and he couldn't.
—Spike Milligan
---
91.
Usually, the fairy tale ends with the girl marrying the prince. But mine started as soon as the marriage was over.
—Diane von Furstenberg
---
92.
If variety is the spice of life, marriage is the big can of leftover Spam.
—Johnny Carson
---
93.
The biggest reason for divorce is marriage.
—Gene Simmons
---
94.
There is no loneliness like that of a failed marriage.
—Alexander Theroux
---
95.
What is fascinating about marriage is why anyone wants to get married.
—Alain de Botton
---
96.
God invented concubinage, Satan marriage.
—Francis Picabia
---
97.
Marriage is like a bank account. You put it in, you take it out, you lose interest.
—Irwin Corey
---
98.
Marriage is like paying an endless visit in your worst clothes.
—J. B. Priestley
---
99.
Anything outside marriage seems like freedom and excitement.
—Jeanette Winterson
---
100.
I've had two terrific relationships, but both ended in marriage.
—Jane Seymour