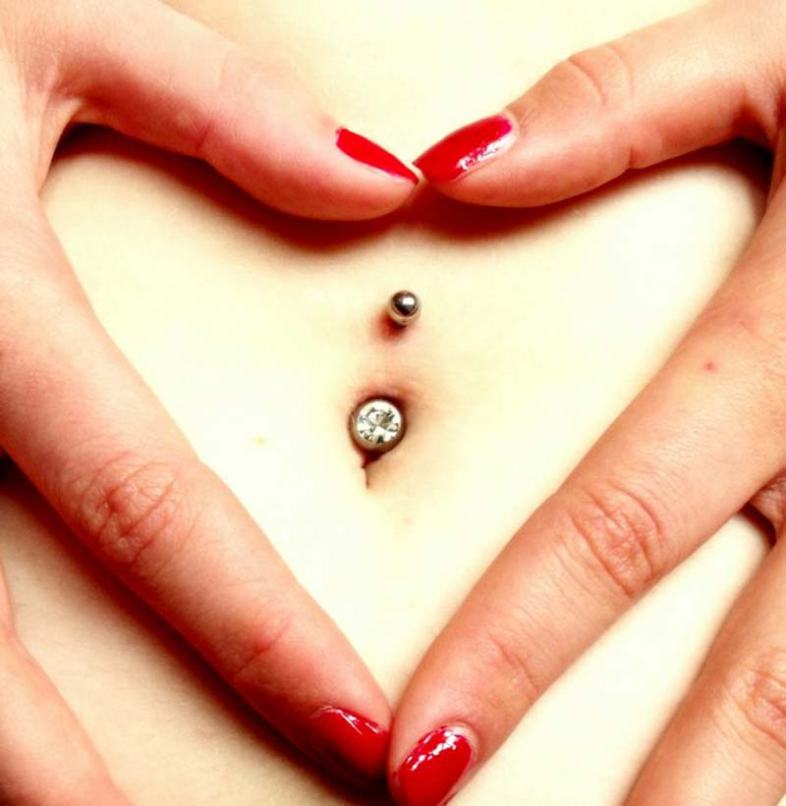 Former piercer here. An older, rather smelly Army vet who wore kilts commando style came in to have his P.A. (Prince Albert) stretched from a 2 to a 0. He moaned in enjoyment while I did it. I wanted to vomit from the smell and his excitement.
So my tattoo artist, Garth, was telling me about this one time when he had to pierce his mom's friend's clit. They went to the piercing room to do the duty. There were four people in the room: Garth, the woman, a witness and the woman's husband. The woman was so big, she couldn't spread her legs enough to do a horizontal piercing. And the lady smelled so bad, the room stank for two days after. She called two weeks later with a problem; her piercing had gotten caught on the toilet and ripped off.
I used to help my friend do his piercings back in the day.
When we did his first nose piercing, everything went okay and we got the needle through without issue. As we stood looking in the mirror, he sneezed and blood and snot just came shooting out of the fresh hole, flying across the mirror and unfortunately all over me.
I think that's primarily one of the biggest reasons I never got into tats or piercing, all my friends did it and that fucking stank smell of untreated piercings just put me right off. Also, nose gunk shower.
I've had to clean out my fair share of nasty belly buttons before piercing. You'd be amazed at how many people don't clean their belly button. I'm talking like… nasty, dried up, black/yellow chunks of only god knows what. CLEAN YOUR NAVEL, PEOPLE!
Also, please shower before coming in and getting something done below the belt. We all stink. We all know it. My face has to be right there.
When I was in my 20's I was a body piercer and I managed the shop I worked at. A rather large woman requested a horizontal hood piercing. This is not uncommon. What was uncommon was her anatomy was very small, I could barely find her lady parts. So her clitoris was very small and her thighs were very large. She was also very nervous and kept clamping her thighs together. I tried helping her breath and relax. This did not help. Finally threatened her that if she didn't stop clamping her thighs together she would have a needle in her thigh and a crooked piercing. She somewhat cooperated and I finally got her piercing finished. One of my worst ever experiences in a woman's crotch!
I used to assist in piercings and suspensions at a shop my friend owned. A guy comes in for a guiche piercing. He is in a suit and tie. Not out of the ordinary. At that shop there was ton of under the suit piercing and tattoo people that came in. So for the guiche you have to get on your elbows and knees and more or less "present". He takes off his clothes and is wearing bondage clamps on his nipples. Still not that odd. He gets into position and I go to clean and sterilize the area while the piercer is setting up all the hardware. It may seem obvious to everyone reading this as it was to me, but our customer hadn't thought to remove his massive butt-plug during undressing. Starting to be odd as I have never knowingly had anyone getting/wanting to get pierced while wearing a butt-plug. He removes it. I get him cleaned. The piercer clamps him and he squeaks, we exchange a little question glance, needle goes, different squeak, jewelry goes in and he moans. He gets up off the table, butt-plug right back in, and goes about getting dressed. I go to prep the table and he has come ALL OVER the table. Peter North status. KAAAAaaaaaa-BOOOOOOOM. He gets dressed, pays well and tips well, and goes out the door. He came back every year to have it stretched and did the same thing except he remembered to take the butt-plug out during his undressing on subsequent visits.
Not an artist or piercer but I used to work at a store that sells body jewelry. I had an old man come up to me asking for a 2ga hoop for his prince albert (for those who don't know, dick piercing). I went to show him the options, he insisted on showing me pics on his cellphone of the piercing. I was like, no, I understand what we're talking about, I don't need to see. But he persisted and shoved his phone in my face.
I looked quickly and was like "mmhmm yep knew it, anyway over here…" but he's fucking scrolling through like 8 different pics of his old man dick.
so yeah that was uncomfortable
I was in a shop getting a tattoo, the piercer at the shop had this younger guy in who had an earring ripped out of his ear in a fight.
The kid had the bright idea to cut an ear lobe on that ear as he didn't have lobes and cut away the scar.
The piercer obliged and my tattoo artist buddy and I watching this guy move this scalpel all side side pretty deep trying to cut this kid's ear off.
Finally the guy is done and they are trying to bandage him up, the bleeding won't stop. They have this kid lying in a bed complaining. He starts getting a bit pale and losing a shit ton of blood. Nobody wants to call an ambulance that would be it for that shop.
So this equally bright piercer gets the idea to take some gauze, soak it in alcohol, and proceed to try to cauterize it with open flame.
The kid is lying there jerking around like a chicken, and myself and everybody are ready to call an ambulance. The kid is conscious and it wasn't enough blood to life threatening.
Finally, they get ahold of some body modification chick with a cauterizing pen to come over and close it.
All this smoke puffs up from this guy's ear, smelled like BBQ a bit, and off he went, all happy.
I shit you not this happened over the course of about 4 hours.
A girl and her boyfriend walked into his shop and inquired about it, went outside to talk about it and came back with her full of creampie. When the guy running the shop questioned them why the hell they decided to have sex right before she got the piercing, they claimed that they figured they wouldn't be able to have sex for a while so they made up for it right then and there.
She didn't get the piercing.
Body piercer here. I had 2 men come into my studio one day, one was in his 60's the other in his 30's. They were both looking at jewelry for Prince Albert piercing and the younger of the 2 kept referring to the older one as daddy. "Is that the same as you have daddy" it was a tad creepy but I figured whatever, to each their own. The men come back a week later and the younger one has booked into have his prince albert done, I tell this story to the girl on counter with me and as tact less as she was just blurts out "is that your dad". The older guy goes bright red and starts mumbling "ah nah friend" or something. So anyway we go into the studio and I start to prep, I tell the guy to take his pants off and to give the area a clean etc. and when he drops his pants he's wearing ladies fishnet underwear, again super creeped out. Start marking up for the PA, pull this guy's foreskin back and I swear I've never seen something more dirty in my life; it was like no one ever showed this guy how to wash his dick. To top it off during the whole procedure I had a perfect view of this guy's butthole, like full dot and it was obvious he didn't know how to clean this, either.
Back when I was piercing in a shop located in a not so great area I always had very uncomfortable jobs, not because there were genitals being pierced (you get used to that real quick) but because some of the grossest people would come in. Many times I pierced women who got off of their shift from the nearby fast food joints and their vaginas would smell just like the food they ate and cooked or like low tide, toilet paper would still be stuck to their labia or b-hole, and yeast infections came in aplenty. Nothing more awkward than refusing someone some work and telling them to go to the doctor for their infection or STD instead.
I've been a piercer for almost 6 years now. There is one story that comes to mind. There was a large woman who came in and wanted two clitoral hood piercings. Very large, over 350 lbs easily. She explained she had one vertical one already and wanted 2 on either side. So I set up and bring her back, she brings along her 3 friends for support. When she lays on the table, she can't hold her legs open so 2 of her friends grab a leg to hold them apart. and I get my first look at the area, I see she already has 5 rings down her labia on each side. Looked like a darn bear trap. As my gaze wanders up, I see her FUPA is hanging down so far it's covering her hood. So I'm trying to use the edge of my glove to lift her FUPA so I can at least see what I'm trying to do and her 3rd friend leans over and asks if I'd like her to hold up the FUPA. I held back my mix of laughter and vomit and gladly accepted the help. Probably the most uncomfortable experience besides the handful of girls who smelled like they'd been smuggling sardines in their vaginas for weeks. It really is a great job.
Alright a bit of background. I've been a piercer at my local tattoo parlor for several years, and I have seen people do the simplest things like eyebrow piercings, cartilage piercings, etc. I've also seen people do the most bizarre things like dick/clit/ball piercings, and even anus piercings. I've only done 2 anus piercings in the 6 years I've worked there. This guy comes in, and says he wants his asshole pierced. I wanted to laugh, but I put my professional face on, and told him prices, and answered his questions.
We get to the piercing room, and I tell him to pull down his pants and get on all 4s up on the table. Awkward already… Now Im trying to get him to position his ass cheeks just right so I can get to his asshole. I finally get him to spread his ass cheeks apart, and I get my needle. I can tell the guy is getting really nervous so I said "Dont tense up man just relax its only gonna take a second. Just relax your anus don't tense up or it will only be worse."
I have my face right up to this guys anus and am about to pierce him, and I say "Ok here we go". 2 seconds after I get the needle in he blasts shit all over my face. I start screaming like a motherfucker trying to wipe shit off my face, and he starts trying to stand up but the needle is still in his ass, and he screams bloody fucking murder. My boss runs in to find me wiping shit off my face, and this poor fuck screaming and crying with his pants down.
After I got cleaned up, and we got the needle out his ass I said, "WHY DID YOU SHIT ON ME??!" He just stood there obviously embarrassed, and he says "You said to relax my anus! I'm so sorry!"
I will never pierce an anus ever again…
I was working on the strip in Las Vegas 10 years ago and a 99% of my business was tourists. One night I was finishing a body piercing and out of the corner of my eye I see two older women walk into the studio and start looking at the body jewelry case. I let them know that I would be with them in a couple mins. After I was done I approached them only to realize it was a nice older lady and a middle age man in drag. He wasn't even trying to look like a woman, it was if he threw this all together at the last minute for a Halloween party, smeared lipstick, crooked cheap wig, thrift store dress.
The woman approaches me and politely asks me what the largest gauge I can pierce her husband's nipples at. Surprised, I showed her and her husband into my room. I let them know that he is going to need to take his dress off for me to do the piercing and luckily he was wearing a pair of shorts underneath so it didn't get weirder, yet.
I let her know due to the size of her husband's nipples I felt comfortable doing them at an 8g max (3.2 mm). She agrees and I do all my prep. As I am ready to do the piercings she starts to stroke his wig hair and tell him he's a pretty little girl over and over. I believe some other wrong things were said that I blocked out. He took both piercings very well and after we finished he sat up and thanked me (in a deep manly voice) very politely and slipped me a very nice tip.
As we were finishing up with aftercare instructions and things are about done the wife turns around to ask one last question. She asks if I also do body modification work, I answer yes and she reaches into her purse and pulls out a giant metal butt plug. before I could really adjust to what I was seeing she asks me "Is there anyway that you know of that we could pierce this into him?" she explained that they would drill holes around the base of the plug to attach the rings. The point of it being she would be the one who would control when it was in and when it was out since he wouldn't be able to remove it himself. I let her know that this was way out of my field of expertise and gave her the name of a practitioner in my field that is known for the S&M side of our industry. She thanked me and gave me another large tip and let me know it was for being so professional and not laughing or judging them. Turns out this was the last hour of their vacation and they were on their way back to rural Iowa (I think it was Iowa) where he was a school principal and she was quilter.
TLDR Pierced an old man in drag while his wife told him he was a pretty girl then asks me if I can pierce a buttplug into him.