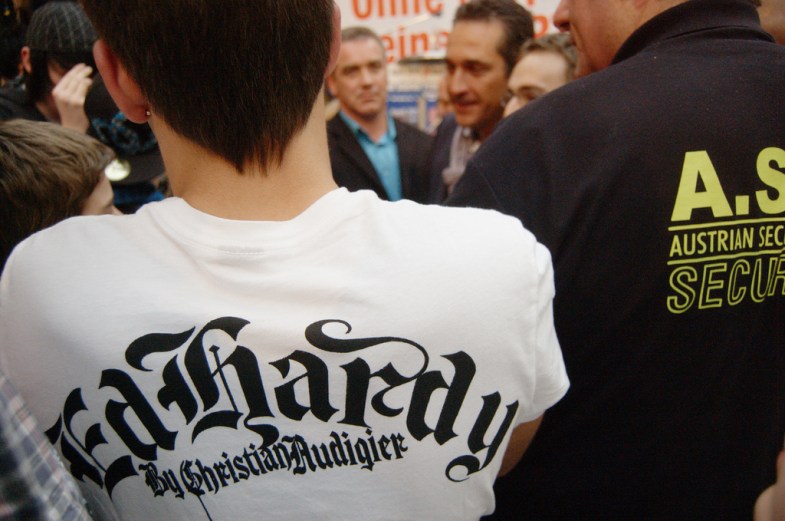 If you're wearing Ed Hardy, I immediately pigeonhole you as a douchebag. I'm sorry if you're not.
If you have Monster Energy stickers on your car or are wearing Monster Energy-related clothing, you probably don't have a whole lot going on upstairs.
People who deliberately modify their cars to make them really noisy have tiny penises.
People who have a Jesus fish on their car will cut you off or refuse to let you merge.
Escalades are driven by shitheads.
Old people are terrible drivers.
People who "hate drama" fucking LOVE drama.
Horse girls are crazy.
Dark-humored people are generally more kind.
All geese are assholes.
People who "don't like to put chemicals in their body" will get drunk and then judge you for taking an aspirin.
Juggalos generally would not make desirable romantic partners.
People who come from money have an unrealistic view of how the world works.
Not me but a friend thinks that "Wade" is a fat person name. To date I have only met one non-fat person named Wade. She may be onto something.
If you have a beard, wear skinny jeans and plaid shirts, eat only organic foods, and consider yourself a beer connoisseur, I consider you a pretentious hipster douchebag.
All hipsters are obsessed with brunch.
People from the East Coast are loud and obnoxious.
If I see a Florida license plate, I automatically assume the driver is functionally retarded.
If you are from New York, I assume you are an asshole.
Everyone who lives in Maryland is an asshole.
Drivers with handicapped placards or handicapped license plates are among the most incompetent morons on the road. If I see the blue wheelchair logo on their vehicle, I steer clear because they change lanes without signaling or even looking, blow past red lights and stop at green ones, and take 5 minutes to slowly make a right turn at a complete crawl.
Anyone who makes a point of stressing their honesty and how good of a person they are is shady as fuck.
Truly honest people don't see the need to point out how honest they are.
People with mustaches are less trustworthy, whereas people with beards are more trustworthy.
People that get jealous easily are not trustworthy.
Women (or men) who draw on their eyebrows are crazy. I'm not talking about filling them in or even grooming them with gel. I am referring to those crazy angled straight lined eyebrows. Those eyebrows are like early warnings—if you see them, do not make eye contact and back away.
Guys with beautiful lips and noses usually have large and wonderful penises.
A 3-year-old's hands will always be sticky.
You put two sound designers into a room of 100,000 people and they will ultimately find each other and revert to talking about sound. ALWAYS.
The more bumper stickers I see on a car, the more likely I think it is that they're liberal. Conservatives obviously also have bumper stickers, but I only ever see one or two. If I'm pulling up to a car with like fifty bumper stickers, I always assume the driver's super-liberal.
Customers are wrong most of the time.
Crazy in the head—crazy in bed.
People who swear a lot tend to be more honest.
People who never swear tend to lie about everything.
The second someone orders a Red Bull/vodka, I assume they are a total douche silo.
Only dumb people ask, "You think you're smarter than me?"
All cat owners have at least one scar.
Vegans will commonly inform you that they are vegans.
If you say you use Tumblr I automatically assume you're at least partially insane or working your way up.
Tall people don't look good while doing the Robot.
Anyone who dyes their hair a non-human color (green/blue/purple) is almost always highly into anime, the LGBT community, or is very insecure.
Guys that take selfies are gay.
People in my generation (Gen Y/Millennials/whatever you call them) are entitled assholes who think the whole world exists to serve them.
Anybody who "tells it like it is" cannot handle criticism.
People with a lot of tattoos are compensating for a lack of personality.
If you've extended your fingernails you can't have an IQ above 5.
People who don't like pets are psychopaths.
Smokers are more crabby/angry/pissy than non-smokers. They also don't react well to stress.
Bald men have great handshakes.
Anyone who drinks fat-free milk has sociopathic tendencies.
People who are outwardly crazy are really boring when they are alone, and people who are outwardly normal are really crazy when they are alone.
Every male child playing online video games has, at a minimum, fucked my mom and they've got action-worthy information that I have at least two dicks in my mouth and one in my ass at all times.
People who use the word "privilege" are ALWAYS unintelligent.
People with a genius IQ are usually batshit crazy or lack common sense on a very base level.
Everyone in the service industry is an alcoholic that can party until four hours before a shift.
People on social benefits under the age of 50 are scum.
People whose names are spelled weird, or missing standardly accepted letters, are either crazy, stupid, an exotic dancer, or criminal.
Anyone who posts the "If you can't handle me at my worst…" image makes being an asshole to those they love a sport.
Guys that claim to have a massive dick: 1. Have a small dick 2. Are a dick Or 3. Are a nasty combination of the two.
People with oversized trucks that are too clean to ever see real work are usually jerks.
Picky eaters are terrible in bed.
People with goatees are all evil…. all of them!
English speakers who pronounce Mozzarella as "mootzarel" are annoying as fuck.
People who make broad generalizations about others are total asshats.