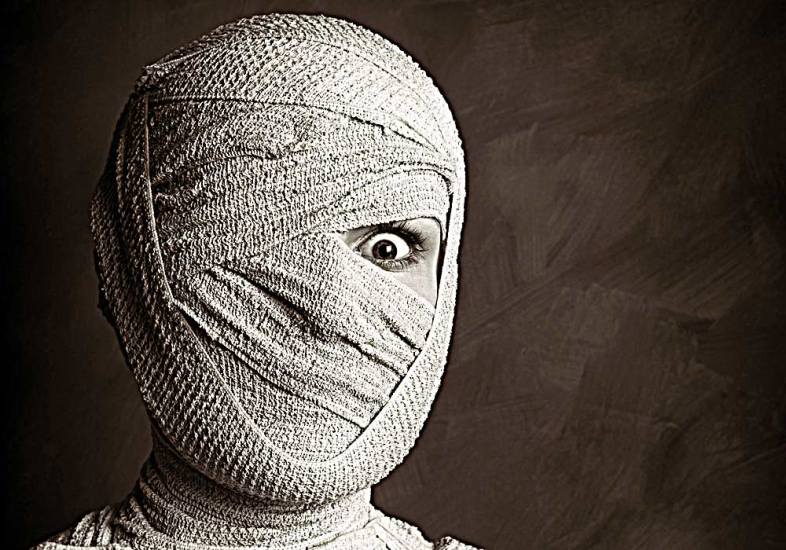 Doing mission work with Casas Por Cristo in Juarez about a decade ago. Driving the organization's truck from the supply depot to the construction site. On the highway, van pulls up the on-ramp, speeds up ahead of me, opens the back doors. Out came tumbling a half-dozen bodies, all with no hands, some without heads, others with extremely disfigured/destroyed faces. I ran over two. I got back to the worksite in a state of shock & our site coordinator, Justin, was asking how blood got on the front bumper. It took me a minute to formulate an answer. We cleaned it up before any of the extremely sheltered Midwestern teen volunteers or parents could see. Justin gave me a bottle of water, sat me down in the shade, and went to the corner market. Came back with a 6-pack of Tecate and just drank with me until I got my bearings back. Good guy.
I watched a man kill himself outside of my apartment. He was a middle-aged military veteran who lived on the floor below me. My friend and I were up late studying, taking a break on the balcony, and we watched him go out to the parking lot, put a gun to his head, and pull the trigger. Only person I've ever seen die. He had anger issues and was always yelling at his wife/GF. Didn't realize it was that bad. It really fucked with my head and led to me questioning my own stability.
Woman had her baby by the legs, smashing its head into the concrete. Cop shot her.
One time when I was a kid (7-8) I got invited over to a friend's house. First I enjoyed it but after some time it got pretty weird.
When we went down to the cellar his mother showed up high (I didn't realize that then) and half naked and got us some cookies. Completely stunned, I denied her offer and continued following my friend to the cellar.
Down there we played with beyblades until his brother, who was like 6 years old, showed up and wanted to play with us. So my friend had this had this idea to handcuff him and treat him like a sex slave. He put his penis in his mouth and started pissing in his mouth and all over his face.
After some minutes of watching and being terrified I told him I had to leave because my mother said I should show up early at home. It was such an uncomfortable situation for me that I had to think of it the whole day. Never told anyone.
I was a few cars back when I saw a man try to pull onto the nonexistent shoulder of a major highway during rush hour to change his back passenger side tire. He was hit on his head by a car in the fast lane. I had to drive around his headless body like an animal in the road…traumatized me.
I used to work at a McDonald's restaurant above a main train station. I was pretending to work one shift, but actually staring out the window down onto the train platform, when I saw someone take a running leap in front of a train.
They carried them off the track in pieces wrapped inside white sheets. I was paralyzed and couldn't move to stop looking, though I wished I could.
I saw someone get stabbed once; if I recall correctly they survived. I was quite young but had a mother who was pretty nonchalant about me watching violent films, so I grew up on lots of Arnie/Stallone/Van Damme films and thought I knew what someone being stabbed would look like. Nope. The knife didn't just slide in, it had a moment of give, and then, in my memory at least, there was a kinda pop sound. I read somewhere how your brain will insert a noise where there is none— can't recall the scientific term—but I assume it was that. But it was the amount of blood, no slow trickle, just whoosh, blood was everywhere in seconds. They didn't sorta stagger back, there was no Shakespearean soliloquy, they just looked down and as they did their legs buckled out and they just hit the ground. I remember screaming from both parties and then I got dragged inside.
When I was 17 years old, I was placed on some medication for a severe head injury. This medication made me extremely suicidal, so my doctor decided to place me in the psych ward. They did not have any room in the pediatric ward, so they put me into the adult ward.
I walked into my room, which I was to share with another person, and there she was. A 60-year-old woman, naked, matted pubic hair, legs in the air, furiously masturbating, and singing "Daniel" by Elton John. I later found out that she was a schizophrenic prostitute that the cops picked up trying to fuck a statue. They moved my room later that day because I was freaked the hell out.
Also on that visit, a dude tackled me while I was coming out of the shower/bathroom in my bathrobe and slippers and tried to lick my feet.
While on road trip w/friends, stopped at a random highway exit rest stop plaza in the middle of nowhere in Pennsylvania. We get a table at the Wendy's. At an adjacent table, there's an elderly couple, both of them are over age 80 sitting on one side of the table facing two female mannequin/sex dolls posed like they were joining them in the meal. We were high as fuck and after we left came up with all sorts of wild theories of what was going on: They lost their daughters; it was for security to make it look like they were accompanied by younger individuals; they were at a mannequin/sex-doll convention….
About a year ago I walked into a public restroom to wash my hands and there was a woman facing the mirror, brushing her hair, telling herself that she was pretty. I was too scared to tell her it was the men's restroom and fled as fast as I possibly could.
Out and about one day on the main drag of the city I live in. A homeless man asked if my boyfriend or I had any change, so I gave him a dollar. Much to our discomfort he declared he would dance for us and started to do a weird little jig.
Halfway through he started sobbing and told us his homeless friend got hit by a car on that corner dancing for change. It was very uncomfortable and I'll never forget it.
I watched a group of 5 or 6 guys beat the shit out of one guy in the middle of a lower Manhattan intersection once. It was about 3:30AM and I was on a…break from work. The one guy was of course completely outnumbered, and when he fell on the ground the rest of the guys surrounded him and kicked him over and over until a cop car rolled by shortly thereafter.
It was extremely unsettling to see a man get kicked in the face repeatedly.
I had to take a shit while on a road trip with my wife. We start arguing when she asks if I can hold it. We pull over at a shady-looking rest stop and I rush for the bathroom. I pull open the door and there stand three men. Two black and one white. One black guy is jerking off in the corner; the other black guy is fucking the white guy in his ass.
We all are now staring at each other for what felt like forever. One black guy goes, "It's all right man. Come on in."
I ran back to my car and told my wife to drive! I ended up shitting on the side of the road a mile or two away.
I was with my friend doing a bit of sea kayaking. We got to the end of our trip at a beach on the River Teifi estuary in Wales. It was a nice calm sunny day; we'd had a good trip. There were families enjoying the August holiday.
As we were packing up our things I heard a man crying. Big sobbing gulps. I looked around and a man, probably in his forties was carrying a wet lifeless dog up the beach. The man's trousers were wet so I assume he must have gone into the sea to get the dog out. The dog was about the size of a small Labrador.
Someone came and took the dog from him and held it up by the back legs, trying to shake any water out. The man was sitting on the sand crying uncontrollably. More people came; someone started chest compressions on the dog. An elderly woman was comforting the man. More and more people came. I could see people taking turns at trying to revive the dog. Mothers were dragging curious children away. A woman was trying to ring the local veterinary surgery. We walked a bit further away. I could still see a guy trying to revive the dog.
Eventually he realized it was futile and stood up. Someone else wrapped the dog in a towel and started carrying it away. Two women helped the dog's owner to his feet and started walking him slowly off the beach. He was still crying.
The crowd dispersed slowly, children went back to their sand castles, and the parents went back to their deck chairs. The sun shone, the waves rippled onto the golden sand.
Was on my friend's farm and we were walking down to see the sheep with her and her dad. As we were looking at the sheep one of them anally prolapsed for one reason or another; I'm not a vet so I didn't understand the reasoning. Anyhow, the stomach and whatever else came out the ass of that sheep had exploded, meaning there was shit and guts all over the floor and the sheep was still alive. The dad goes over to the sheep, picks it up, and with the hammer he had in his belt started smashing the skull to try and kill it. Eventually it did die but it took a good 4 or 5 hits. The sound and smell is something I will never forget.
Saw a horrific accident in Big Sur. Bits of a motorcyclist smeared and chunked all down the road mixed in with motorcycle bits for about 100 meters. Head in the helmet with some spine visible out of his mangled torso. Apparently his front wheel clipped an oncoming fender and he basically flipped straight over into the asphalt at about 45mph. Essentially he was slammed into the pavement and exploded. Someone was puking on the shoulder. My friends and I had blankets in the car. Covered some of him up and waited for the cops to show. Crazy.
When I was in high school I was on a 75-mile bike ride and I saw a guy in a silver Dodge Ram hit a dog. He ran over the rear of it, completely crushing its hipbones. Its yelping was the most gut-wrenching thing I've ever heard. It still had front legs and it still tried getting up. I kept on riding, I didn't stop. There was nothing I could do.
About two years ago, me, a buddy and our GFs decided to make a spur-of-the-moment trip down to the coast of Texas. We arrived at about 2AM at this rundown motel that was right on the beach. … As we are climbing the stairs we hear this motorcycle flying down the highway toward the overpass just in front of the motel. Just as my buddy was saying, "Man, that guy is hauling ass," we hear a loud crash; both of us know he had wrecked. We immediately drop the cooler and tear off to the overpass in search of this guy….
This is where it gets really disturbing to me. Buddy decides to run toward the other side of the overpass to stop the cars. As he is doing so these two super cholo Mexican dudes run up to where I am and ask what happened and I tell them. As I'm telling one, the other reaches into this dude's pocket that is splattered and wrapped around the fucking light pole and takes his fucking wallet, looks at me and says, "Fuck it ese, he don't need it anymore." I stood in disbelief until the other dude announced that the cops were on their way, and they hauled ass.
A guy tried to commit suicide by shredding his arms with a razor blade. I was one of three people to find him in a bathroom stall, sitting half-collapsed on the toilet, with a puddle of blood around him…
So much blood….
I'm amazed they managed to save him.
Gross anatomy lab (cadaver lab). The day we had to cut our cadavers in 4ths….The image of two legs and a pelvis upside-down on a table with someone using a hacksaw right through the middle of their genitals was too much for me….I know they are dead, but Jesus Christ….
I used to work at a restaurant in the same building as a super shady dive bar located right across from the city's main park. …
It's one of those first nice days of spring so naturally there were a lot of people in the park. We are dead slow and taking turns going to the bar to hang out on the porch. So me and one of the bar folks are chatting and I notice this picnic table, partially blocked by the park wall, with a couple park dudes hanging around it. One of the guys is sitting at the table making these hideous grimaces. When he traded places with another guy I figured out what was going on. There's a woman under the table giving them head. I go next door to tell my coworkers and for about the next half hour we watch this spectacle from the bar porch, that's pretty much surrounded by kids playing, people hanging out on blankets, throwing Frisbees and NOT ONE PERSON NOTICED WHAT WAS GOING ON. Finally, one of the cooler park bums, we'll call him Dirty Feet Cheese Bill (because that's what we called him) strolls up to bum a cigarette from one of the picnic table guys, sees this tableau, does the about face nope, walks over to us. "Man they a guy unna the table eaten her out, that shit's nasty". He bums a smoke and leans on the wall watching for a minute, stench blinding us, smoking his cigarette. "Ain't nobody said nothing? That's something else."
Well somebody must've eventually noticed because finally the cops descended on them and broke up the party.