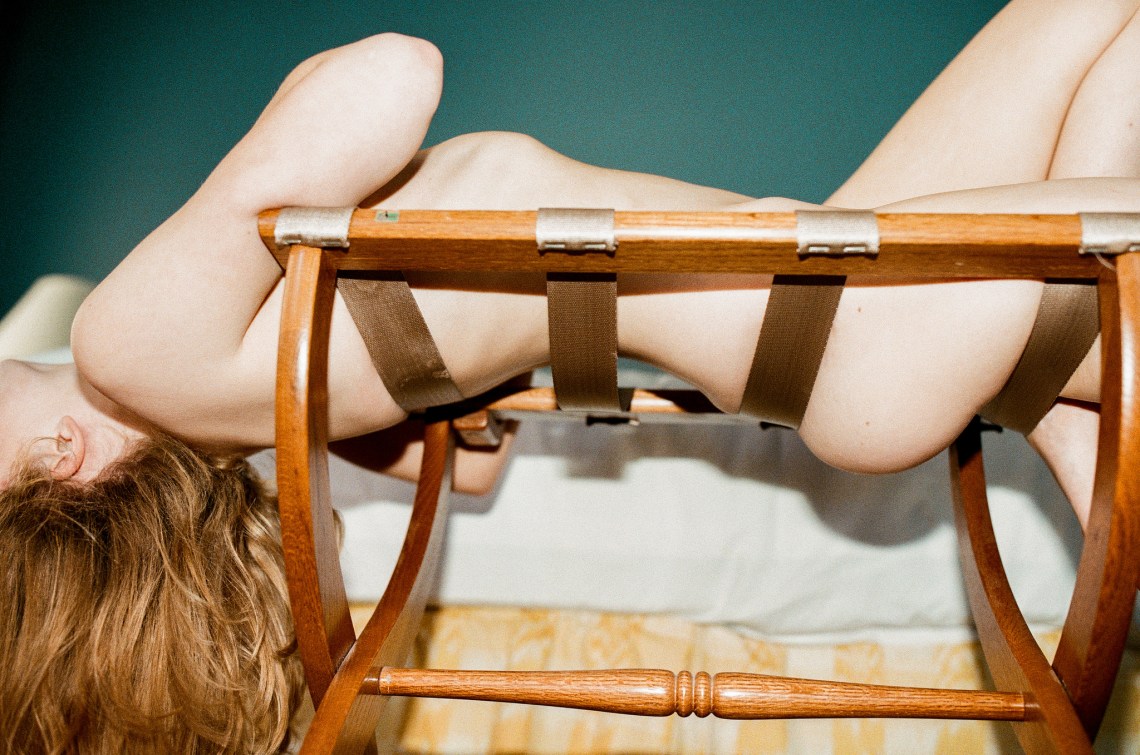 1. Spanking
Spanking. I never understood why you'd want to get hit. I didn't understand how that could be pleasurable at all. My boyfriend and I tried it playfully once and we both loved it. Now, it's a huge turn on.
2. Choking
Choking. It always just seemed stupid and dangerous. But holy shit, it's so hot.
3. Rough BDSM
Rough play/BDSM. Was never into it, never could imagine hitting a girl.
But there's something to be said, with a consenting partner OBVIOUSLY, for how it feels to slap someone while really putting it to her.
And putting a willing partner over your lap and spanking her hard? I almost jizzed in my pants last time.
4. Dominating Men
Dominating…as a female I feel not many straight men are into being a sub, but it's the best sex I've ever had. I love being in charge!
5. "Daddy"
On the rare occasion I heard another woman call her boy friend Daddy, it would always weird me out. I would ask, "Why?" in my head. Now, whenever my girl friend says it, I get the biggest fucking mind boner. I don't know it just really gets me.
6. Rape Fantasy
Rape fetish. My girlfriend is obsessed with it. We sat down and discussed it one night and once I found out it was all about the lack of control (in her words, I want to be used as a toy) I was keen to try it out.
So, a few years later I'm pleased to say that I am a pretty good goddamn rapist. I never thought I'd like slapping a woman around before sodomizing them but, well, here we are. It's a monthly thing though and we go into a lot of planning. I usually either hide in the house and jump her when she gets home or I'll pretend to "force" my way into the house. She sometimes goes shopping for me and buys me new balaclavas and gloves. And before anyone asks, we have code words for various things like: back off this is too intense (raspberries) and go harder (you're a fucking pussy). So far we have never used the word raspberries…
7. Rimming
Rimming. I thought it was gross until I tried it.
As long as your partner maintains good basic hygiene, and takes a shower beforehand and washes it out well, I feel that it's no more "germy" than any other orifice on the human animal.
That being said, I now fucking love eating ass.
8. Rope Play
Rope. Specifically kinbaku and torture rope. I got into it thinking I'd only really be interested in learning bedroom ties, e.g. restraints for wrists and ankles to the bed or whatever, for sex, and maybe learn more shibari (fancy decorative ties, not really intended to hurt, sometimes can be made to feel good, but aesthetics come first).
But. I got together with a masochist, and we hit it off… and I quickly learned that it was fun as fuck to have that S/M dynamic with her.
Initially, I used impact toys, like floggers and paddles, but I found rope to be way more versatile. These days, I'll usually put her in a partial suspension involving one or two torture ties, and then beat her with canes until she gets this "if you don't fuck me right now, I'm going to murder you and fuck your corpse" look. I prefer to be alive for the sex.
9. Stepsister Fantasy
Stepsister porn. They're all so horribly acted, but something about the sheer awkwardness turns me on. The girls in stepsister pornos are always pretty average-looking but with a nice butt too. Just my type.
10. More "Daddy"
Girlfriend has a daddy thing. I pretend I'm not into it. It's a lie.
The apprehension is fun for her. Why take it away?
11. Crossdressing
My ex wanted me to dress up in her clothes, wig, makeup, the whole 9 yards. I did, and I was sexy. Before we got to do the dirty, her parents came home and I had to sneak out dressed like that. At school the next day she told me she didn't think it would work out because she thought I was gay. To her credit though, she didn't tell anyone. That was the beginning of my crossdressing fetish.
12. Lesbian Cheating
Lesbian adultery. Like, finding a girl to pretend to be taken and straight and just seduce the fuck out of her. I hated cheaters for so long, and now…nnf.
Obligatory: this is all roleplay, I'm not actually destroying relationships. No momentary hotness is with destroying someone's life.
13. Futanari
Futanari. It is all the benefits of girl on girl but with cum involved and the girl, with a cock, actually has a reason for acting like it is pleasurable. Girls using strap ons is so odd to watch. They almost never use it well and have to hold the shaft and thrust awkwardly. But Futanari hentai is so appealing.
14. Pegging
Pegging is amazing! I wish I could find more men who are into it.
While being in control does get me off mentally, seeing the man enjoying himself gets me off. I love when I do it right and give him an orgasm by rubbing up against his prostate. See his facial expressions, hearing his breathing pattern change, the moans and body quivering is incredible to me.
15. Teasing
BDSM. Specifically binding her up and teasing her with orgasms.
16. Tentacle Porn
Tentacle
It's just a way to watch a girl get railed without looking at a penis or risk of seeing a dudes butt hole(or the dude at all really).
"Toys" would be the obvious counter to it but have you seen it? It's so hollow, everyone involved looks like they're just getting a paycheck.
17. Watersports
Watersports. I have this deep fantasy of being treated like a human urinal.
18. Master/Slave Roleplay
Master/slave. Used to think it was way too extreme years ago but I eventually realized it isn't really extreme at all. Just a different way of doing things and I absolutely love it.
19. Lactation
Lactation fetish. Aka erotic lactation. It's fun and filling. Like literally 😜
20. Knife Play
Knife play. I used to be scared about it, thinking about how dangerous it could be, etc. Turns out, as long as you both really talk it out and set boundaries, it's quite enjoyable. Same with candle wax/fire.
21. Wife Sharing
Wife Sharing (not cuckolding, not into the humiliation aspect).
Used to hate other guys looking at my SO, then one night we got really drunk and seen her dancing with another guy. Rather than being pissed off, I was really throbbing and decided to watch her grind up on this guy.
From there, we discussed it and have had many MFM threesomes and other stuff since.
Such a big fetish now!
22. Pregnancy
Pregnant chicks. I never thought I'd be into that until my wife got pregnant. Her boobs ballooned and she got real horny 24/7… those were truly glorious days.
Now whenever I see that ballooned pregnant shape, it really gets me going. I even took some pics/video of my wife about a month after we had our 1st kid… I have all the porn in the world at my fingertips, and those pics are still my go-to fapping material.
—Lebowquede