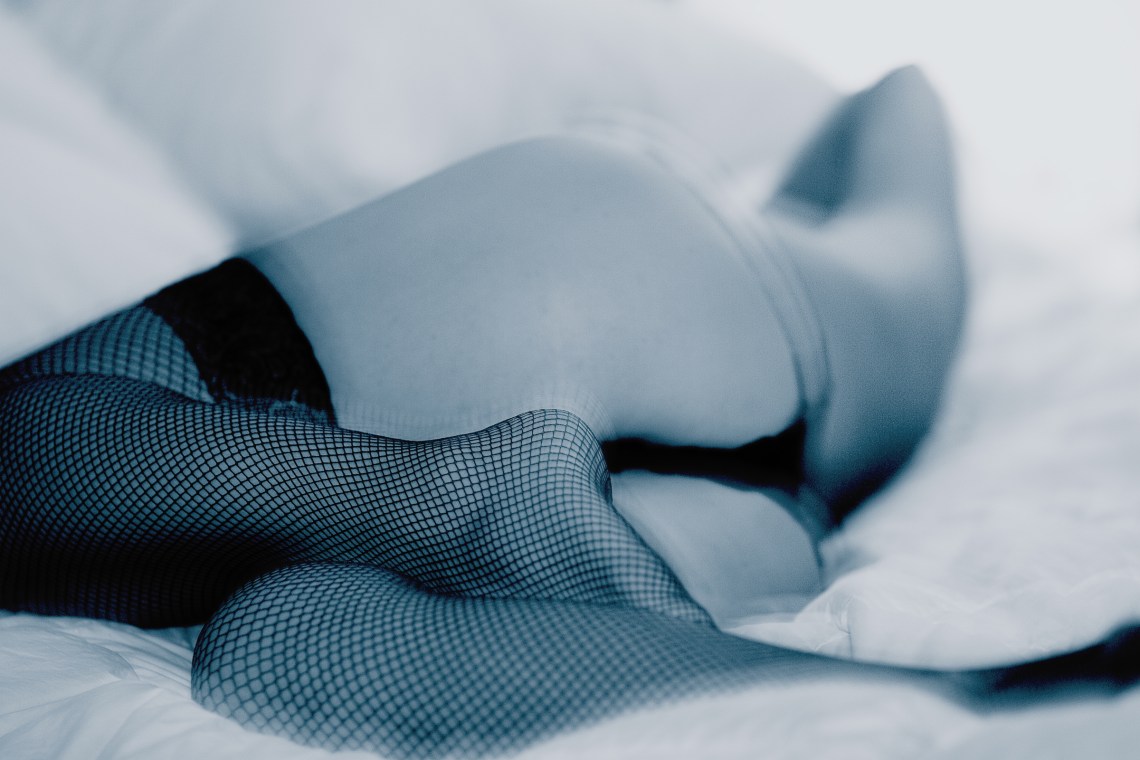 1. Wonder Woman
I had just started dating her and we were attending a frat party off campus. A few too many beers into the night and the frat guy she was chatting with began talking shit about me and she hit him in the face. I've never had someone fight for me before. I've also never gone from flaccid to fully torqued so quickly.
2. Halloween Sexy Times
Getting out of a sexy Halloween costume on my birthday and riding me reverse cowgirl while doing that thing where they kind of just twerk their hips and have an arched back. Makes me feel like Clem from Joe Dirt when he's talking about her long legs.
3. Shivers
My normally submissive girlfriend once told me to lie on my back… then said 'i'm going to ride you, then switch to my mouth, and then keep alternating till you can't take it anymore'.
When I think of how she said that… fuck, I get shivers.
4. Doing What She Says
I had an ex who was dirty af. One time, she had me lying down while she was blowing me until I couldn't stand it anymore and I got up to fuck her.
She pushed me down firmly, hands and lips still wrapped around my cock. Took her lips off my dick and said "did i say you can get up?"
There still hasn't been a day that my dick was harder than that moment.
5. Beauty Queen
She won a beauty pageant(not a big deal, it was just for our county, and we live in a small county), and that night she came to bed in nothing but heels, her sash, and her crown. I was not expecting it at all. Made for a pretty memorable night.
6. On the job
Giving me a blow job at work while I was working late. It was amazing.
7. You're Mine
From behind, he pulled my hair, thrust harder than usual and said right into my ear, "You're mine." Fuck yes, I am.
8. Spontaneous Horniness
I love spontaneous horniness. If I do something innocent that turns him on and he just lets that take over him… Yes.
9. At A Rest Stop
We used to live 7 hours apart. It wasn't difficult to stay true to each other, but it was difficult to be apart from each other. Skype only goes so far and I'm very, very into sex.
My parents and I drove to meet her halfway and have lunch at a nice place. I was going to visit for a week so I was driving back with my SO. We hadn't seen each other in awhile. As soon as I got in the car with her and my parents drove off, we started making out. We start our 4ish hour drive to her place and we get about 20 mins into the drive and she says, "okay, I can't take it!" She proceeded to pull off at the first rest stop and we immediately have sex in the car.
It's been 2 years since then and I still keep that memory in the bank.
10. Too Bad…
He said he was horny but couldn't have sex because he had work soon, so I said "Oh, well too bad since I'm already wet." He then had a look that was a mixture of "I hate you" and "I want you so bad," but was clearly disregarding the time constraint. Then he said "Well I guess I'll have to check…." You can guess what happened next…no one was late for work though!
11. Sexy And Confident
My wife isn't one of those overly girly girls, and rarely uses makeup or dress-up as if she's going to a ball.
So she had been in this ballroom dancing class, and had to do a dance routine on stage with her instructor. On the day, she went all out with makeup and hair and looked like a movie star. With the prettiest swirly-type dance dress.
Her dance performance was flawless.
Once we got home she took me straight to the bedroom and absolutely attacked me.
The. Hottest. Thing. EVER.
12. Light Rubbing
Rub my thighs and my butt really lightly for some reason drives me nuts. Also, letting me hear him orgasm when he jacks off.
13. Ate her like he was starving
I think we both got each other at the same time. Long distance relationship, finally managed to get a few days together. Got to where we were staying (had to walk, about a mile or so in mid-summer) and she collapsed onto the couch. She was wearing a dress and the way she flopped back, the dress rolled up and showed off her panties in a way that was so sexy, I pretty much fell to my knees and moved them out of the way and ate her out like I was starving. Left her panting and a huge wet spot underneath when I was done.
14. Sleeping Handjob
Gives me a handjob while she's asleep. I'll wake up to her stroking it all of the time.
15. Thrill On The Hill
We took a hike up to the top of a hill. It was a beautiful day. We found a bench overlooking the valley. She sat down and patted her lap motioning for me to rest my head there. I kicked back on the bench and she stroked my head in her lap.
A few minutes later I felt something soft poke my eyeball and I opened my eyes to see she had pulled down her dress and was pushing her breasts in my face. Her puffy nipple booping my face from my eyeball down to my open mouth.
The mixture of contentment, beauty of the environment and company, and the voyeuristic feeling/chance of being arrested for public indecency was the hottest thing.
Another time she picked me up from the airport and as we drove home, she pulled up her dress to reveal she wasn't wearing underwear and said "I brought this in case you were hungry."
That first one is still my favorite though.
16. Smooth AF
My girlfriend prefers to sleep on the right side of the bed. In my bedroom the right side is the only side that I have reading light. I had a big meeting the following morning and there were some things I wanted to go over one last time before I went to sleep, so I wanted to be on the right side of the bed. By the time finished doing my nightly rituals, my girlfriend was already in bed and looked asleep. I didn't want to disturb her so I got into the left side of the bed. As soon as I did, she turns to me and says "Oh yeah, you wanted to be on the right tonight." Before I can say anything, she rolls on top of me, kisses me, and rolls off in one fluid motion. Sploosh.
17. Choke Me
Told me to choke her. Yes, for the love of god tell me what you want. Nothing better.
18. I guarantee They didn't stay asleep
My friends were in town visiting for the holiday and my SO and I had just not seen each other for 3weeks cause of work so we were pretty excited for my friends to go to sleep to spend some alone time together. In the wee hours of the morning while my friends are sleeping, she starts grinding her amazing ass against me and gets me extra worked up, I tell her not to worry about my friends they're knocked out from the time change and get her atop of me, I move her shorts and panties to the side and let myself out of my shorts and god damn for her first time being on top it was amazingly hot when I had to cover her mouth and hold her to my chest as we both climaxed. She lets out these gasp moans that are the absolute hottest sound and by far my favorite noises to coax out of her.
19. Nothing But An Apron
Cooked me my favorite meal with nothing on but an apron. The view from behind was spectacular.
20. She Tore Apart Her Own Panties
We were going for a quickie on the floor of my parents' living room, and we didn't know when they'd be getting back. She pulled down my pants, got on top, and lifted up her skirt, but then she didn't want to have to get back off to take off her underwear, so she just found the seam and literally ripped them off of herself, then fucked my brains out.
Also, one time she lost her wallet, and we looked everywhere for it, but no dice. We went back to my place, and she was pretty pissed the rest of the evening. After awhile, we started making out, then fucking, and as she's riding me, I can tell she's starting to get pissed about the wallet again, almost hate fucking. Our eyes meet, and I look up and say, "yeah…work it out." She did.
One time we had a bet whether her pussy or my fingers were stronger. She can take a lot, but I'm a musician. I won, but barely. It was a long afternoon.
The first time we hooked up, it was getting pretty heavy, so we moved from the couch to the bedroom. Once we got in there, she got on the bed and said, "take off your clothes." When I had, she said, "so…what do you like?" I was a bit dumbfounded by the bluntness of that, so after a few moments of silence, she just says, "wanna fuck my tits?"
Also, we were fucking and the kids were asleep, but I guess I was getting kind of loud, because right before I came, she put her hand over my mouth. Super hot.
21. "Make Me"
He's very vanilla so I have to tell him to be a little more rough with me. One time we were making out in his car and I told him to make marks all over me like his little bitch. He started slapping my ass and getting really into it, and left some pretty dark hickies on my neck. When he was ready to fuck he just said "get on your hands and knees so I can make you mine" and I was immediately 300% into it.
Last time we had sex, we started making out standing up in my room. Eventually he told me to get on my hands and knees again and I said "make me". He, without hesitating, half threw and half shoved me onto the bed. Damn…
22. Getting What She Wants
Went down on me while I was playing a part in a video game that required my extended concentration.
23. Tied Down
I had just come home from two weeks away and he picked me up at the airport. I was feeling tired but somewhat frisky. He got me home and had set up cuffs on my bed as a surprise for me. So we walk in and he pushes me down and ties me up spread out on the bed and then he starts having his way with me. After a bit of that he untied one of my legs and flipped me over and took me from behind. We both finish and lay there gasping and all exhausted when he starts to rub me. I told him I was finished but he got me going again and wouldn't untie me.
24. The Sound Of Music
I asked her what her favorite sound was and she said the sound of her deepthroating me.
Made me tear up a bit.
25. "That Thing"
I totally shocked a new girlfriend by going down on her, as I slowly moved downtown on her, she asked why i was kissing her down there, i told her to just relax and enjoy the feeling. She obviously had never had it performed on her before. Later that evening, well after the event and right out of the blue she said "next time we're in bed, will you do that thing again?" "That thing….." I think it was her innocence of it all that i found so fucking hot. Needless to say "that thing" became a very regular part of the repertoire.
26. Naughty
One night during the lead up to sex, I was taking my pants and belt off and she makes a kind of cooing sound and asks "you gonna use that on me?"
Five minutes later I'm riding her doggy style with one end of my belt wrapped around her neck while I'm spanking her with the other end.
27. In The Theater
I worked in a theatre (UK version of theatre) as a lighting tech. She came and met me at the end of a shift one day as I was locking up. I'd been programming some stuff into the lighting board and just had a singular downward spotlight in the center of the stage, she placed a chair in it, pushed me into it, pulled my pants down and started riding me there on the stage until I came harder than I ever have. Then she got off me and said "Shows over", walked out and went home. God I loved that girl.
28. Sometimes It's The Words
When he lifted me up to take me to the bed, when I asked if I could try it on top his response was "hell yeah", him breathing "I'm in paradise" and "I wanted to do this ever since I met you", when he just casually plays with my boobs, when he holds my head down a little when I'm sucking him off, when we make eye contact when fucking and he gives a laugh smile. Hot as fuck.
29. Must Have Been Unexpected
She tongued my asshole.
30. Man In Uniform
He was in uniform and had to leave soon for work at 6:30am but I wasn't letting him..unbuttoned his pants, gave him a but if a blowjob and went to deep throating that from being pleased from the deepthroating it turned into him grabbing me, pulling me on top and us going at it…
Man I miss that military uniform. He was so hot in that.
31. He Is The Hottest Thing
Oh, my god.
Ok, so I love my SO a lot. There's gonna be a list. Is that ok?
After I went a bit out of my comfort zone and did something to him, he came and was out of breath. Then he said "a girl's never done that before. Holy shit." The praise alone made me feel like a sex queen and like I wanted to fuck the life out of him.
Getting handsy at a restaurant. But stroking our thighs a little bit higher than someone should.
He bought me Horizon: Zero Dawn. Goodbye panties.
He is himself. He is the hottest thing.
32. Eye Contact in the heat of the moment
While blowing me, she stopped and started jerking me off. I was just chillin and watching her. Suddenly, we looked at each other, eye to eye. She looked so fuckin sexy for some reason. She was really enjoying herself pleasuring me and that moment of eye contact and silence just made it so hot.
33. Marathoning Harry Potter
I'm kind of a naive dude when girls are hitting on me. My dick has to pretty much be in their mouth before I'm like "Hm, wonder if she likes me?" Well one time this friend from work mentioned Harry Potter and I had never seen HP, I told her that, she looked at me sideways and said, "Okay you're coming over tonight and marathoning Harry Potter." Ok cool.
I show up, she answers the door wearing yoga pants and this shirt with cuts and holes every where. She goes "My daughter is watching TV in the living room so we have to go back here." She grabs my hand, takes me to her bedroom and playfully pushes me onto the bed. She gets on her hands and knees and crawls to her DVD player and I'm thinking "She's not wearing underwear." She's like arching her back while "looking for" the DVD. She pops it in. Here where it got hot.
She stands up and says very seriously, "Take your shirt off." Confused but turned on, I do it. She says "lay on your stomach". ????? Lay on my stomach? Okay? I lay down, she climbs on top and starts massaging my back, my neck, my shoulders, running her fingers through my hair and it feels amazing. Every time I moan she does this sexy little giggle in my ear. Then she starts biting ever so gently my shoulders which I didn't know made me rock hard. I'm thinking "Well, guess I'm into that!" She rolls me over and in one swoop pulls my pants and underwear off and starts blowing me. Moaning on it, "is that good?"
I'm trying so hard not to cum. I'm looking away trying not to think about it. She even says "No no no, look at me" and keeps sucking making eye contact. I didn't even notice she took her pants off. She climbs on top, puts it in, puts her hand around my throat (again, guess I'm into that!), and says "don't you dare finish without me" and proceeds to twerk on my dick. What finally did it was when she was bouncing she kept saying in this whisper "there there there there there" followed by big moan. And that's when my dick said to the sperm "okay parties over, everybody get out." I cum and she goes back down and just plays with my Dick with her mouth and I never came harder. I'm just staring at the ceiling wondering what I did to deserve this.
It was the only time a girl ever seduced me and took full control and she was a pro. I don't think anything will ever top that overall situation.
—davinpantz