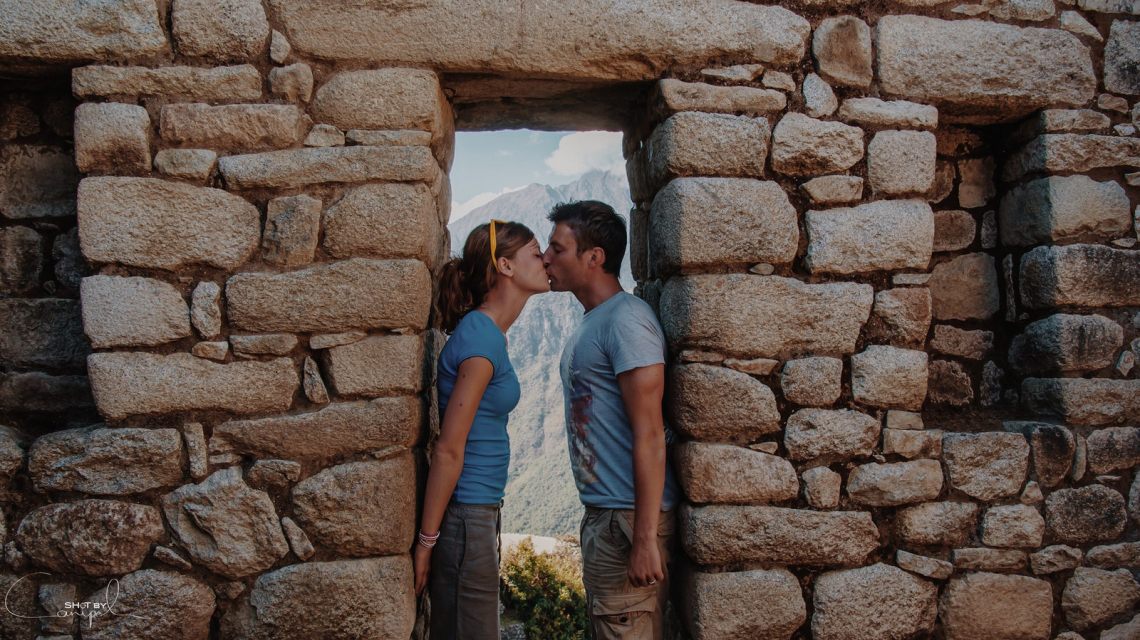 1. She Made Him Wait
I fell madly in love with the new girl in my junior year stats class. She had a boyfriend and we were best friends for three years. We would hang out all the time, we got arrested together (kinda), her family thought I was her boyfriend. She dumped him but still wouldn't go on a date with me. Then one night, while watching Spider-Man (the Tobey McGuire one) I kissed her. She made me wait in this weird relationship limbo where we weren't dating but we were together for three months. But now we've been together over a year and I couldn't be happier.
2. One Weekend Changed Everything
I met P in a class at university. We began as casual friends, and he started saving a seat for me in the back every day. I was dating someone else at the time, but I'll get to that in a minute. We ended talking a lot, but while I really enjoyed being around him, I was faithful to the person I was dating and we never hung out outside of class. Then one weekend everything changed.

I'll spare you all the crummy details, suffice to say my former SO got drunk, started displaying some great big scary red flag behavior patterns, and it ended with me running as fast in the opposite direction as I could. That was the end of that relationship. The following Monday, I dragged myself to class, still numb. P sat down next to me, took one look at my face, and asked what happened. I told him the short version and tried to laugh it off. Even years later, P is the only one who has never tried to blame me for what happened, or say "I should have known." P and I became closer friends after that.

I knew he liked me (by body language and the way his eyes smiled when he looked at me) but he never said anything about it or pressured me because he knew I was still hurting emotionally. It was weeks before I was comfortable enough to hang out with him after class to study. He was so patient, continuing to invite me to his church's events or to go sledding with him and his roommates (also very kind, caring church-people, some of which I am close friends with now) to make sure I knew I had the opportunity to do so even if I wasn't ready.

P and I became more than friends gradually out of mutual flirtation. We are almost complete opposites temperamentally, socially, and politically, and yet we get along better than I do with friends I share most of my beliefs with. One night we were hanging out watching Austin Powers (so romantic, I know) and he asked me to be his girlfriend.

We've been together for a few years now, and I love him more every day. He is my best friend, my knight in shining armor, my superhero and also my sidekick. He alone has been there for me no matter what happens and has supported me in whatever I do, even if he doesn't agree. When we argue, he always puts my happiness and our relationship before being 'right' or 'winning.' Neither of us is perfect, but I love his flaws as much as I love his strengths. I am a better person for having known him. Even years later his eyes still smile whenever he sees me.
3. A Classic Romance
I'm Australian. I was traveling through a Canada. I ended up in Montreal. I met a beautiful Quebec girl. I couldn't speak French and she couldn't speak English. We drank red wine and chatted via google translate, made love and ended up head over heels about each other. After 1 week – I asked her to move to Australia with me. She did. We lived together in Australia for a year learning each others languages and then her visa ran out – I returned to Canada with her. We had a sad break up when we realized the tyranny of distance… I flew to Mexico and surfed for a month to heal the heartache.

My only classic romance.