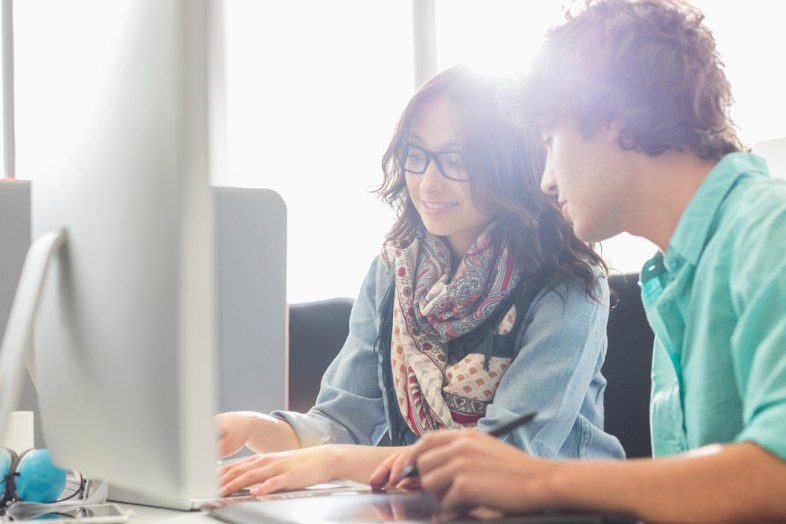 We've all been there. If you haven't, you probably will at some point. That cute, competent and smart guy at your internship will make you look forward to coming to work every day despite the awaiting horrendous workload and deadlines.
It is, indeed, an exhilarating experience. Here are the stages of what you can call an "office fling" (well, based on my experience but I'm generalizing it as much as possible).
1. The first impression.
It's your first day at work. You overcome the anxiety and sweaty palms to greet everyone. Then you notice that cute guy sitting in the opposite corner. He's probably in his late 20s or early 30s. You come up to him at lunch, try to get your shit together and introduce yourself.
2. The butterflies.
Work will get a tad boring, but there's still a motivation to jump out of bed every morning. The sight of him coming into the office makes you feel like there's an entire zoo in your stomach. Trust me, it's a challenge trying to excel in your tasks while watching him work every other minute. What's sexier than a sharp man focusing on his work or confidently leading a meeting?
3. Getting closer.
As the weeks pass by, you can clearly tell there's a great chemistry (if you're lucky!). Frequent eye contacts and smile exchanges, your daily conversations get longer and more interesting (and personal). He might even invite you out for dinner and/or happy hours!
4. The climax.
Girl, he's obviously into you. The date went well and you decide to head back to his apartment. You want it, he's also been dropping hints all this time and you guys have known each other well enough. Things get hot and the next thing you know, you two are lying next to each other, panting, staring into each other's eyes then burst out laughing.
5. All about being sneaky (and intimate).
Oh the thrill of being sneaky together. You still do well at work and maintain a professional image while having various sneakouts. You might even have to plan different times of coming to work so people won't find out you two just left from the same place. More than just having amazing physical compatibility, he intellectually broadens your mind and shows genuine affections. You realize you're so deep into this and start worrying about the end.
6. The inevitable goodbye.
This is it. If you're the lucky one, saying goodbye is no big deal. But I know in my case, it was heart-breaking. If you've formed a bond strong enough, you may find yourself torn between two decisions: continuing a LDR or leaving it as a beautiful memory.
As cliché as it goes, every relationship can be a lesson. Whatever choice you make at the end, remember that at least you've encountered a great person in your life, and you walk out of that internship with valuable work skills and loving memories.