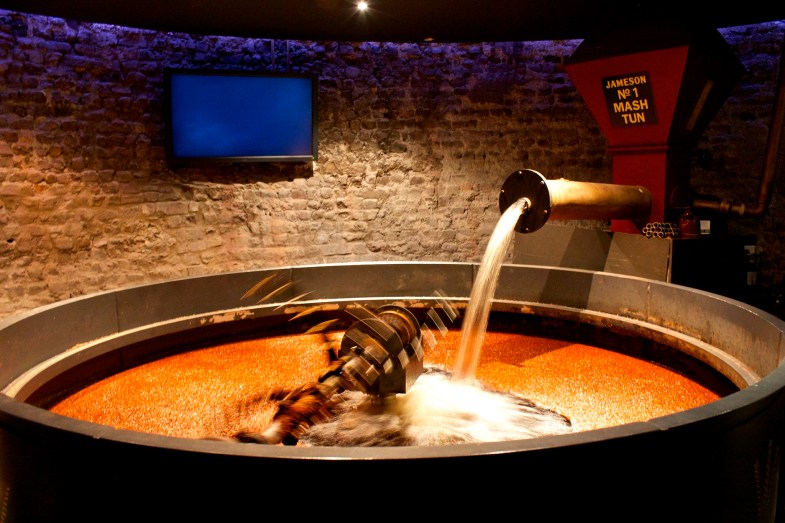 Perhaps the best known quality of craft distilleries' products is their adherence to creativity. Their collective tag in public mind is that in each uniquely bottled spirit is one bereft of anything traditional, and that it is distilled to surprise, amuse, and forget what's archetypal in a mainstream liquor sold in every supermarket in America.
When the locavore thing reached the United States, it seemed that everyone is groomed to believe that the appellation for loving anything local is synonymous to health-friendly. It has a point. Most locally produced products have escaped the sentence of being in gigantic factories built and designed for purposes mass production, places where nutritional facts are set and unalterable values for the general public, for the masses. Local products, conversely, have the privilege of being cooked, packed, and distributed by actual human hands.
Just like them, the local liquor and spirits enjoy the same source of pride: craft distilleries are personally administered by their master distillers, from sourcing of ingredients to distilling to distribution. And it's not surprising at all if on marketing and advertising they practice what norms label as "hands-on." Facing only a smaller and defined target audience, they have all the time in the world to think about their consumers' health—or to make their products a healthier version of what mainstream liquors are.
In the heart of Portland, there's a man named Lenny Gotter, whose résumé would convince you that you can actually be good at distilling even if you're not actually born to be one. He's an artist, a photographer, and he successfully blends his inherent gift for the arts, knack for running a lucrative endeavor, and unadulterated love for spirits and liquor. Co-owning a startup company may sound fun at start, but propelling it to a higher plane, and making it profitable is a different story. But Gotter, together with Steven Earles and their other friends, clung to creativity to lead the local distilling game in Portland.
Eastside Distilling, Inc. is only seven-years-old—pretty young for a brand that has already gained wide recognition—but it's already getting what most small business owners aspire to have: positive reviews from industry connoisseurs, decent media attention, handful of awards from respected award-giving bodies in the US, and its most prized possessions, or more aptly 'bragging rights': loyal customers, positive online and offline brand reputation—all translates to soaring sales and continuous growth. The story of Eastside Distilling underlines the fact that great craft distillery is made, not born. And the old adage that hard work and perseverance alone are enough to be successful doesn't work for craft distillery—it's clear that one needs to inject it with creativity.
"They approach everything from a very science-y background. For me, I start with ideas, then I start with the flavors. You can't fake your way into great ideas," Gotter once said in a magazine interview.
But Eastside Distilling's success won't be a reality if competition does not exist. Competition, after all, is an invisible force that can either dishearten or inspire anyone who runs a business. In Portland Distillery Row alone, there are six other craft distilleries that offer unique liquor and spirits. It's 'friendly competition,' as every craft distillers would say, but there's no denying that their differences and similarities push them to innovate constantly, which , in turn, makes the local distilling industry more creative, livelier, and significant.
But they aren't just competing with each other. They know that craft distilling movement is very much alive across the United States, and there are hundreds of them doing the same valiant thing of producing better alternatives to mainstream liquor, all embracing the idea of creativity as an essential element in achieving such an ambitious goal. In New York there's Tuthilltown Spirits, In Washington Brovo Spirits, Philadelphia has the eponymous Philadelphia Distilling, and Tennessee has Corsair Artisan Distillery. And in every corner of America it's difficult not to find an artisan distillery promising something you couldn't get from giant liquor producers—promises that speak of unique and sometimes eccentric taste, never-before-seen concoctions, names ranging from the nationalistic to eponymous to family names to bizarre, artistic bottling and packaging, and everything in between.
Creativity is an intrinsic element in every craft distilling endeavor. You put it out and that means industry oblivion. You cut it from your brand and you'll lose the loyalty of the locavores. You downplay it and your brand would be an outcast in the entire artisanal distilling realm. More than brand, creativity is a sense of belonging, ladder rungs to success, a driving force to continue. With the giant liquor producers already have the behemoth production capacity at hand, with their brand embedded on customers' head for years, with the power to finance nationwide and worldwide advertising means on all platforms, the only weapon a craft distillery has is imagination, a thing that could be million-times more powerful than reality if properly administered and utilized.