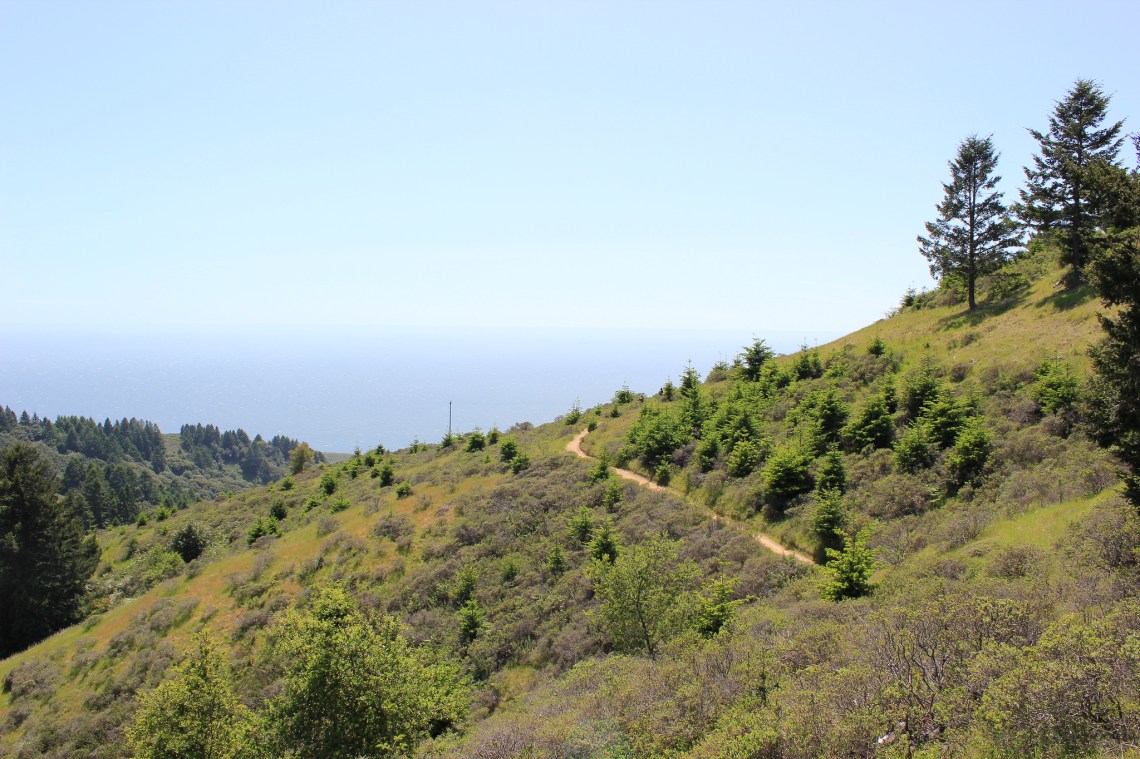 As a new resident to Northern California I found myself quite anxious to hike the variety of trails the area offers. When I first heard mention of the now infamous "Dipsea Trail" that begins at Stinson Beach and leads up to the Muir Woods, I was immediately fixated on wanting to complete the over 14-mile roundtrip trek.
The journalist in me, I asked any active local for advice or words of wisdom about the trail, and while each account of the trail varied there was a common thread: this was one of the hardest hikes to attempt. So maybe it was my east coast nativity or my innate stubbornness or maybe both but I decided to free up my Sunday to see what all this "talk" was truly about.
Early Sunday morning I packed my backpack with substantial snacks, filled up my water bottle, and compiled four friends (who were as just as in the dark as I) and off we were to the Dipsea trailhead. We started the hike wide-eyed and eager to go. A quick photo-op at the Mile 1 marker was a must, and we will just skip over the fact that the klutz in me knocked it over.
The first three miles were a sharp accent upward on slippery stairs and muddy paths. While the sky was still covered in a misty fog the sweat began to pour as we climbed step after step. As we reached a summit in the Mount Tamalpais State Park the sun was shining and the clouds were light and fluffy reminding us just how high we had reached. Since we fortunate enough to have met up with veterans of the course we relied on their guidance on navigating the trail to continue forward to reach the Muir Woods Monument. Along the way on our journey we talked politics, favorite spots in the East bay, and how we would treat ourselves after we complete this mecca of a hike.
As we reached our halfway point I could see the fatigue among my friends so I gave them my biggest smile and best cheer I muster to keep our morale high. Along the way we passed elite runners who sped past us, I remarked in awe at their agility to maneuver their way through the path with ease. The second part of our adventure was lush in vegetation and scenic views. I had never laid eyes on tree trunks that could engulf a person or canopies that stretched for what appeared to be mile after mile.
Just as the afternoon sky was rolling in we approached a waterhole that begged us to jump in for refuge. Some in our group jumped in without hesitation others took a moment to catch his or her breath, after all we did just log over 12 miles at this marker. I couldn't help but chuckle to myself – here we are almost toward the end of Dipsea?!
As we finally began our final three-mile stint to the beach, as warm feeling surrounded me, as I looked around at this eclectic group of travelers, some hailed from Brazil, some from Switzerland, a few were avid fitness gurus, yet we all took the same path, the same journey, and we all finished as a team. Our reward was catching a crystal clear view of the beach as well as dipping our sore feet into the Pacific.
Was this the "hardest" trail in Northern California? Was the advice given by the others accurate? I can not say for certain, but I am proud to have had the opportunity to pave my way on the Dipsea.