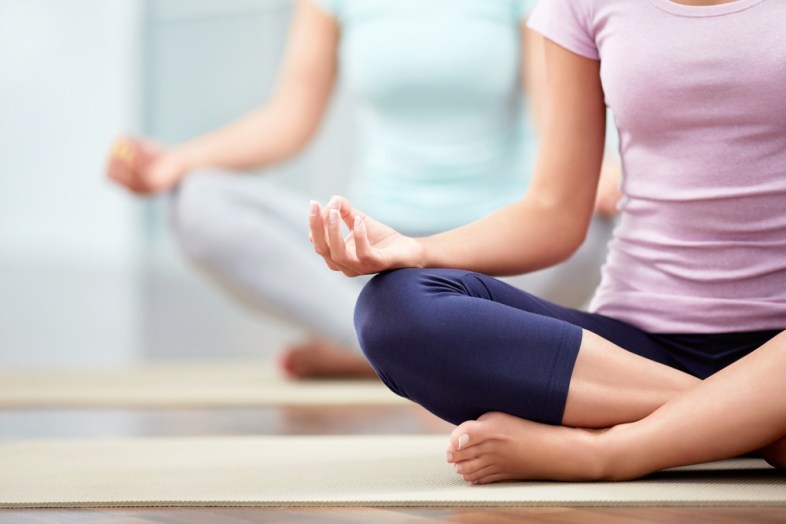 You've just put your little one down for a nap and have maximum 45-minutes to yourself. Lately, there has been no space for me-time on your to-do list. Between taking care of the babe, finding new clients, finishing up DIY projects, learning how to knit and planning weekly meals, your hands have both literally and figuratively been tied. Yet, today, you feel the energy to do something for yourself that will not only benefit you physically, but mentally, as well.
Yoga is a practice dedicated to balance. It emphasizes focus, self-confidence and self-love, all while strengthening the core. You could head out to well-respected studios in the city or re-sign for that gym membership you used to cherish, or you could find ways to do yoga at home (which is always cheaper and time efficient).
With the multiple free yoga classes and videos available online, I have put together a list of my favourite yoga classes to simplify your search. These classes, all from doyogawithme.com, take half-an-hour or less, are great workouts by trained professionals and effective ways to manage stresses and regain focus!
1. Beginners' Yoga for Shoulder Strength: This Hatha Yoga class, which runs for 22 minutes and 45 seconds, works muscles in the shoulder and upper body. Shoulders are an important part of yoga practice as they act as a major stabilizer in common poses, like downward dog. Strengthening our shoulders also helps with posture. With long days that always involve career-related and at-home tasks, many of us hold stress and tension in our shoulders. Beginner's Yoga for Shoulder Strength will help alleviate the pressure we carry in our upper bodies.
2. Beginners' Yoga for Leg Strength: This calm class really works and stretches the lower body. Moms are always standing up, running around and lifting, so it's important to keep the major muscle groups in the lower body healthy and strong. This 21 minute and 34 second Hatha Yoga class is a great way to prevent injury, as well.
3. Yoga for Hips, Hamstrings and Back: This lengthier Hatha Yoga class runs for 26 minutes and 59 seconds. It requires a yoga strap, which enables better stretches in tight muscles. Doing this online class will quickly increase flexibility in the hips, hamstrings and lower back.
4. Core Fantastic: This fusion class combines yoga and Pilate's to challenge the core muscles, which keep us balanced and standing up straight! Exercising our midsections give us the strength to complete other fitness routines with increased power, too. Core Fantastic runs for 24 minutes and 12 seconds.
5. Bodacious Bootie: Another fusion yoga/Pilate's class, this strength routine works and stretches our backside, while still increasing heart rate and using the full body. Though an intermediate level class, Bodacious Bootie, which runs for 24 minutes and 44 seconds, is encouraging, fun and proactive.
6. Happy Hamstrings: An intermediate level Vinyasa Yoga class, Happy Hamstrings targets the most commonly tight muscle in our legs. The class starts off easy and slowly transitions into deeper, more aggressive hamstring stretches. After completing the 21 minute and 50 second class, you should feel a sense of release.
Whether or not your little one wakes up sooner than expected, the most important part about yoga is recognizing the need to take time for yourself. The most challenging bit about the practice is learning to relax and let thoughts that come during class, go as they please.
Savasana, or corpse pose, is a great way to close each practice. Lying down on your yoga mat, with your hands and feet flopped open and eyes closed, your body will thank you for investing in it.