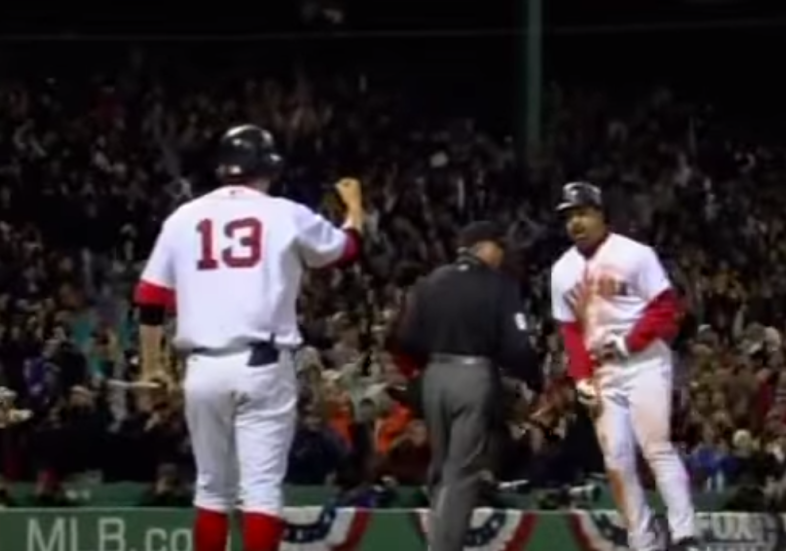 All you need is one moment, and to be where you were supposed to be. Everything that comes before that is practice.
For those of you who don't know, Dave Roberts is a baseball player. He is not a particularly good player, or a well known one – even when Googling him for sabermetrics, I came across a different and better Dave Roberts from the 1970's.
Dave Roberts isn't even the best baseball player with his own name.
Our Dave Roberts was a baseball vagabond, carting his limited skills from city to city, sometimes getting gulps of starting air, but more likely as a bench player. He didn't hit for power, after all. He didn't really hit for average, either. All he had was speed.
Speed shouldn't be forgotten, though. It cuts on offense and defense both, and aids teams invisibly. That said, nobody every pretends to be a player who's merely fast; Ricky Henderson, for example, hit for power and average with his unparalleled speed and I consider him under-rated. Roberts, though, just was fast; not uniquely so, and with enough other holes in his skill-set that when he came to the Red Sox in 2004, it was on the bench.
That's the scene I want you to know; the Red Sox in 2004. Boston had just had a heartbreaking, jagged loss the year before to the Yankees in the playoffs. If you don't remember Grady Little leaving Pedro in against the Yankees, or Aaron Fucking Boone's home run off of Wakefield, then you might allow yourself to forget our anguish. We were sick, mired in a curse and a rivalry we lost, so, so painfully once again.
And then it was 2004.
There was some hope, there, but it was mired in a Boston sort of resigned pessimism. We had that, back then. And before our match-up with the Yankees, there was a bravado that masked our nausea.
And we lost. And lost. And lost.
We were down three games to none against the behemoth, against the inevitable tides of time. The third game was a 19-8 blowout, a sort of score you see in video-games. Nobody had ever come back from a deficit like that in any sport. The Yankees felt hopeless, and our hate was used to warm us in defeat. It was sickening, disheartening, a city-wide self-flagellation. When I say Baseball is a religion, Boston had it stark and cruel; we suffered, and in that suffering, found our purpose.
So when it was game four, and we were losing, we watched. We were not fair-weather. We watched, and we bled and we sat and we watched as a duty. And, down one run from a sweep, against the unstoppable Rivera, he walked Kevin Millar.
And Dave Roberts came in to pinch run.
It's a demeaning spot, to pinch run. Roberts hadn't played that game – no hitting, no defense, obviously no pitching – and all he had to do was run. To steal second base.
And everybody knew it.
It was understood. Rivera tried to pick Roberts off one, two, three times before even throwing a pitch. And, as understood by the fates, Roberts stole – barely, so barely – second base.
He was safe.
Later, Mueller would single him home to tie the game, and Ortiz would hit a home run, innings later, to win it.
The rest of the series, if you don't know, is one of the greatest sports stories in American history. Look it up. Miracles and heroism overlapped against all odds for amazing, victorious, baseball. It's a team sport, and many had a moment or play worth remembering a decade later. Ortiz's walk-offs. Schilling's bloody sock. A-Rod swatting the ball away like the utter heel he is.
But I care about the steal.
It's even called "the steal" here. You can google it. Dave Roberts had a life spent in the shadows and benches, bouncing from city to city, and in his moment of glory – he could have a statue here. His name has reached Red Sox immortality all from fewer than fifty games. All from a play made from the bench, hard but unremarkable.
Remember that, next time you think about yourself. When you feel like you need to force something, remember that sometimes things will come to you. I won't call it fate, but I will call it something: Dave Roberts had a moment etched in permanent glory that came from the bench, from a decade and career of meandering work. There were countless times he didn't deliver for other teams, other games, other clutch moments that went unfound.
But there, then? He did it.
So can you, when the moment comes.