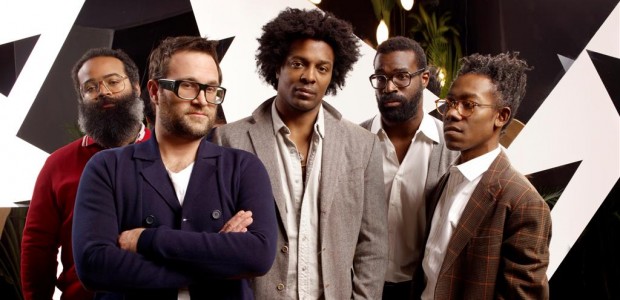 It's been seven years since I first heard of TV On The Radio, seven years since I got tickets to Last Call with Carson Daly—yes, that Carson Daly—just to see the band play, seven years since I fell for a group I never saw coming. They'll be taking the stage Sunday night to close this year's Pitchfork Music Festival, and I can't help but think about watching the little art-rock-band-that-could grow into the arena-ready powerhouse they've become.
"This is it." That's how I began a review of TVOTR's 2006 album, Return to Cookie Mountain, for a college paper that fall. "This is the album that music lovers have been waiting for, despite the fact that most people have yet to be aware of it. For those who sought out another Nevermind for over a decade, for those who intended to find the next definitive band that would define a generation and change the way we think about music, that time has come."
Though it's hard to read the rest of the piece—hey, we were all 20 once—I still have the same overwhelmingly strong feelings for Return to Cookie Mountain as I did back then. And I still cherish the band, too, perhaps more so with each new album. Sure, their latest album, Nine Types of Light, doesn't quite reach the mark of every other collection that bears their name, but their shimmery new tunes still have that special something that drew me to the band in the first place. Nine Types of Light might not be what fans expected from TVOTR, but for a group bent on sidestepping expectations, they couldn't have been more on track.
In that Cookie Mountain review, I proclaimed that the band would be lifted into the upper tiers of our pop music canon. I imagined a world where TV On The Radio were the next Nirvana, or that they were "destined for at least the cultural power to be this generation's Pixies." I'm not sure I entirely believed it at the time, but my unabashed enthusiasm left me lightheaded: All things considered, TV On The Radio has transformed into some sort of hybrid of those two aforementioned musical entities, which is an admirable height for any group to reach in such a Balkanized, schizophrenic pop music world. I can't say for sure that "kids in Kansas… have posters of vocalist Tunde Adebimpe lining the walls of their bedrooms"—of courses Kansas seemed like the most isolated locale to a guy who grew up on the East Coast—but they've garnered enough TV appearances, critical accolades, and fawning Tumblr posts to ensure that Hot Topic sells their t-shirts.
Still, part of me felt weary about the massive success I thought TVOTR would find. About a month after I wrote the Cookie Mountain review, I caught the band when their tour took them to Boston. A cameraman had been filming the show for a (still yet-to-be-released) documentary about TV On The Radio: He assembled a bunch of attendees after the show to talk about the band in a big group, and he asked me to do a one-on-one interview. I still recall discussing my conflicted thoughts about their growing popularity: I thought they deserved to be big, but TVOTR were mine and, for some reason, I found the idea of sharing them to be kind of difficult.
I now recognize I expressed some sort of strange, parental need to "protect" TVOTR: They were the five guys who opened my ears to all sorts of new sounds, and I didn't want any sort of success to "ruin" them. Through the years I've seen the band experience many ups and downs, I've seen them grow, I've seen them become a group loved, admired, and cherished by a fan-base far larger than just me. Back in '06 I couldn't have reasonably known what would happen to TV On The Radio in the near future, but I certainly knew I'd stick it out with them through and through.