One year while I was living in China, I didn't go home for Christmas. It would've been nice if there were some fun reason like "I met a partner and am going to stay here with this person I love" or, better still, "WOOHOO, I scored an amazing deal for a tropical beach vacay!" But it was nothing like that. I was poor. Like, "homeless"-in-a-hostel-dorm, treat-a-cup-of-milk-as-a-"meal," bed-down-with-a-guy-who-shares-his-food-and-wonder-if-the-food-seduced-you poor.
How I ended up scraping economic bottom there is a whole other story. Suffice it to say, there was no money for a round-trip flight back to the States. Yet even in grinding poverty, Shanghai yielded some of my favorite memories — including Christmas 2013.
Will you be alone this holiday? Don't worry; it just might be awesome. Here's how I cultivated my own Christmas joy when I was broke and far from home and how you can make some perfectly imperfect memories too — by thinking way outside the box.
Holiday Theme 1: Ambience
Let's start here. The season transports us because we put so much effort into making our spaces all cozy and glowing. But what if your surroundings just don't feel festive? I can empathize. There was no real Christmas vibe in China, and since the holiday was largely associated with Western money, the decorating (wherever it existed) was often comically consumerist. Examples? The huge sign that read "BLING BLING HOLIDAYS" near Jing'an Temple, or the "tree" made of Fresh Cosmetics packaging that blasted foam "snow" in front of the Raffles City Mall.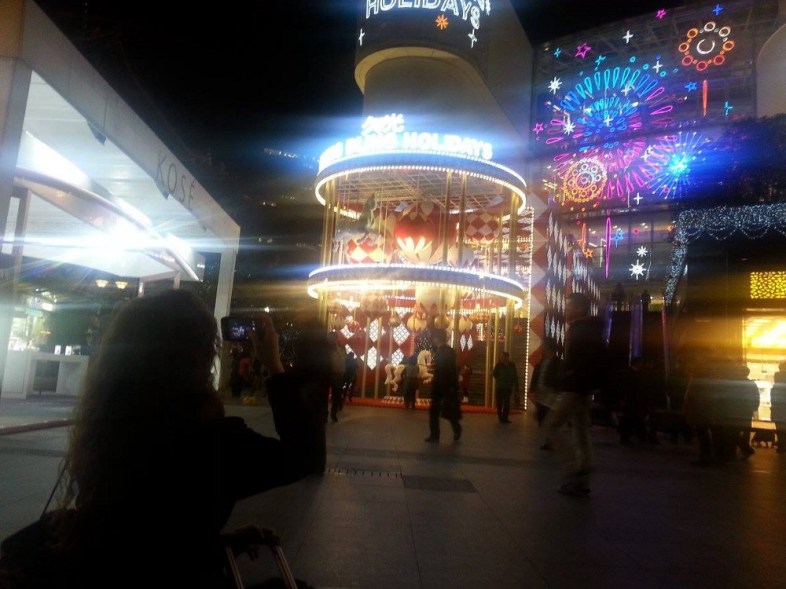 However, that year I received a game-changing gift: a friend and his husband invited me to stay at their place while they Christmas'ed in Europe — and knowing there'd be a comfortable, quiet sanctuary where I could spend the holidays (instead of a rickety bunk in a dark, crowded dorm) lifted my spirits instantly.
How to find your holiday haven? In a normal year, maybe you could escape to someplace peaceful or pretty. But 2020 isn't normal. So you need to get cozy where you are: whip at least one small, dedicated corner of your world — even if it's just one shelf in a shared room — into feel-good shape. Clean. Declutter. Decorate ANY way you want. Play holiday tunes. Diffuse holiday fragrances. Aim for relaxation, light, and warmth. It'll shift your mood fast. All else builds on this.
Holiday Theme 2: Food
If you're alone this year, then you have a free pass to personalize your holiday menu completely. Let that be fun.
My Christmas-week menu? I finished a bottle of red, ate takeout a couple times from my favorite dumpling chain, and splurged for a spicy Hunanese feast on Christmas with some friends. I also took advantage of the clean, well-stocked kitchen in my hosts' apartment to cook a favorite Chinese dish and made sweet rice porridge each morning. Finally, I splurged on just a few Western goodies that connected me symbolically to home and the people who loved me. And how do I remember all of this seven years later? Every bite felt special because I decided it would.
You can eat "meaningfully" this holiday season in a thousand ways. Warm your soul with leisurely breakfasts. Try mastering a favorite new dish. Indulge in delicious takeout. Don't pressure yourself to recreate a time-honored family feast; even little touches can still evoke the taste of home. Everything else that's unusual or new makes for a unique memory. Savor it.
Holiday Theme 3: Spirituality — However You Define It
I took spirituality in a really odd direction for Christmas 2013. Awkward confession: in an effort to process some past-life stuff, I streamed a WWII film so emotionally brutal that I had to split it up over three days. But this was deliberate; I wanted to use my holiday hermitage to write and meditate on karma and soulmates and questions like, What does "healing" mean to me? — and I found some life-affirming epiphanies as a result.
Give your spirit what it needs to process and heal too. Whether you're religious or not, you can mine this season for metaphorical meaning. Winter solstice holidays, for instance, are often fundamentally about the interplay of light and darkness and — more to the point — about the ability of the light to return at life's otherwise-bleakest moments. Then there's all the spirituality inherent to holiday themes like generosity, abundance, and trust.
The blessing in spending a holiday alone is that you make the meaning. You make the rituals. The holidays aren't just about twinkle lights, treats, and trinkets; they are, fundamentally, about tending to your soul. With love.
Holiday Theme 4: Togetherness
This season's also about connection. If not, then I wouldn't be writing this, because celebrating alone would be no big deal. You don't need me to remind you to make holiday calls to friends and family. But I do want to urge you to get creative about it.
I learned an unexpected lesson in China: when I went to dinner that Christmas with friends who were also "stuck" there, I realized that my longing for the familial and the familiar actually united me with others who felt similarly "alone." It was also cathartic for me to be able to make their own Christmas less lonely.
So instead of just calling people, how about celebrating with them? Yes, from afar. Maybe you can agree on a special recipe to cook together on Zoom so you're feasting "together." Alternatively, tune in at the same time for the same holiday movie. While nothing replaces old traditions, you can find fun substitutes while they get tabled. You'll also assuage another person's loneliness in the process.
Holiday Theme 5: Giving — To Others
On the one hand, it's troubling that consumerism is such a big part of how we make merry. (If you've ever lived in China and tasted the delightfully metallic flavor on the throat-burning smog of autumn — when China's factories frantically churn out the goods for Western holiday shopping — you can agree!) However… the whole idea behind all this consumption is the spirit of giving. And giving can take many forms.
In my case, the ritual of caring for my hosts' cats that holiday — feeding them, grooming them, petting them, changing their water, scooping their poop, administering medicine — infused my days with a sense of purpose. Even if there was nobody to wrap gifts for, I didn't feel truly "alone;" I had little beings to dote on. So ask:
Who, or what, is nearby and can use a little TLC? Can you design a socially-distanced surprise for a neighbor or contribute to a local food bank? Can you spoil your pets with extra playtime or brushing? Start scheming how you'll spread the love this holiday. Buying people stuff is fine, but you'll feel especially connected if you commit to acts of kindness.
Holiday Theme 6: Giving — To YOU
That year, when my parents sent me some money for a present, I was tempted to save it for necessities but realized that being alone for Christmas was as good an occasion as ever to treat myself. So I stretched that money by buying various stocking stuffers: a bottle of imported conditioner (it's hard to be naturally curly in China), a beeswax chapstick, two packages of sheet masks, Snyder's pretzel bits, a Ritter Sport bar with hazelnuts (chocolate was a WHOPPING luxury for me then… but Christmas = chocolate), and a package of cranberry cookies (aren't cookies a Christmas requirement?).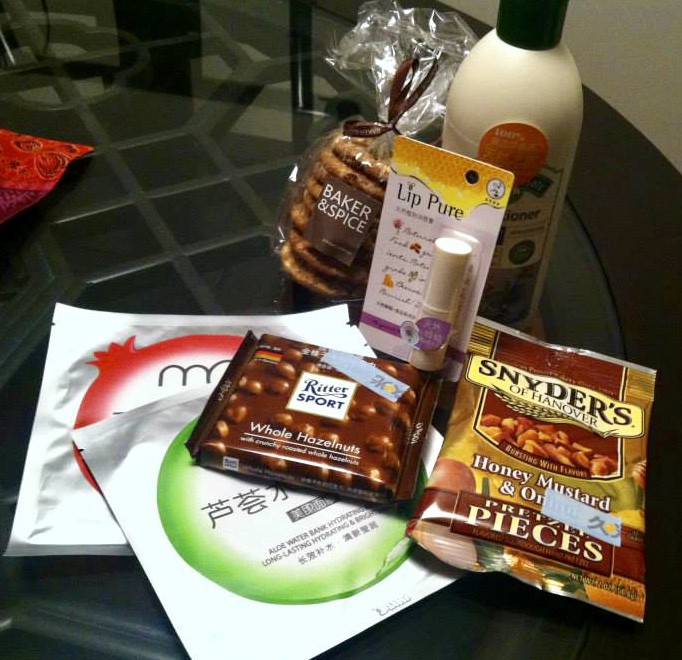 Each item was meaningful, representing ideas like "self-care," "holiday flavor," "taste of Pennsylvania," or "sentimental memory" — however loose the association. For days, the little pile of goodies sat on display, unopened, in the dining room, and I smiled whenever I saw them; they were a reminder of little joys to come — and of the love that funded them.
Gift yourself a handful of thoughtful stocking stuffers, or gather the cards and trinkets that loved ones send you this year. Display these as a testament to the joy of simple treasures. Don't let the season's generosity be something you glance at for only a day.
Holiday Theme 7: Taking Life More Slowly
Around the holidays, we all get inspired to spend more time kicking back and to invest more energy in nurturing and creative activities — often together with our loved ones. When you're alone, though, it's just as important to make the season "sacred" by doing special stuff, however simple.
My China holiday, as you've seen, was devoted to a blend of creative pursuits (e.g., cooking, writing), entertainment (e.g., movies), and purposeful relaxation (e.g., spa nights with sheet masks). For me, that was perfect.
Self-care and leisure take many forms, from pampering yourself to working on projects you care about. So soak your feet, light a candle, read a book, write a book, all the above, whatever. It doesn't have to be expensive. What were you too busy or stressed to do throughout the rest of this wild year? Find ways to incorporate those activities now. This is your time for dropping the grind and savoring each moment. Slow down. Appreciate being able to slow down.
After this year? You totally deserve it.