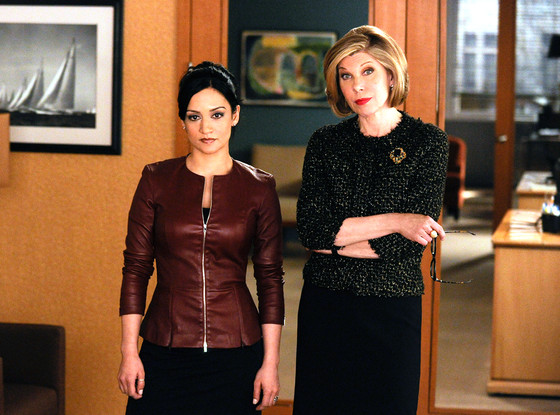 If I have a vagina, and you have a vagina, then we need to figure out a way to be a bit more united in our vagina ownership for a greater cause, and stat.
We have a responsibility. We have a responsibility to every vagina in Uganda that's had her clitoris lobbed off in the name of tradition. For every vagina in China that gets left on a roadside to die as a baby because she isn't a boy. To every vagina in India that gets raped with an iron rod for riding the bus after dusk, to every hijab-wearing vagina in Saudi Arabia that is forbidden to drive a car, and every vagina in the world that has ever experienced being told no because she isn't male.
The way we change the world for every vagina out there? It starts with our jobs. We need more women in power.
The battle isn't won. There are still more men than women in the top spots of almost every profession. The further up the career ladder we look, the fewer ladies are playing the game. This often – not always, but sometimes, which is often enough – means two things: one, we see it's near impossible to do, so don't try. Two, when we do try it's at the cost of other women because one female boss is rare enough. More than that is mythical. Well, at least outside of the major cities anyway.
Both choices come from mentalities engineered by the rich old white men who recognise the radical potential we have to upset their comfortable status quo of owning the ways we make money, and who know that should we shrug off the shackles of their surprisingly methodical career oppression and demand a presence in their boardrooms we'd make stuff really difficult for them.
I know a bunch of women who see what it takes to be considered leaders in their field, to secure the chief position – long hours normally at the sacrifice of a life, in-house politics, gender stereotypes to dispel daily – and so decide to opt-out, choosing instead to build an existence that doesn't begin and end with the office. That includes me.
For the women who do play the game, we're fed a myth that "success" is finite, like a cheesecake, and so we can't afford to truly help one another lest we lessen our piece of the pie. This ridiculousness is perpetuated by the rich old white men who hold the key to the bank, who treat the workplace like The Hunger Games – at my first internship I was pitched against another young writer, told on the first day of work that there was only the one opening at the company and so may the best woman win. Teamwork was not encouraged.
But, what the rich old white men don't tell you is that if I light my candle from yours then the whole world is brighter. If everyone has their piece of "success" it doesn't then mean that there is less "success" for everyone else.
We're making progress, but at the same time also continue to work in environments where a pregnant woman is asked not to give the client pitch, since their dedication to the account might be questioned. A workplace where Sally, not Simon, is asked to make the tea. Once, as the only female in an all-male company, I was pulled off my duties to help with the décor of the new office; obviously as a woman I'm genetically pre-disposed towards giving a shit what colour the walls are.
In order to combat this everyday sexism, we need to stick together to alter the value system set for us by dudes who don't know what it means to live now. Because here's another thing: the men of our generation don't want to play by the rules their grandfathers set either.
As a culture, our principles are changing. "Success" in life isn't the most money, biggest house, and fanciest holidays. For our generation success is less time at work, more time learning and travelling and just being. It's turning a passion into a lifestyle that supports itself, not saving it for two days of every seven. The metrics we use to quantify "success" aren't what they once were. I really believe that.
As long as it's these rich old white dudes running the companies at the very top levels and signing the paychecks, we're all – male and female – going to be held to their standards. We operate in a form of modern-day slavery where we're bound to our jobs because we need the house that is mortgaged by the bank our boss's boss sits on the board of. It's insane.
Our choices – don't bother to strive for the top jobs, or do so at the cost of other women – are derived to keep things as they always have been: the choice few in control of the rest of us who work for them. That's made much easier when essentially 50% of the world's population don't have a voice. But. If women are as accountable as men in genuinely influential positions, and 100% of the population demands change, we all get heard.
We need to support each other at work in the same way we support each other at cocktail hour, because we're stronger as a team than we are divided. Together we can stand shoulder to shoulder with the men of our generation, the men who want to overthrow the outdated value set of their predecessors so that they can stay at home with their kids if they want, or not have to run the company to be respected in it, and their partners, of either gender, can go out to work in jobs they love and are truly valued in.
We as women will then be free to work in positions of power and influence alongside men, equal in number, making not only the lives of us and our partners more fulfilling, but also making a real difference to the role women play across the globe. This isn't only about us.
There's so much more to living than a job title, but we need to help each other fill those titles in order to change what they mean. And when we do that I reckon we'll change the world.