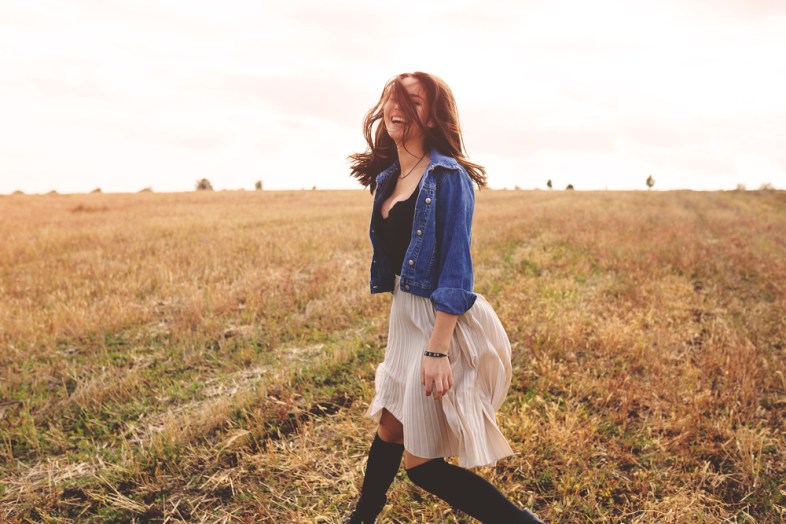 I feel sexy when I am well rested. When I switched off my phone long before bed, and when I orgasmed before I slept. I feel sexy when I sleep nude, in nothing but white sheets, and wake up before my alarm, naturally ready for the day.
I feel sexy when I take my time. When I light sandalwood incense to burn as I dress, and open up the porch doors to let in the light and the air and the day. I feel sexy when my toes are polished, a small act of self-love that carries me, one foot after the other, through my hours.
I feel sexy when I'm dressed casually, with a flick of mascara and a dab of lip balm, and when my skin is kissed by the sun just enough that my limbs feel warm to look at. Eating breakfast makes me feel sexy, because I know I'm nurturing my body, and that flagrant respect for what it can do and how it needs to be fueled feels like foreplay to my best life.
I feel sexy when the first thing I do with my day is what I love. Deciding to put my passion project first is freeing and wild, and the ninety minutes I actively shoe-horn, without compromise, into my day set me up to be more open to what the rest of the day holds. I already looked after my dream, you see. That feels sexy. And when you feed your dream it tends to bring other dream-feeders into your life. When you're surrounded by the people as committed to their potential as you are to yours, that breeds sexiness.  Being in company that challenges what I think I'm capable of forces me to stretch my mind, my imagination, my creativity – that feels sexy.
It feels sexy to do the thing I say I'm going to do. To declare my intentions loudly and then quietly, day-on-day, do the things I need to do to get results. It feels sexy to know that big sexy dreams happen through many, very un-sexy, steps. I feel sexy getting to grips with that, with getting the dirt of my life under my fingernails and rolling around in the exploration of it all. It feels sexy to fuck up, a little bit, or a lot, and sexy to fall. It feels sexy to go on right ahead and pick myself up again, to try again, to learn and be brave and carry on regardless. It feels sexy to hope.
It feels sexy to travel. Travel makes me nervous – gives me butterflies because I do not know what lies before me. I feel sexy when I am uncomfortable, when I have tip-toed outside of what I know to poke around in that which I don't. It feels sexy to make myself understood, to adapt and change and mould myself to something so not like me, so that I might become more of myself.
It feels sexy to turn down sex when it isn't right. To know I'm looking for a lifetime, not one night, and so I'll go to bed alone, tonight, thanks. It feels sexy to tell him how I feel, and not expect that he might feel the same. To love for love's sake. Give for giving's sake. Hope for hope's sake.
It feels sexy to teach. To master something well enough so as to bestow that knowledge to others. It feels sexy to be informed, to understand, to ask the right questions.
It feels sexy to order dessert. It feels sexy to run. It feels sexy to hold eye-contact.
It feels sexy to do whatever I damn well please.