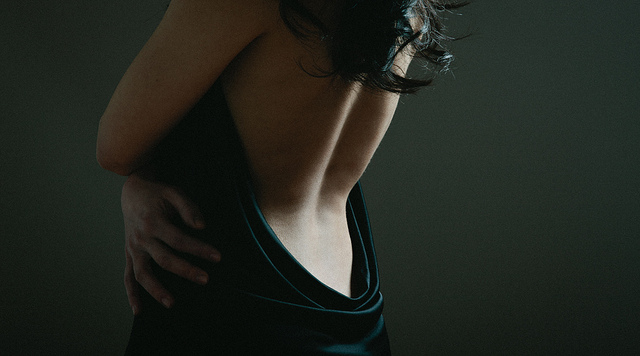 She's missing something, and needs you to fill the hole. Literally. Come inside her and stem the flow, patch up the wound with your own body because she cannot do it alone. When he left he took something from her, but she doesn't know – can't figure out – what, exactly, it is. So she'll try anything. She'll do anything to see what works. She just needs to not feel quite so much.
She's a slut because it helps. It's less about the act of fucking you, and more about what it does to her ego to get there. That she can control you. She had no control over him – the way he cried when he said goodbye but said goodbye all the same. She had no control when she got the call about his new girlfriend, second-hand information that made her wonder how long, exactly, it had really been going on.
She needed him to be a faithful man so that she could believe faithful men exist, and now they don't anyone is up for grabs. It is balm for the ego, locking eyes across the bar. Salve for the dented spirit when she approaches. Men love the thrill of the chase, and she loves knowing that she can screw any man she wants if only she's brave enough to ask. She just needs to make it their idea. She's in the driving seat of saying just the right amount of provocative. Master of making his pupils dilate in thrilled shock. Will say the unsayable as code for what else she'll do, too.
She's not a bad person. She's not a Madonna, nor is she a total whore. She has friends, and a job, and is liked and respected and popular enough. She commands attention because she's so in control, so measured, so aware of the cracks she'll let other people see. Most will be fooled by it. Most will marvel at her confidence and her "go for it" attitude. Concede that she must really have her shit together. But then there will be one or two who linger behind, say less, hold something back because they see it. They see that she's playing make believe and doesn't even recognize it herself. They don't trust it, and they shouldn't.
She's a slut because she needs to feel wanted. Desired. Sexual. She needs to remind herself that she can. That there are other men out there. But she doesn't want you to love her. To call. To treat her with any semblance of respect. She doesn't respect herself because how can she? What is she worth, when the one she gave it all to left so easily, and for somebody else?
She'll fuck you, and you, and you – one after the other, filling up and filling up but never being filled for long enough. She'll begin to pride herself on not being like the other girls. Of keeping you at a distance. Ignoring you once you've peeled off the condom and flung it in the trash. Because she will always make you wear a condom. She can't love herself so she sure as hell couldn't love your child.
She's a slut because none of you are the answer. As she holds your gaze longer than strictly necessary, rests her hand on your knee a little too high to be friendly, there will be a question in her eyes and in her heart and the moment you lean in to kiss her –tough, and fast, always too fast to mean anything – the tiny speckle of hope that she almost had will be quashed. She'll just get on with it.
She'll be wet for you. Turned on as all hell. You might even make her come. But it won't be from being inside her. It won't be where she can see you. You'll slip your hand into her knickers from behind or go down on her in the dark. From there, you could be anybody. Nobody. Him.
She'll treat you like utter shit and it will make you want more, because the ones who don't care can be the most attractive when we're playing the "who is more broken?" game. But you won't value her. She gave it away too easily, you used each other in a way that can't be undone. She'll note your attitude, the way you keep your texts explicit and void of emotion, following her lead, as evidence that all men are the same.
Sexual predators. Easily led. Emotionally stunted.
She won't feel bad about moving on to the next, because it didn't mean anything anyway.
That's why she's a slut.
Because nobody can disprove her theory.
Nobody is saving her from herself.
She doesn't know, yet, that she needs to save herself.