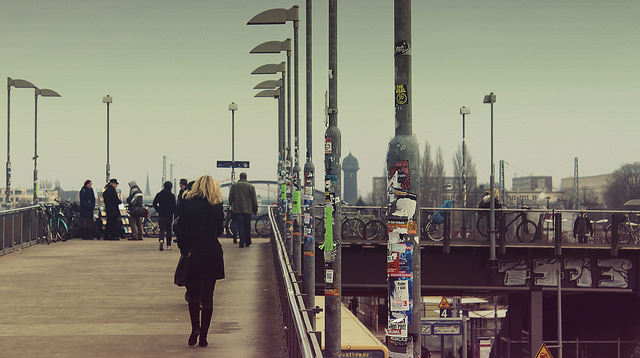 It was a punch to the throat.
"My ex," I said, gasping. Tears threatening. "The ex. The ex who left me to get married to my best friend. He's in there. I've not seen him in four years and he's at the bar with his dad. He's wearing his wedding ring."
I shouldn't have been there, outside a shitty Cranbourn Street boozer. I never go out drinking in central London. I'd even emailed my friend to say, 'I'm sorry to have to ask, but I work on Oxford Street and walk home to Waterloo, so can we meet in the West End? I know it'll be crazy busy.' I don't ever drink near Leicester Square; don't ever wander into cheap pubs looking for an 11 p.m. nightcap with a girl I used to know when I was 12 years old. None of my story that night was typical of my Wednesdays. Not one bit.
I'd been talking about him, strangely, only that afternoon. When he left me I thought I'd never recover. I spent six months dreaming of him every night, and six more dreaming of her after I found out they were engaged mere weeks after our six-year relationship had abruptly ended. 666. On the back of meeting author Elizabeth Gilbert, I'd been telling the girls at work how I'd gone home the Christmas after I'd been dumped to my mum and dad's, and laid with Mama one morning, sobbing and frustrated, muttering over and over again, "I think about him every minute of every day, and I dream about him every minute of every night. Why won't this end? I don't love him anymore, but his memory won't leave me. Why won't it leave me?"
That evening I finished Eat, Pray, Love for the first time, and I dreamt of him again. In my dream I said, "You can't be here any more." The next night I dreamt of her. In my dream I said, "I've told him, too. You can't be here any more." I haven't dreamt of them since. That's the story I was telling at work.
About a year ago I found out they'd moved to London, and occasionally I'd look idly out of a bus window and think somebody walked liked him, or I'd turn around because something sounded like him. I'd forget those thoughts as they happened. It couldn't be him… could it? When I walked into that pub, last Wednesday night, I waited for the realisation to hit that of course it wasn't him. But it was. I've known for twelve months that London isn't big enough for the both of us.
My friend shook my arm. "Laura? Let's go. You don't have to talk to him."
I swallowed hard and looked at her. "I do," I said.
For four years I've imagined what I'd say when eventually our life paths crossed, in whatever way, whatever time. I imagined being stoney-faced, serious, looking him in the eye and saying, simply, hurtfully, 'You broke me, and you never even said sorry.'
But that's not what I said.
"Is it you?" I croaked, re-entering the pub. He stopped talking mid-sentence, the grin from his face sliding away like mud from shovel. Colour drained. His mouth fell open ajar.
"Hello."
My performance began. "The Laura Show". Light arm touches, silly jokes, funny voices, total enthusiasm. I asked about his brother and his sister, about his mother and his work.
I said, "And how's…?" But her name stuck in my throat. "… everything else?"
Everything was good, he said. Very good. And you? I told him about my plans, my writing, my parents. He said he liked my hat. I thanked him. Silence hung between us with nothing else to say.
The year after I'd banned him from my dreams, when I'd moved to Detroit and spent four months in Italy and flown to Paris on a whim, I'd written to him. I said: For six years I've felt that you were too good for me, that in some unspoken way I was holding you back. But I was only holding back myself. The day you left me was the day you cut my wings free, and now I'm flying. Thank you.
As we danced around our history in that pub, wide-eyed and perplexed to stand before each other another time, my wings on full peacock display, I thought to myself how four years is a long time to build up an image of a monster in your mind. Betrayal can do that. But he was just a person. And not even my person. He was… a memory. A fading one. A yesterday. I didn't miss him anymore.
I kissed his cheek goodbye to punctuate the awkward quiet, and he said, 'Good luck, Laura.' I slept dreamlessly that night.