Living in LA can feel like being stuck in a Thunderdome of douchebags and stresses. The grinding pain of traffic, competition, poverty, and homesickness can drive you to drink, smoke, and more importantly eat. Emotional eating comes in many forms and the multicultural buffet of LA satiates them all. Behold the restaurants and trucks LA residents know to hit up for the emotional eats.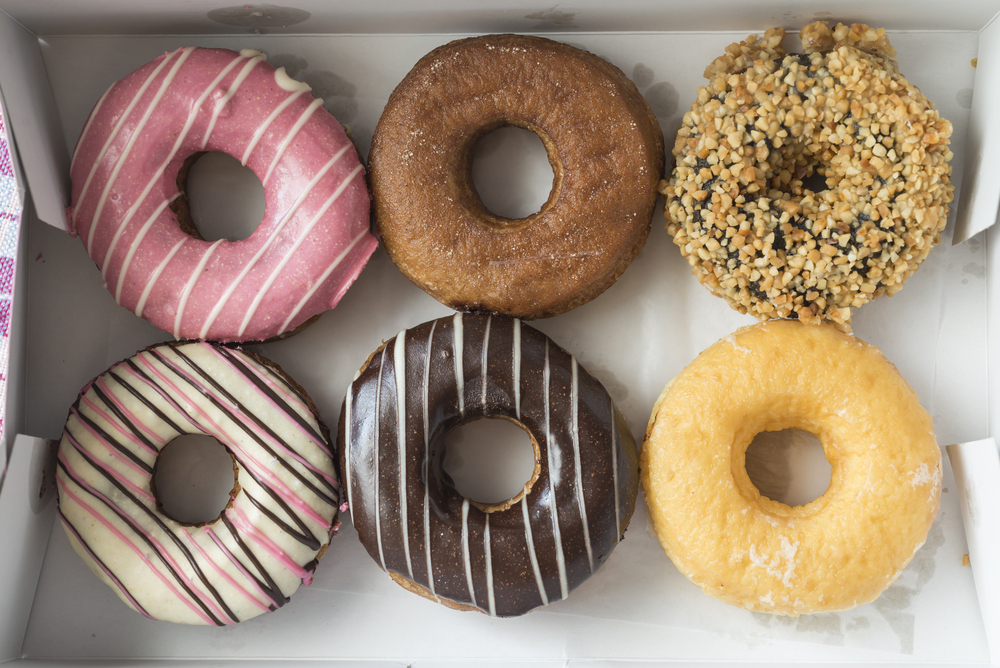 Stage 1: THE "DRIVING ALL OVER TOWN IN A STARVED RAGE" BURRITO
Zermenos 6115 Santa Monica Boulevard 90038
When road rage and "hanger" (angry hunger) partner up in your tummy, a burrito is the only law man for the job. But, if you're thinking of going to Chipotle you can just book your plane ticket back home. Zermenos in Hollywood is much more than a taco stand, they have parking, they take cards, and you don't have suck down exhaust fumes to eat there. Their carnitas, juicy, crispy chunks of fried pork make an idea burrito filling. Settle in with a Jarritos, watch a little soccer on the tv and you'll be face deep in a burrito feeling right as rain in no time.
Stage 2: THE "WAKE & BAKE/TALKED TO PARENTS ABOUT FUTURE" CRONUT
Magees Donuts 6705 Santa Monica Boulevard 90038
Few donut shops are good for more than just junkie watching, but Magees Donuts, stuck between a sketchy 7/11 and a statue stand, is the exception. The star of their donut case is the kronut. A food trends that lives up to the hype, the cronut is croissant dough deep fried and covered in a sweet sweet glaze. Magee's calls them "kronuts", very sneaky sis. They're under $3 and just the thing to satiate your manic weed hunger or the gnawing despair of an uncertain future.
Stage 3: THE "BAD INTERVIEW/AUDITION, GOT ANOTHER TICKET" BURGER
Tommys Echo Park 2575 Beverly Boulevard 90057
Eating a previously frozen burger covered in a glue-like chili substance with cheese just screams, "I'm garbage and I'm going to eat like it!" Their Echo Park location is also close enough to LA's underbelly of hobos, feral cats, and skunks to remind you of where you'll end up if you keep sucking. The burger may be cheap, fast, and not immediately disgusting, but the real punishment will hit you later in the bathroom.
Stage 4: THE "I GOT THE JOB/NAILED THE AUDITION/SET" BURGER
Stout 1544 N Cahuenga Blvd 90028
When success seems just around the corner you deserve a thick, juicy meat treat. Stout Burger is a local chain that mimics the Umami model of unique burgers with quality ingredients without forcing you to say dumb shit like "Umami-fy it." Their happy hour runs Monday-Friday 4-6PM and covers all food. The craft beers are pricey but you'll be a big wig in no time, so splurge on the booze and save on the noms.
Stage 5: THE "I'M GETTING SHIT DONE" GREEN JUICE
Zugo Truck – Multiple Locations
Nothing screams superiority and productivity in LA like sucking down a beverage that resembles swamp water. On the days you're zipping around town and knocking shit out so fast you don't have time to eat real food there is the nourishing delights of Zugo the Juice Truck. Officially their name is Zugo the Liquitarian, which sounds like a villain from "Ghostbusters." Follow the truck on twitter and find out where its juicing. Their menu of juices, smoothies and elixirs is delicious and a small juice is $7 compared to the $12 you pay at Moon Juice.
Stage 6: THE "DRUNKEN MESS/HOMESICK FOR THE EAST COAST" SUB
Fat Sal's Deli 1300 N Highland Ave, 90028 and 972 Gayley Ave 90024
Nothing should sicken you more than supporting the cast of "Entourage", but a late-night overstuffed east coast sub is worth the moral indigestion. With a menu that includes chicken fingers, mozzarella sticks, and onion rings as sandwich toppings, "Stoned Obese Sal's" would make a lot more sense for a name. The cheesesteaks and pastrami will also warm your icy east coast heart even if you're sober. Sandwiches run under $10 unless you get a DUI on the way over.
Stage 7: THE "HUNGOVER/HAVE A COLD/WAXED MY OWN PUBES" PHO
Pho Cafe 2841 Sunset Blvd 90026
What can I say about pho's almost mystical reviving properties that has not already been said better by Anthony Bourdain while in Vietnam? Pho Cafe in Silverlake is the dopest solution to the mental and physical anguish of hangovers, colds, and at-home waxing experiments. Take that Bourdain! Affordable, quick, and most importantly delicious, Pho Cafe should be your East Side pho go to. Just sink your face into a bowl and a beer and don't come up until you're healed.