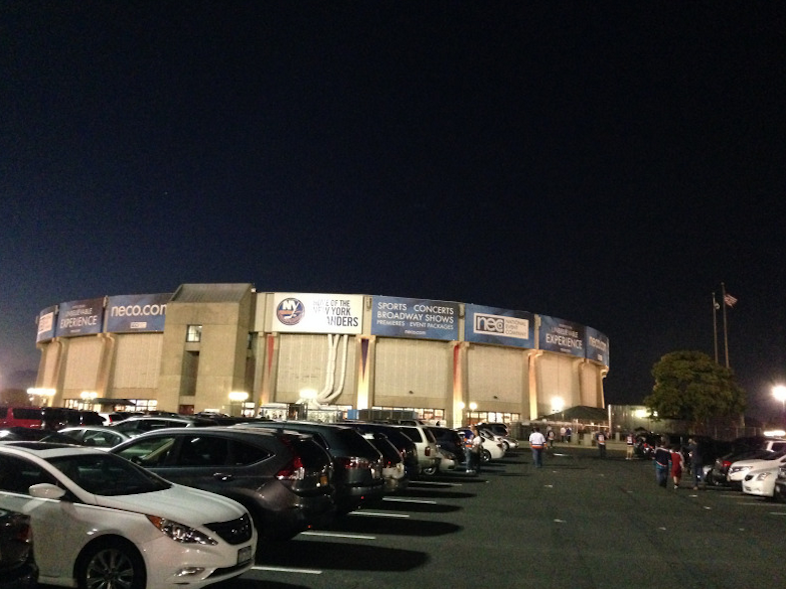 The New York Islanders, who currently play in a suburb called Uniondale, will be moving to Brooklyn after this year; what's a bigger, better, and more financially responsible move for the team comes at a cultural price. The Nassau Coliseum, a Long Island institution and premier parking lot venue, will no longer be the home of the New York Islanders. In fact, while Brooklyn is technically still on Long Island, The Barclays Center is much better friends with the MTA than it is the LIE.
Long Island's only team — and one of the only teams in modern sports that is centered in a sprawling series of suburbs rather than a city — is saying goodbye.
The Nassau Coliseum was built in 1972, and very much still looks that way. During last Saturday's broadcast, someone (I think it was former Isles great and color commentator Butch Goring) noted that "walking into the Coliseum is like walking back into 1982," and that everything's the same — from the layout, to the seats, to the dedicated staff.
[youtube https://www.youtube.com/watch?v=EJvKWvJ4BVM&w=1280&h=720%5D
The playoff-bound Islanders are more talented than they've been in years, so Brooklyn should bring some rather fine memories as well. That said, leaving the Coliseum feels like that awkward moment before you leave for freshman year of college, and don't quite know how to say goodbye to your high school pals. Here are five things I'm personally going to miss about the Nassau Coliseum:
[youtube https://www.youtube.com/watch?v=5QErxTbv24g&w=1280&h=720%5D
1. The Islanders are one of the only teams in professional sports who have been able to merge a sort of local, minor-league community type feel with that of a professional caliber franchise. I haven't been to too many other hockey arenas, but I can't imagine that the Blackhawks affiliates include Hurricane Grill and Wings, Oyster Bay Brewing Company, and Gabby's Gourmet Bagels. Next year, it'll be interesting to see if Hurricane Grill & Wings gets overtaken by a much larger competitor, who happens to have rather massive restaurant directly across the street from the Barclays Center.
2. Right now, Kevin Connolly, Patchogue native and star of Entourage, is the Islanders' de facto celebrity fan. In addition to constantly weaving Islanders clothing into one of HBO's more popular, lasting series' (check out 1:10 of this trailer), "E" has been a jumbotron and in-game presence for quite sometime, and even directed 30 for 30 on the John Spano debacle.
Now that the Islanders will be playing down the street from Vinny Chase, will Connolly be usurped by a new celebrity fan? It'll be pretty much impossible to trump Connolly's commitment and Isles history, but the Barclays Center will almost certainly bring in a new clientele of Aquamen and Gatsbys.
3. 
[youtube https://www.youtube.com/watch?v=7UY8Us0oASw&w=1280&h=720%5D
4.  Paying for parking. For the past 8-9 years I've gone to games with friends, and when you're with a bunch of very silly 17-24 year-old guys, the process of paying parking becomes pretty arbitrary. Sometimes the driver pays, other times the driver "doesn't have cash," and other times it's a thrilling game of fish into your wallet and hope someone else pays before you.
If you're really bold, you could even play "$20 bill roulette" — in which you hand the parking attendant 4 different 20 dollar bills, have the attendant take one, and then immediately forget which $20 bill belonged the which person in the car.
Note: the fun and spontaneity of these endeavors have recently been ruined by Venmo.
5. 
Out on Long Island, it's probably split 50/50 between Islanders and Rangers fans. On one level, this makes sense — the rest of the teams that Long Islanders root for are based in the city, and the Rangers, despite the Islanders' four Stanley Cups, are undoubtedly the more primo franchise; they tend to attract better talent, they play in the World's Most Famous Arena, and they had Wayne Gretzky and Mark Messier when I was like 7 or 8 — that pivotal time in a young sports fan's career, when they see a good team and decide to root for them for the rest of their life.
But on the other hand, rooting for the Rangers feels like ditching the girl whose been right for you all along for someone you think is better, but is ultimately not even close to what you had. The Nassau Coliseum, and in turn the Islanders, have always seemed proud and comfortable with who they are and what they represent. Instead of lamenting over its decaying nature, the Isles have sentimentalized the arena by dubbing it "The Barn" — old and decrepit perhaps, but undoubtedly one of the more unique and exciting venues in professional sports. (I.e., how many other venues have seats from which you legitimately can't see, and manage to play it off as history and charm?") Perhaps the Rangers do encapsulate big-time New York City, but the Islanders might be the only franchise in the country that figured out how to capture suburbia — and just like an 18 year-old with bigger and brighter ambitions, is finally getting out.
***
Until then, the Coliseum has a few playoff games to win.