During the film/music/28 year-old single guy festival known as South By Southwest, Austin's Sixth Street morphs into either something incredibly awesome, or your absolute worst nightmare. Here are a few thoughts from lurking around: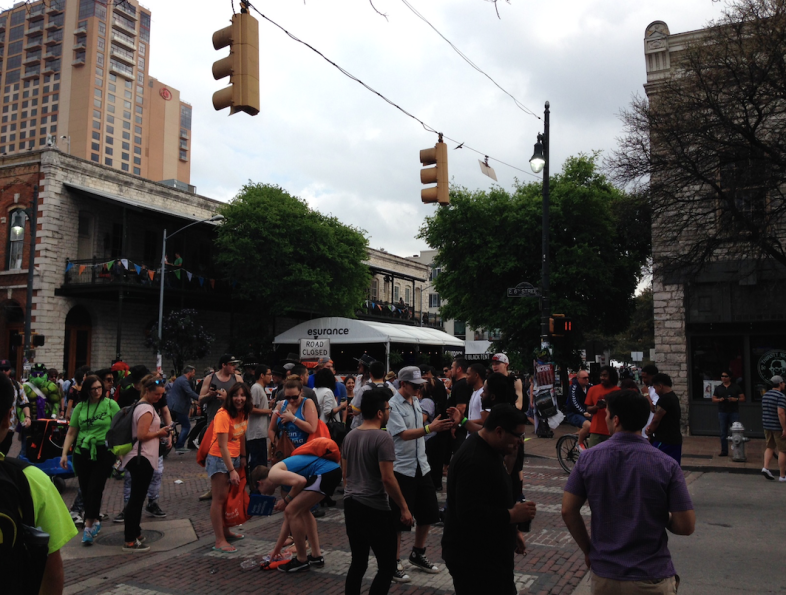 1. On Sixth Street, I'd occasionally run into a very specific type of human. This person was usually alone, and always wearing a very pained and strained look — as if they either just got fired, or recently learned they were going to be spending their Saturday chaperoning screaming eleven year-old girls to a birthday party.
It took me awhile to figure out the pattern — direct, fast-paced strides, oftentimes a lack of badge, and semi-professional attire. I'll never know for certain, but I'm guessing that these people were the real Austinites — wholly terrified by what was going on in their city.
2. Not so much on Sixth Street, but right off of Sixth, usually outside of a hotel — there was another very specific type of person. This specimen was usually in his or her 40s, and had the sort of look that suggests they'd probably been to a Goo Goo Dolls concert or two. They'd generally be wearing something business casual, and would probably do very well in an ad sales setting involving oysters.
Again this is just speculation, but it was really nice to see the human iteration of those veteran media people who didn't totally know how to use hashtags five years ago, but now have figured out a way to profit immensely off trends and marketplace upside and their endorsements on LinkedIn.
3. I was hoping that SXSW, particularly given that this is the last one ever, would be oversaturated by brands. My hope was that I'd be drowning in apps and engagements and tentpoles and buzz, and would be able to return to New York with a five minute SXSW recap that made zero human sense.
While there were plenty of "check out this free sample and download our app" type things, as well as various tents of burgeoning "names", the Sixth Street experience was not in fact a Noah's Ark of monetization. IMO, can definitely be more scalable.
4. Sixth Street might win in the "most pizza places per square foot in an area of the country that you wouldn't expect a ton of pizza places to be" category. Sampling a slice at two spots, I must say both were excellent drunk food type pizzas — not exactly deep dish, but heavy in crust and very strong in density. I did not however, sample the fare at Death Metal Pizza, which was probably a big mistake.
5. There were an impressive amount of Clueless Old Guys. What I mean is that usually, you could place, or at least take an educated guess as to why someone might be at a festival — some for their ad sales gig, others for music, and some to capture footage for some sweet documentary on someone who Does It For The Passion.
Because the festival is so predicated on things that 27 year old tastemakers enjoy (while I did not explicitly hear the words "18-34 year-old demographic", you could feel that sort of stench in the air), these COGs very much stood out. They added a nice layer to the experience, in the sense that the SXSW sixth street experience was very much an adult fusion of Warped Tour and that day your college has every year where everyone gets really drunk and rules don't necessarily apply. You're not exactly sure why the Clueless Old Guys are there, but it weirdly fits. Why wouldn't they be there?
6. Sixth Street definitely wipes the energy out of you — it requires constant consumption of water, incredible mental stamina and disregarding of sweat, and prolonged sidewalk breaks. As such, an impressive amount of festival-goers took to the sidewalks to either (a. recharge, (b. send a text, and then get sucked into clickbait for 10 minutes, or (c. give up. I almost did the later about ten different times.

This article is the sixth of a series of articles and videos, documenting a trip from New York to Austin. Check out the other articles here, and related videos here.