Whether you've been in New York for 3 minutes or long enough to be angry at an upstart puddle, here are six books that are, subjectively, quite excellent: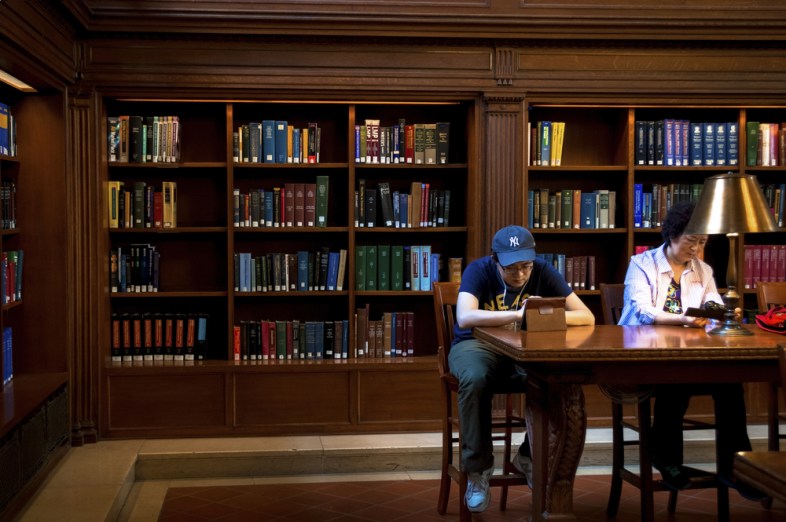 Colson Whitehead, writer and native New Yorker, published this highly acclaimed series of short essays back in 2003. Each story centers around a certain aspect of New York (i.e., "The Port Authority" or "Coney Island" or "Subway,") and intensely describes the sort of collective feel that comes along with it. Together the stories build this sort of dilapidated masterpiece that, like our beloved city, is as individualistic as it is universal.
The opening essay, which first appeared in the New York Times two months after September 11th, has become one of the more notable New York pieces of the modern era. Whitehead famously states that you first become a New Yorker when the city begins to change around you ("No matter how long you have been here, you are a New Yorker the first time you say, "That used to be Munsey's" or "That used to be the Tic Toc Lounge."), and that you'll forever use your version of the city as a point of reference.
I'm just over 50 pages into this, and it's as fascinating as it is horrifying. Rats definitely isn't for everyone (especially if you're not a fan of in-depth rodent analysis) but it's a pretty cool look into a species that, according to Sullivan, is "our mirror species, reversed but similar, thriving or suffering in the very cities where we do the same."
The novel is a result of a year's worth of research, in which Sullivan spent observing rats in Eden's Alley, located a few blocks away from Wall Street. Almost a quarter of the way through, I've learned more than enough about rats to successfully ruin any sort of romantic conversation.
Published last year, this series of stories is essentially a riff on Joan Didion's famous "Goodbye To All That" essay, which has since become one of the most revered work of prose about the city, and the extreme highs and lows that New York has lent so many of its inhabitants.
To honor Didion's legacy and the spirit of that seminal essay, Sari Botton compiled heartfelt stories from 28 female writers (notable names include Roxanne Gay, Emma Straub, and Emily Gould), each whom shared their experiences with the city. The diversity of stories and experiences sum up Didion's sentiment rather well, and makes for an excellent tribute to the literary side of New York.
Simon Rich is one of the most prolific — and hilarious — New York oriented writers today. Although Spoiled Brats isn't about New York per se (the book is a collection of short stories poking fun at millennials, baby-boomers, and the ever-present generational discord), many of the stories are set in New York, and knowledge of the various settings definitely add an extra layer of appreciation. Rich, a former writer on Saturday Night Live, is considered one of today's best and brightest comedy writers.
As any New Yorker knows full well, residents of the city are obsessed with apartments; from finding a great deal to aspiring towards a certain neighborhood, real estate matters are a huge component of any New Yorker's life. The Archaeology of Home is a pretty fascinating look at the concept of place, woven together in a creative and fascinating manner.
After her family was abruptly forced out of her home on 7th St. in between Avenue's C and D (it was about to fall down), a series of lawsuits and investigations enabled/spurred Greider to look into the dense history of No. 239 7th St., the result of which is this meticulously researched book. The book moves between the present day (early/mid 2000s) and the far past, beginning with the Dutch occupation of New York. From there, Greider slowly builds up to the present, mapping out the history of both the Lower East Side and the genealogy of the place her family called home.
While there are certainly a number of exceptionally well-written historical accounts of New York City, novelist Edward Rutherford's work of historical fiction is duly entertaining, rich in knowledge, and other gushingly positive things you say when you want to recommend a book to everyone.
With an impressive methodical brilliance, Rutherford tells the story of New York from 1665, up until modern day — creating characters that are both memorable and serve as insider guides into various eras and cultural movements. Clocking in at 860 pages it's no quick read, but it's the sort of thing that, over the course of a few months, can really bolster one's awareness and appreciation for the ever-evolving Apple.