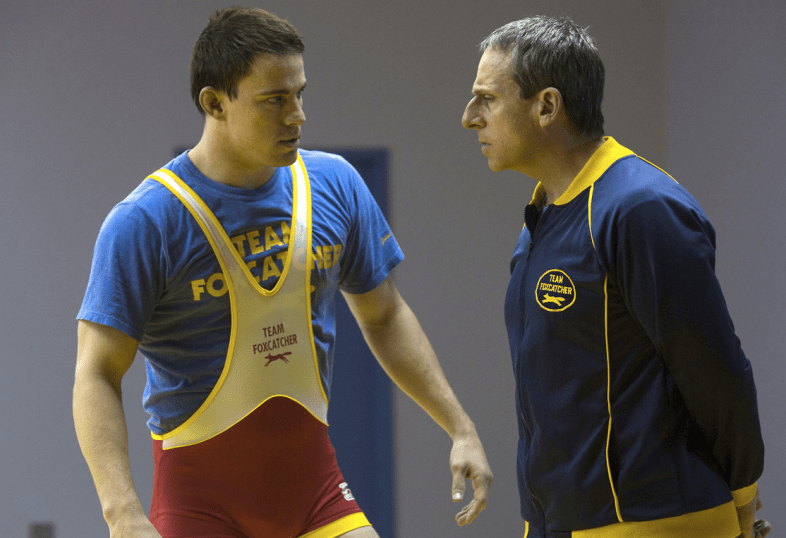 Steve Carrell has been making critics explode with his dramatic/creepy turn in Foxcatcher, the Bennett Miller directed wrestling drama about the chilling true story of John du Pont and Team Foxcatcher. Comedians moving towards drama seems to increasingly be a theme in Hollywood — Chris Rock's new movie, for instance, seemingly spends a lot of time exploring this trend from a character standpoint.
I've always enjoyed comedic actors getting all emo, just because it reveals a sort of multi-dimensionality that you always sensed was there, but never got to see on full display. With that, here are some excellent dramatic turns by actors who are generally better known for making us laugh:
1. Steve Carrell – The Way, Way Back
[youtube=http://www.youtube.com/watch?v=6qoaVUdbWMs&w=1280&h=720]
Before Steve Carrell won over Channing Tatum with his large nose, he had a pretty substantial role in this movie — a very well done coming of age story starring Sam Rockwell.
Carrell is the primary antagonist in The Way, Way Back — playing, for lack of a better phrase, a giant asshole. As the movie progresses, Carrell does a really good job in making you hate him.
2. Will Forte – Nebraska
[youtube=http://www.youtube.com/watch?v=Crm4XX9tx4s&w=1280&h=720]
Bruce Dern lapped up most of the praise for Alexander Payne's Nebraska, but Will Forte's portrayal of a middle aged dude just looking to do something with himself (and bond with his dad) was arguably the superglue that really made this Best Picture-Nominated movie sing.
3. Ben Stiller – Greenberg
[youtube=http://www.youtube.com/watch?v=DjV2GXxrEMI&w=1280&h=720]
My guess is that B-Stillz will move more and more into dramatics as he gets older; after all there are only so many nights one can spend at a museum.
A few years back Stiller starred in Noah Baumbach's Greenberg, a portrait of a neurotic man house-sitting for his wealthy brother in Los Angeles. His character feels very real — the type of guy you'd sympathize with, but despise hanging out with. Stiller and Baumbach clearly had some pretty good chemistry, further evidenced by their follow up movie that recently received some pretty good reviews at the Toronto Film Festival.
4. Jim Carrey – Eternal Sunshine Of The Spotless Mind
[youtube=http://www.youtube.com/watch?v=jnhZmgIhqFA&w=960&h=720]
Probably the biggest 180 on this entire list. The year before, Jim Carrey was Bruce Almighty.
5. Marlon Wayans – Requiem For A Dream
[youtube=http://www.youtube.com/watch?v=KEWgk0_zTQQ&w=960&h=720]
This movie, impossible to get out of your head for awhile, featured some incredible performances. Wayans, perhaps best known for White Chicks and the early Scary Movies, is rather excellent starring alongside Jared Leto.
6. Adam Sandler – Reign Over Me
[youtube=http://www.youtube.com/watch?v=3dVt6jdscV8&w=1280&h=720]
Sandler recently returned to the dramatics in Jason Reitman's Men, Women, and Children. Despite his career as a guy who is funny and/or someone to make jokes about, Sandler has made a few dramatic turn in his day — first with Punch Drunk Love (although this movie is often classified as a dark comedy, Sandler's role is certainly drama-oriented), and next with Reign Over Me. Reign Over Me is about a man coping with tragedy after losing his entire family in 9-11, rekindling a friendship with a successful dentist with problems of his own.
7. Mo'Nique – Precious
[youtube=http://www.youtube.com/watch?v=3ZQFpUxopm4&w=1280&h=720]
The noted standup comedian and talk show host put her showbiz career on another level in 2009 with this incredibly heavy role as Precious' insolent mother Mary. Mo'Nique won the Academy Award for Best Supporting Actress for the role.
8. Bill Murray – Lost In Translation
[youtube=http://www.youtube.com/watch?v=FiQnH450hPM&w=1280&h=720]
The legend was rather legendary here. To karaoke with Mr. Murray remains one of the dream of all dreams.
9. Robin Williams – Dead Poets Society, The Fisher King, Good Will Hunting
[youtube=http://www.youtube.com/watch?v=1AvxR5vVgY4&w=1280&h=720]
When it came to range, Robin Williams was perhaps the best. Despite being widely considered one of the greatest comedians who ever lived, Williams was a four-time Academy Award nominee, having been nominated for Best Actor or Best Supporting Actor in the three movies listed above, as well as Good Morning Vietnam. Williams won the award for Best Supporting Actor for Good Will Hunting.
10. Jonah Hill  – Moneyball, Wolf Of Wall Street
[youtube=http://www.youtube.com/watch?v=yQ4TSgQ9Nso&w=1280&h=720]
When he's not being the Sitter or telling people to ask him about his wiener, Jonah Hill has become one of the hottest commodities in dramatic Hollywood. In his only two major roles as someone who isn't reliant on punch lines, Hill has racked up two Academy Award nominations for best supporting actor. He's also only 30.