"If the Barclays really sucks, clap your hands."
It's September 26th, and I'm at the New York Islanders preseason game against the New Jersey Devils. It's at the Barclays Center—the Islanders' soon-to-be new home. We're about a minute into the action when I look a few rows up, trying to identify the guy who started the chant that just broke out in the seats right above mine. I was hoping he'd be a specific type: 40ish, a member of the last bastion of Islander fans who remember the team's glory days of the 80s [1]. Someone who, even if he left the island for a few years, is Long Island through and through. Someone who's rooted his family in the American promise that is (was?) suburbia. Someone who, ultimately, is undecided about his hometown hockey team's impending move to Brooklyn, and so sees the Barclays Center like his recently divorced friend sees his new luxury condo—unsure as to whether or not he loves the place or despises it.
It's still pretty early, but the Islanders' 43rd season will likely be the most bittersweet in franchise history. The Isles are primed to be better than they've been in years—they shot off to a 4-0 start (their best since Andrew Jackson was president), a number of analysts are predicting that the team will be in the thick of playoff contention, and notable hockey writer Sean McIndoe has predicted that they'll win their first playoff series since 1993. [2] The team also boasts one of the brightest talents in the league in John Tavares, who's pledged his allegiances to the Islanders for the foreseeable future.
But amidst all that is a reality that will alter the fabric and character of Long Island's team. At the end of the season, due to a number of failed plans to renovate their aging hometown arena, they'll be leaving their suburban home for more densely populated pastures. After playing over four decades in Uniondale's Nassau Coliseum, the team will relocate to Brooklyn's ever-bustling Atlantic Avenue Terminal, where the Barclays Center has established itself as something much more formidable than just Madison Square Garden's upstart little brother.
On paper, the move is quite exciting. The Islanders will relocate west, to a state-of-the-art, highly accessible new arena, which fans and experts alike have deemed much more advantageous for attracting top talent. For a fan base that has been starving for a Stanley Cup contender for three decades now, it's most certainly a positive stride. As Tyler Gildin, diehard Islander fan and Creative Director at Elite Daily put it, "If that's what it takes to land some of these free agents, I'm all for it."
Perhaps after years of floundering in poor performance, scandal [3], and irrelevancy, the Islanders will build the team that brings the Cup back to where Islanders fans feel it belongs. Perhaps the Islanders can finally bring the Cup back to…
Brooklyn?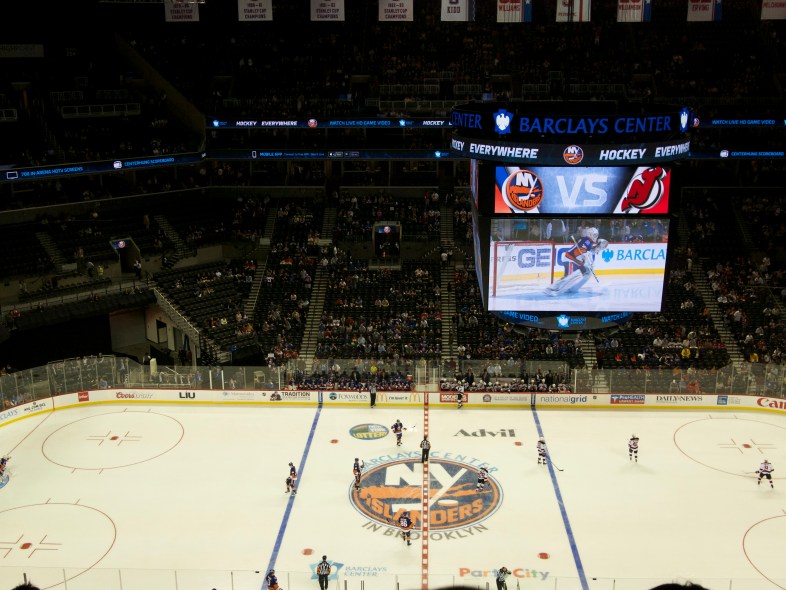 "We're losing our only professional sports team," said Alan Todd. A lifelong Long Islander and multi-decade season-ticket holder, Todd has been a tried and true fan since the franchise's inception in the 70s. "For Long Islanders, I don't know who would be happy about that. That should be the Rangers' territory."
From a purely geographical standpoint, the move is comically minor. The Barclays Center is a mere 25 miles west of the Coliseum, which essentially means that the Islanders are moving in the same way your friends' parents move when their kids are no longer in high school and don't need to worry about staying in the same school district. Brooklyn is technically considered a part of Long Island [4], so the team's territorial roots won't be compromised.
But arguably, in more intangible ways, the move will have an enormous impact on the Islanders' overall image and identity. With the move to Barclays, the Islanders cease to cater to a fan base anchored not by a city, but solely by a unified suburban sprawl.
*****
For the duration of their forty-two-year history, the Islanders have reeked of suburbia. Established in 1972, the franchise is a natural extension of the suburbanization that resulted from the post-WWII economic boom, fueled in part by President Eisenhower's 1956 Federal Aid Highway Act and the rise of a burgeoning middle class who sought the American dream of home ownership. Levittown, often considered the quintessential example of postwar suburban expansion, is a ten-minute drive from the Nassau Coliseum—a multipurpose entertainment venue built in 1972 to accommodate the area's rapid rise in population. There were now people where the endless farmland used to be, so an entertainment venue such as the Coliseum was not only viable, but arguably a necessity for fostering and maintaining this new American psyche.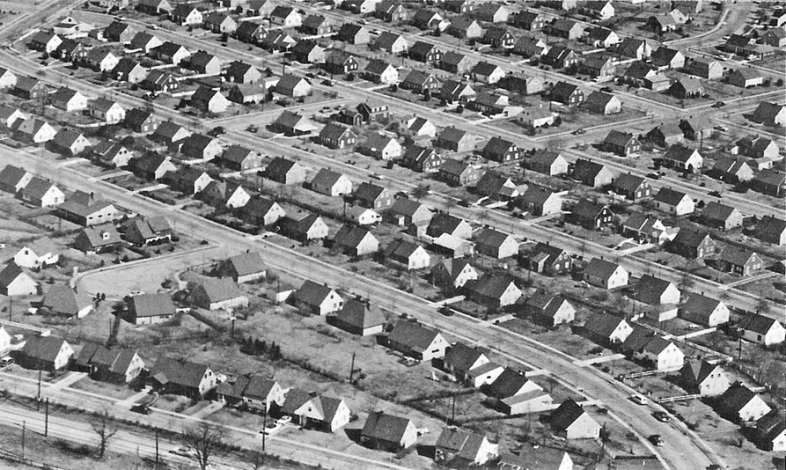 Alan Hahn, former Newsday reporter, current New York Knicks analyst, and major Long Island sports personality, sums up the idea quite well in a recent ESPN 30 for 30 documentary [5] on the team: "The neighborhoods that started to really grow in the 70s and the 80s, they didn't want to be associated with New York City, with the Rangers, they wanted to be their own entity, and that's really what this franchise became."
The players seemed to embrace this idea as well. After the Islanders won their first Stanley Cup in 1980, goalie Billy Smith was asked about how it felt to bring the Cup back to New York. He famously replied, "The Stanley Cup is not in New York. It's on Long Island."
[youtube=http://www.youtube.com/watch?v=-oLkMoSp2_o&w=960&h=720]
As this mantra has been further and further cemented, the Islanders have fostered and preserved an image that is overwhelmingly anti-urban, which in hockey terms translates to anti-Rangers.
The Islanders and Rangers have never exactly been friends. At every Islanders game, regardless of whom they're playing, you're bound to hear multiple rounds of various "Rangers suck" chants—part of which boils down to the fact that each team represents different ways of life. The Rangers play in midtown Manhattan, the backyard of the world's most influential businessmen, entrepreneurs, and entertainers. The Islanders play off the type of road you take to your kids' soccer practice. Rangers parades traverse New York City's bustling Broadway. The Islanders make do with the Hempstead Turnpike. The Rangers practice at a state-of-the-art training facility away from the public eye. The Islanders practice at a modest, community-oriented place called Iceworks—the type of place you'd go on an ice-skating date in middle school.
Iceworks, located on a nondescript road in Syosset, New York, acts as almost a natural counterpart to Nassau Coliseum. Both are venues that are in some ways so unremarkable, their recalcitrance toward providing the latest and greatest state-of-the-art amenities has created a truly unique hockey environment, allowing loyal and resilient Long Islanders to adopt a steadfast "it may be somewhat of a shithole, but it's our shithole" mentality.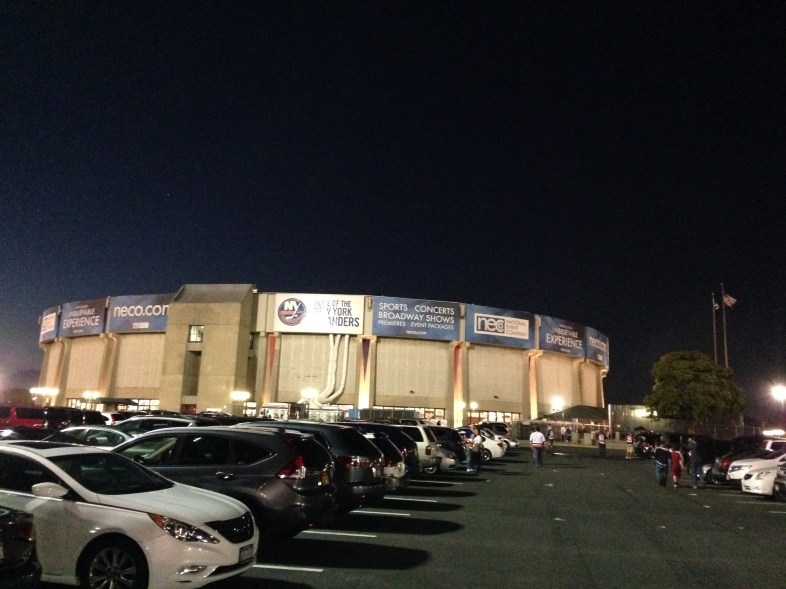 Not to say that current owner and former Computer Associates CEO Charles Wang and the Islanders organization at-large has wanted the Coliseum to remain as is. Since taking over the team in 2000, Wang spearheaded a few different proposals to revitalize the old barn, all of which sought to keep the franchise on Long Island for the long term. Most famously was the Lighthouse Project, a proposed construction of a sixty-story building designed to look like a lighthouse. Supplementing the lighthouse would be restaurants, shopping and office spaces, and the Island's first-ever five-star hotel. But the plan was highly controversial [6], and as Dr. Seth Forman—associate professor of regional planning at Stony Brook University's Center for Regional Policy Studies—put it, the Lighthouse Project was essentially an attempt to bring city life to the suburbs, an idea that Long Islanders couldn't accept.
"What has happened," said Forman, "is that as older suburbs run out of developable vacant land, a lot of developers and real-estate people want to build up—more density, but they also want to have zoning changes so they can make more money from the property than they would with single-family homes."
Although Wang's proposal was undeniably financially motivated, it wasn't just a power move. He's lost a lot of money on the Islanders, as the team has reported a cumulative negative operating income of over $70 million over the past decade due in part to the fact that the current iteration of the Coliseum simply has not been profitable. But redeveloping the Coliseum through a more urban-style proposal such as the Lighthouse Project—and "building up," as Forman notes, would've significantly altered and threatened Long Islanders' current way of life.
"If you're looking to recreate high-density suburbs in the image of a city, then you're talking about a very massive change that I don't think most people want," said Forman.
"You could say Long Island needs [the Islanders], but the truth is people do want this suburban lifestyle. Yes, they'd prefer things to do, but they're not willing to give up their cars, their private backyards, they're not wiling to give those things up, so I think that this kind of thing was inevitable."
Following the failure of the Lighthouse initiative, a last-ditch effort to keep the Islanders rooted in Long Island suburbia—a $400-million renovation plan that included a new Coliseum and a minor-league baseball stadium—was rejected in 2011 by Nassau County voters.
"When [Nassau County] had the whole memorandum vote, I contacted someone in the front office for Vote Yes," said Gildin. "It's a whole video of me running around voting yes, and they voted no."
[youtube=http://www.youtube.com/watch?v=B4AWSJWWREs&w=1280&h=720]
Not too long after that skate dropped, Wang announced that he'd be moving the team to the Barclays Center. [7] Among other things, the move keeps the franchise alive, and it'll likely make the team a lot more profitable. Last season, the average ticket for an Islanders game was $55.65 on the secondary market [8]. For the Islanders' preseason game at the Barclays Center this year, tickets on the secondary market were $66, an 18.6 percent increase from just last season.
It's also not insane to project that the clientele—at least those attending games—will change. Consider a Long Island-based family of four, like the one sitting a few rows above me at the Islanders vs. San Jose Sharks I attended at the Coliseum on October 16th. When you combine a nearly 20 percent price per ticket rise with new transportation costs and the added time [9] it takes to get to Barclays, a Long Island family going to an Islanders game suddenly looks more like a Broadway play than a casual family outing.
"You get this elite, on the top who love it. 'Oh it's so cool, I can take my clients there,'" said Dr. Forman. "Luckily we have technology, but it becomes like Manhattan…sports venues are not like they used to be, watching the Brooklyn Dodgers for 10 cents like my father said he used to."
And while Islanders games at the Coliseum are far from 10 cents a ticket, their move will mark an end of an era [10]—not only sports-wise, but also one in which professional sports represents affordable, local, middle-class entertainment.
"We won't have hockey but we do have [minor-league baseball team] the Ducks [11]," said Forman. "And whatever it is you might think of that level of baseball, I've been to several of the games, really good, as entertainment…Little League teams can go, elementary school teams can go, it's not elite entertainment, but people can do it, so if you say you're for a strong middle class and families, maybe that's the kind of entertainment in need."
*****
The Nassau Coliseum reminds me of when I'd bring my college roommate to my hometown and point out all my favorite spots—the diner where we'd hang out, the Starbucks parking lot where so many major high-school moments went down. Every time I'd take them to my former haunts, my friends would look at me like I had three heads, with no idea why they should be remotely fascinated by any of these places. To them, these hallowed grounds were nothing more than slabs of pavement and signs in need of electricity.
Which, of course, is ultimately part of the magic.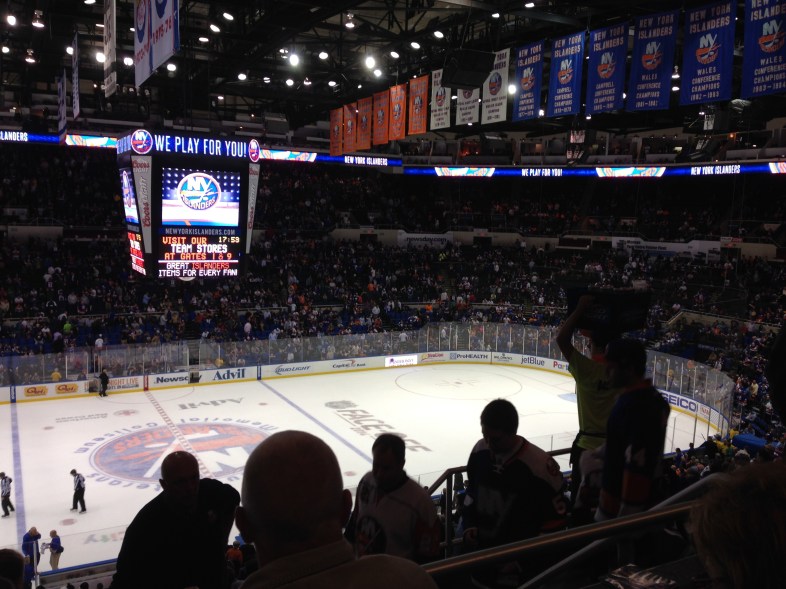 The Coliseum's more intimate qualities—no real upper deck, small enough for you to hear a particularly loud fan or see exactly where someone on the Jumbotron is sitting—make for an in-game experience reminiscent of a streaky three-point shooter. When it's not feeling it—when the team is struggling and attendance is sparse—it's not exactly something you're thrilled with. But when it's on, it's on.
"The building, it's moving. It's unbelievable. You can't even describe it," Alan Todd told me. At this point in our conversation, we were talking about the Islanders' most recent home playoff games, a tough-fought 2013 series against the Pittsburgh Penguins.
"I've been to the World Series, football playoff games, but because this is smaller, it's the most exciting sports event that I think you can go to."
[youtube=http://www.youtube.com/watch?v=LsY2qfJXOh0&w=1280&h=720]
The Coliseum is one of the few East Coast sports venues accessed almost exclusively by automobile. There's no direct train, and although there's a bus, neither I nor anyone I talked to had ever heard of someone taking the bus to the game. Driving to the Coliseum is as much a part of the tradition as the game itself. In many ways, grumbling about traffic on the Meadowbrook and making sure you remembered where you parked so you can find it later is an Islanders experience in itself. As is honking your horn after a victory, sounding out the classic "Let's Go Islanders" victory chant—a car-horn chant that flooded the parking lot two Thursdays ago, when the Islanders beat the Sharks in dramatic fashion—a back-and-forth battle that ended in a shootout, with Isles captain John Tavares providing the winning highlight-reel-worthy goal.
I was at this game—I think I've been to games at the Coliseum almost every year since my brother had his 4th or 5th grade birthday party at an Islanders game, and I plan on attending multiple games before the final farewell. While I definitely tried to convince myself that this game was particularly heightened, it was honestly just like every other Islanders game I've ever been to—a lot louder than you'd think, and an environment that's somehow both family-friendly and outrageously vulgar. When the game went into overtime, nobody moved. Instead, everybody stood up, went wild, and enjoyed watching John Tavares deliver the shootout goal that advanced the Islanders to 4-0.
What I liked best about the game wasn't that the victory gave the Islanders the best record in the NHL [12]—it was that I didn't see a single fan leave early. Everybody stayed.
Nobody had trains to catch.
What will happen next year, when the Islanders are at the Barclays and the same overtime/shootout scenario happens? Will a family of four that took an hour-long train ride from Huntington into Atlantic Avenue stay for overtime and the shootout? At the Barclays Center preseason game I attended, a lot of fans left when the game got to overtime, presumably needing to catch their trains back to Long Island proper. Granted, this was a preseason game, but will this same phenomenon happen during the regular season? Instead of standing on top of their seats going crazy for their hometown team, will the group of elementary school students sitting a few rows up be whisked away by their parents, who just need to get their kids back home because it's way past their bedtime?
Will a Long Island family of four even attend a game on a weekday?
In other, more conveniently sentimental terms, will that home-brewed Long Island magic fade? Will the Islanders continue to be Long Island's team, or will the rarefied local bond find itself completely out of place amidst the ever-expanding Brooklyn cityscape?
I think about that fan I heard during the preseason game, chanting "If the Barclays really sucks, clap your hands." Truth is, the Barclays Center doesn't suck. It's awesome. It's a world-class arena, and it'll likely help the Islanders emerge as a viable, competitive hockey franchise for decades to come.
But by virtue of being awesome, it feels a little bit off—like visiting the apartment of your old college buddies, only to find that the place is immaculately clean. You kinda need that mess; that's what makes it feel like home.

Footnotes:
[1] From 1980-1983, The Islanders won four consecutive Stanley Cups. No major American professional sports franchise has won four consecutive championships since.
[2] To be fair, Mr. McIndoe prefaced the prediction by saying "this has regret written all over it."
[3] The Islanders and the NHL fell victim to one of the biggest fraudulent scams in sports history — a Texas businessman named John Spano bought the team for $165 million. After full payment was never received, it was revealed that Spano had grossly over exaggerated his net worth, and was jailed for bank fraud, wire fraud, and forgery in an array of different states.
[4] From east to west, Long Island consists of Suffolk, Nassau, Queens, and Kings County. Colloquially, Long Island is considered Nassau and Suffolk, while Kings (Brooklyn) and Queens are generally considered boroughs of New York City.
[5] The documentary in question is entitled "Big Shot," directed by Patchogue-Medford native an diehard Islander fan Kevin Connolly. The documentary is about the John Spano scandal.
[6] Even when the proposed Lighthouse-structure was lowered to 30 stories, it was not granted zoning approval.
[7] This move was announced in October 2012. This past August, it was announced that a group spearheaded by Capitals co-owner John Ledecky and London Investor Scott Malkin reached an agreement to purchase a minority interest in the team, with the new group becoming the majority owners in two years time. Of course, all of this is subject to NHL approval.
[8] Tickets are substantially cheaper in the upper bowl which, given the size of the Coliseum, is a lot closer to the action as compared to most stadiums.
[9] It costs $15 to park at Nassau Coliseum. For anyone coming from Long Island, the cheapest round-trip LIRR fare is $16 per person. For much of Nassau and all of Suffolk County, the fare is even higher. (It's probably important to note that there are various parking facilities around the Barclays Center, though almost all of them are significantly more expensive than Coliseum parking, and the Barclays Center is not inherently a  car-friendly venue.)
[10] There are plans in place to renovate the Coliseum. Under the new proposed renovation (won by Forest City Ratner, the same group that developed the Barclays Center), the Islanders would play six games per season at the reconstructed venue. Work is expected to begin in August 2015, although there still are a few approvals that need to be granted by Nassau County before the renovation is officially a go.
[11] The Long Island Ducks are a minor league baseball team, who play at a 6,000 seat ballpark in Central Islip*, New York.
[12] I lied. Of course the Islanders briefly being the best team in the NHL was the best part.
*Initially printed as Bethpage, New York. The footnote has since been updated to rectify that error — the Ducks play in Bethpage Ballpark, located in Central Islip, New York. 
Further Reading:
1. The Death of Nassau Coliseum: A Harbinger Of Suburban Decline?
2. Islanders led us down a road of highs and lows that now leads to Brooklyn
3. Staying On The Island, But Moving A World Away
4. We Went There: The Islanders Come Home