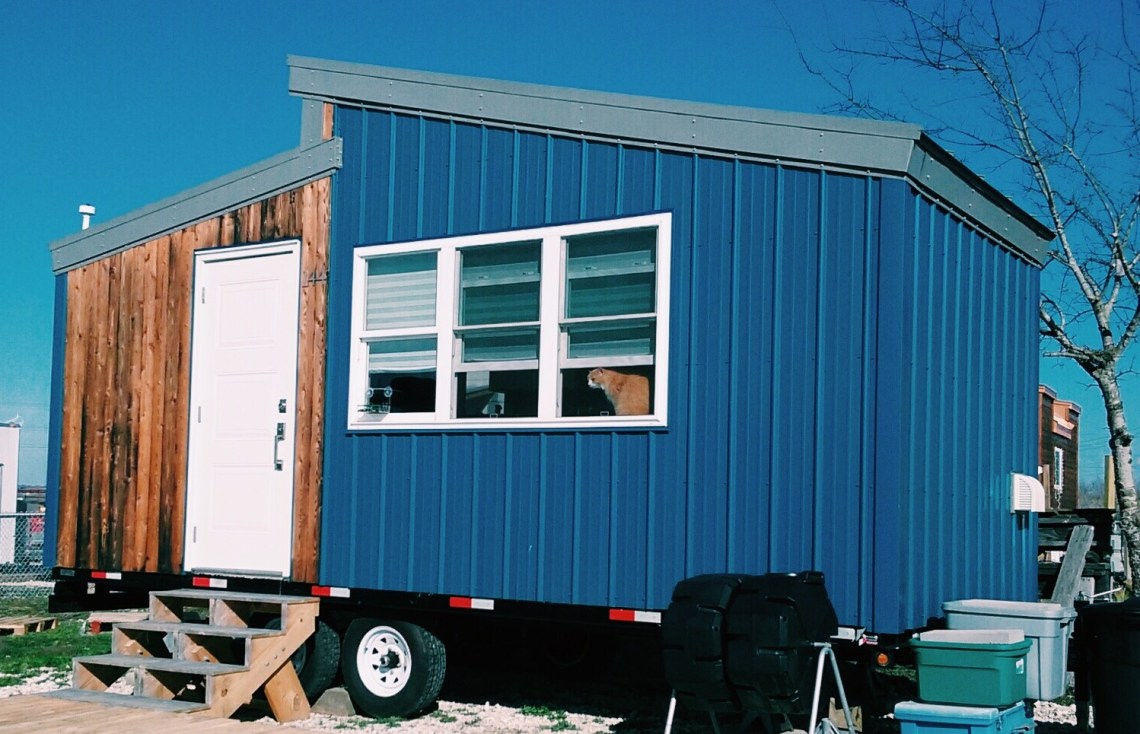 Austin Live Work is a tiny home community located near Circuit of the Americas in Del Valle. It's about a 25-minute drive from Downtown Austin. Tiny homes are a growing trend. There are hundreds of articles written about them and even a handful of television shows. But what are the logistics? The costs? How do you maintain the lifestyle? I have had many questions, mainly about the costs to maintain a tiny home. I was curious to learn more, and Austin Live Work offers weekly tours, so I signed up. The Saturday of the tour my friends and I arrived late and missed the touring group. Instead, we had the opportunity to talk to it's newest resident, Amanda. Amanda had built her entire home from scratch, we were amazed and had many questions. She shared her story with us and spent almost two hours answering our questions. She's allowed me to share her story and the answers to our questions with you all as well.
Meet Amanda…
About five and a half years ago, Amanda returned from a year-long job overseas and settled in the Washington DC area. Rent was expensive unless she wanted to split a lease with several roommates. She had a good job with a decent income, but she liked to move pretty frequently, and until that desire wore off she felt that buying a house was not an option. Amanda started saving money and looking for alternatives to apartment living. She explored marina's and live-aboard boats, RV parking with full-hookups in mobile home parks, etc. When she looked into tiny houses, she knew she had found her answer.
Amanda joined a MeetUp group for tiny house enthusiasts, stalked the internet for information, and began attending workshops and anything related that she could. She found a hands-on workshop that offered instruction on using all the tools you would need to build a tiny house. In her class, she framed walls, applied sheathing, cut out window openings. After that workshop, she helped two people finish constructing their tiny houses, and by then she felt ready to tackle her own build. The Build-Tiny workshop community helped Amanda frame, roof, and dry-in her house in a 3-day weekend with the help of the workshop attendees. What a great concept. The organization educates you in the classroom and then you get the opportunity for hands-on experience by helping to build a home for others. But Amanda's house was not done, it then took her another year of weekends, on her own, to finish the job.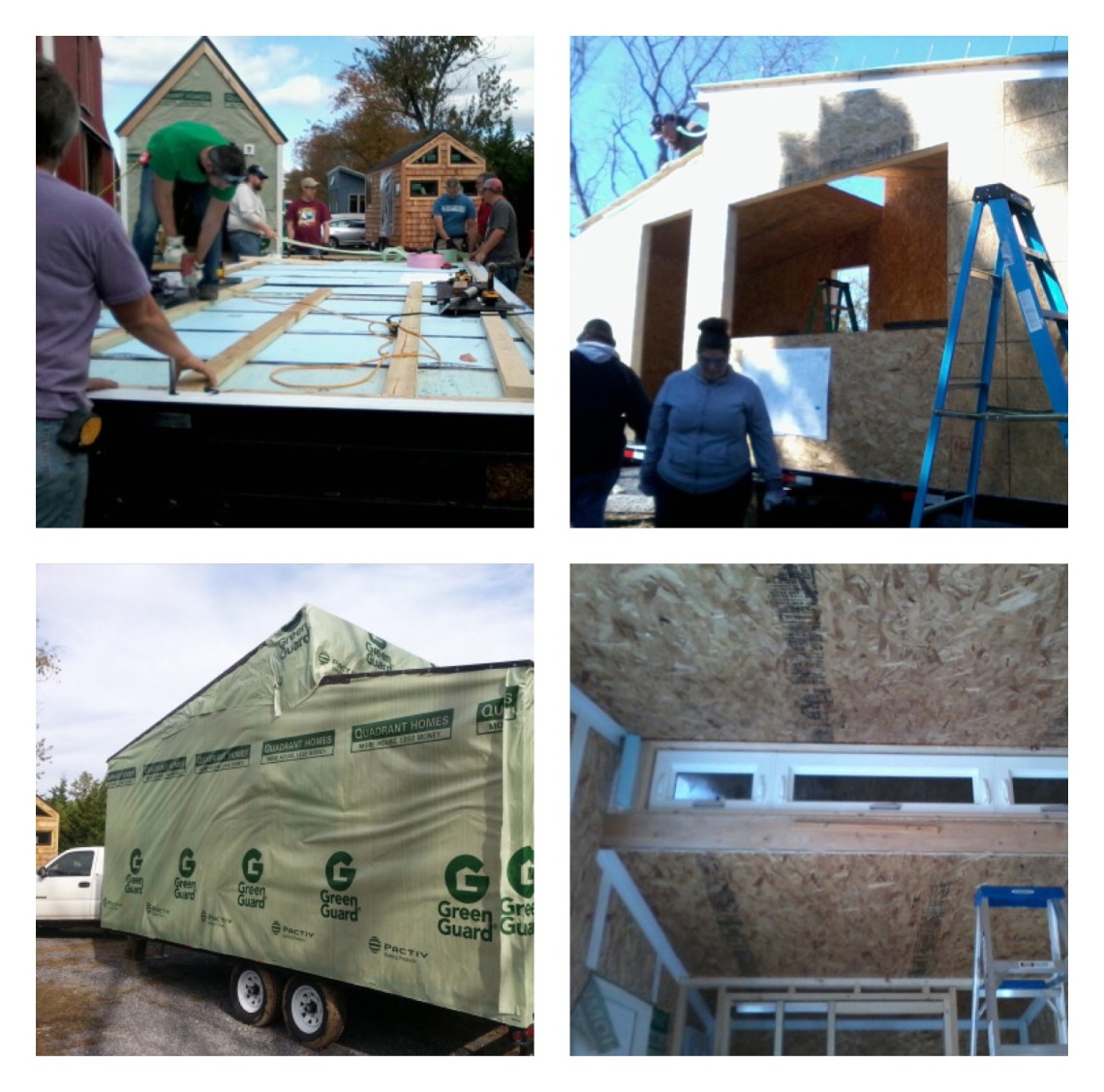 And then Amanda had a tiny home, but where would she go? Tiny house parking in the DC area was hard to find. She never found the perfect spot. She did mention there are people successfully living in tiny houses on alley lots and behind row houses in DC. Yet, they are at the mercy of neighbors, and if the neighbors complain, the house may have to be moved with short notice. Amanda did not feel comfortable with that kind of instability and began searching for a tiny house community. That is how she found Austin Live Work. She arrived in January 2017 and currently has the company of 18 other tiny houses. The community is peaceful, and she does not feel the threat of [trailer] eviction that she was finding in the DC area.
Q&A
1. Why did you decide to choose this lifestyle?
a. It was an alternative to paying rent. I still rent a parking spot, but that is under $450/month including utilities.
2. What's the organization/group that helped you build your tiny home?
a. Build Tiny in Berryville, VA
3. How much did it cost to build?
a. Approximately $30,000 in materials. I did the labor which was a huge cost saving. Labor would have easily doubled the cost.
4. How did you finance your tiny home? Did you have 30K saved up or did you get loans?
a. Yes, I saved up 12k. I was hoping to build it for 25k, that was about half before I started. Then I had about 1.5k of discretionary income per month after that to pay as I went. If I had hired someone, then I would have had to save up a lot more and probably would have had to finance part of it. DIY was my best bet to incur no debt.
5. How much does it cost per month to maintain and park?
a. I researched parking in many places. Parking spot rent ranges from around $300 for off-grid with no utilities, to $500 in an urban area with utilities. There are other options, such as parking at a mobile home or RV park, but costs there are higher and can be more in the range of $700-$1000 per month, depending on location. Buying land is an option too, but I did not want to settle in one location, so I did not research that too much.
6. Any other maintenance you have to do?
a. With a tiny house, you're a homeowner. If the air conditioner breaks, you have to fix it yourself. There is not a landlord or maintenance hotline. I have had to put another protective coat on my cedar siding, but other than that the house is new and has not had maintenance issues yet.
7. How do the plumbing and electrical work? What are those mostly costs?
a. It is plumbed like an RV so that a water hose can supply the water. Fixtures and plumbing are just like in a regular house. Electrical is just like a regular house, but I do have an RV fuse box which allows me to have both AC breakers and DC fuses. My fixtures are wired for DC 12volt power in case I want to upgrade to solar in the future, but for now, since I have a plug-in to city power, I use regular old AC. The tiny house plugs into a 30amp pole just like an RV does. I have a propane oven and stove, so I have to buy a $15 bottle of propane about twice per year. I would estimate water and power costs for me to be about $30 per month, but that cost varies on usage, so each person is different.
8. I notice you don't have an electric washing machine. How does yours work?
a. I got it online from Amazon and it is called the Wonder Wash. It is a non electric alternative for clothes washing that I bought when I had no washer in a studio apartment. It meshed well with the tiny house too. I still do not have room for a washing machine but some tiny homes do have them.
9. List the top 5 hardest adjustments to living in a tiny home.
a. Downsizing and learning how all your appliances work in case you have to fix them are the only two. A tiny house is basically a studio apartment on wheels. I have everything I need.
10. Why do you think tiny homes have been such a trend over the past few years? Do you think it's here to stay?
a. Reality TV definitely established the recent trend in the US, but people have been looking for alternatives to renting or a mortgage for much much longer. There have been recent conversations and actions to write tiny homes into the IRC (International Residential Codes), which is encouraging and leads me to believe that they are on track to be around in the future.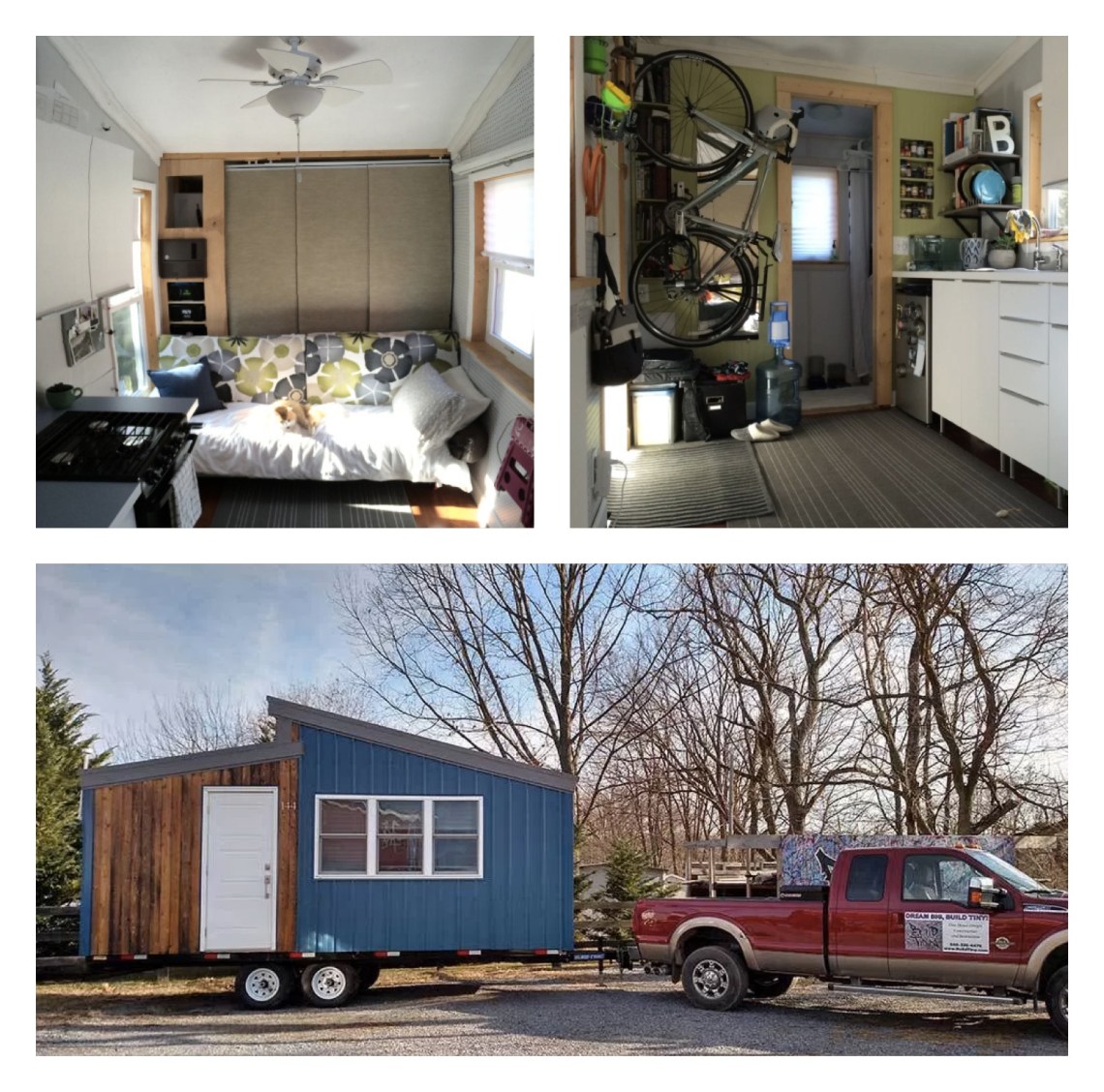 After talking to Amanda about her new lifestyle, I was impressed. Not only did she have to take on a whole other way of living but she literally built her new lifestyle with her own two hands! That takes a lot of determination, patience, and discipline. After thinking about it more, I realized how much knowledge she had gained with 30K and working on her weekends. She received the education she can use for the rest of her life and a place to live. When she does decide to buy a property, she won't be taken advantage of by contractors; she will be a lot more knowledgeable than most homeowners. Amanda may not even need to hire somebody like a plumber because of her DIY mentality and the knowledge she already has acquired. I think repairs and maintenance can be the scariest part of home ownership is. We imagine all the things that could go wrong. Who do you call? What do you do? I often tell first-time buyers to think about all the work their landlord has done to their home…not much, right? Things can go wrong, but if you do proper maintenance on your house and take care of it, you'll be prepared. Building a home from scratch can only help you in the long run!
Living in a tiny home is not everyone's cup of tea. Personally, I don't think I would want the lifestyle for myself. BUT I now want to build one more than ever. I still want to own a tiny home. Why? I see the incredible learning opportunity and the rental income potential. If you are ready to purchase a home but fear the maintenance, why not invest a little time and money to build a tiny home in your backyard? If anybody knows of a reputable company like Build Tiny in the Austin area, I'd love to hear from you.