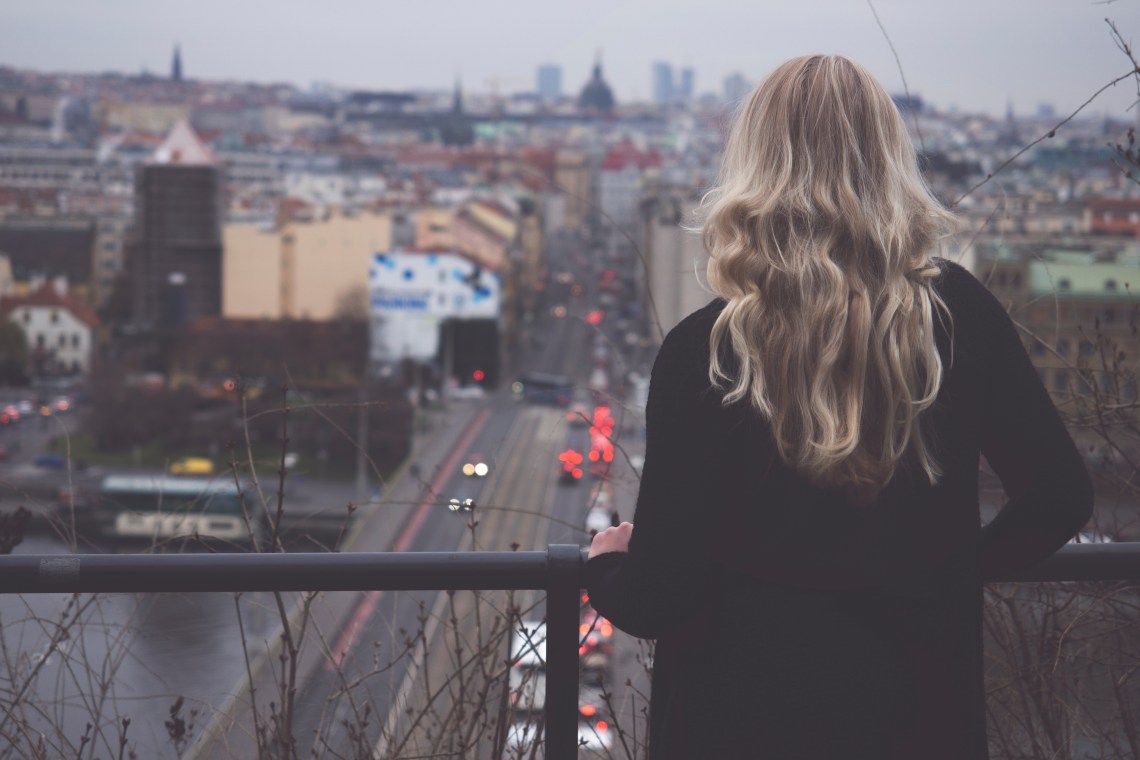 When I was a young girl growing up in Traverse City, Michigan, I dreamed of city lights, glamour and sophistication.  I envisioned myself dressed to the nines, strutting down the street on my way to work and living my life as a career woman.  While many young females dream of wedding dresses, babies and a white picket fence, I never did (I'm 32 and I still don't).  I pictured myself wearing all black, watching the world from a high rise office building and going home to an apartment (be careful what you wish for!).
Over the years my interests in career choices have changed – everything from becoming a lawyer to a psychologist to a fashion writer.  My primary goal was always to move to New York City (go big or go home), the mecca of publishing, creativity and fashion.  In my mind it seemed like the only option.  New York seemed to be the only place where I could create the career of my dreams, complete with a 360 view of the world below.
After growing up in Michigan, living in San Francisco and doing short stints in Austin and Charlotte, I still hadn't gotten my fill.  I knew I still needed to hit New York and pursue a career in fashion.  So, in June of 2014, I got on a one way flight and headed to an apartment on the Upper West Side, sight unseen and without an income source.  It would all work out, right?
My life in New York wasn't what it was cracked up to be.  My popular fashion blog, K on the Bay, was no longer relevant in Gotham City.  My bargain outfits and nautical photography were cute, but didn't live up to the high fashion of the NYC women who were also blogging – nor did I care about their $5,000 handbags.  I was struggling to make rent, while wondering how other women in their 20's lived on a low paying wage.  I was absolutely shocked to discover that NYC doesn't pay any better than other cities – especially within the arts.  While I understand some are fortunate to come from money or have a wealthy partner, I was never one to live off of a boyfriend, let along stay in a relationship longer than a few months (I'm just as skilled as changing boyfriends as I am cities or jobs).  Sure, I always found ways to side hustle, but it was never sustainable – then I had an ah-ha moment:
I don't even want to work in fashion.
My first New York Fashion Week was September 2014.  It was fun, sure.  I enjoyed helping my designer friends promote their clothing, writing stories about how they got started, photographing shows and mingling with other bloggers.
However, the events I attended seemed like a power struggle and a popularity contest.  It gave me flashbacks of being at a high school party I wasn't invited to.  After that NYFW, I began to reconsider my career, my blog, my interest in fashion, and I started to become more realistic.  I was tired of materialism, spending excessive money on things I didn't need and trying to keep up with those around me.  Why are people choosing things over love?  
Enter, my journey in mindfulness and minimalism.
On January 1, 2016 I deleted my fashion blog and started a new, simple Tumblr account, focusing on the beauty around me, not material things.  I still would sprinkle fun items in the mix, but began to focus on quality, not quantity.  Then, right after I decided to turn over a new leaf, I received an amazing gift and message.
Thanks to blogging for AOL's style network, I would periodically attend the AOL Build Series, where I had the privilege of seeing a Rebecca Minkoff fashion show, hear Nicholas Sparks chat about his new book and even got to meet Christie Brinkley.  This time, Hoda Kotb (who I love!) was in attendance to promote her new book, Where We Belong.
At that time, I was working for a jewelry designer and doing some side marketing projects. New York didn't quite feel like home and I wasn't sure what my future looked like, but from that day forward I started to have faith.  Hoda's message felt like it was meant for me:
"Most of us wonder what we're doing. We float around in the glass half-empty, gaze out into the world of possibilities, and wonder if we should get off of our raft and climb out. Maybe even today you asked yourself: Is it too late to do that thing that made me so happy when I was young? Could what matters most to me finally be the center of my life? Can I really trust this yearning voice in my head and longing in my heart? Do I feel like I'm where I belong?"
I was not the only one who was lost in their journey.
I may have moved to the East Coast with one motive, but my storyline changed along the way. Over time, I finally accepted that I am not a failure – everything I was a learning experience.  My road bumps were lessons.
It's comforting to know that life will throw you curve balls to guide you, not to throw you off track.  Although you may think you have your whole path figured out, the universe has other plans for you – so smile and enjoy the journey.  It's one wild ride!