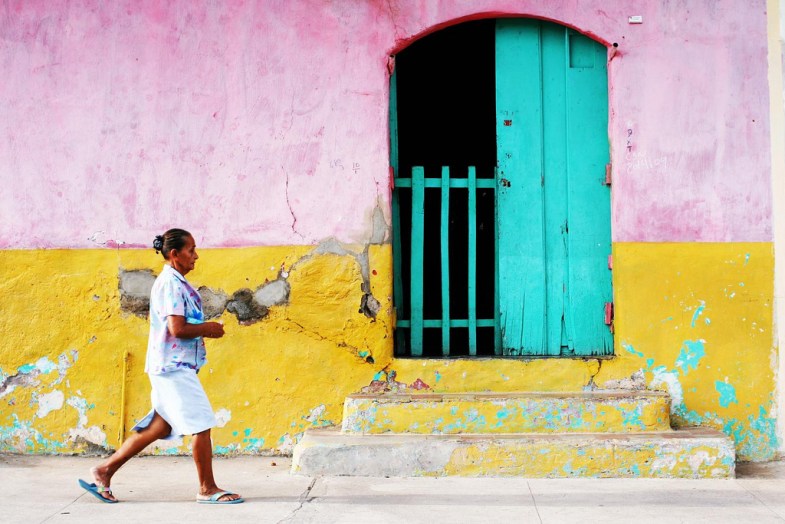 I can't believe in just about four weeks times, I will be heading back home to the States after backpacking with my youngest sister for about four months' time throughout Guatemala, Belize, and Mexico. From volunteering at a hostel to hiking the tallest volcano in Central America and swimming in the dark caves of Guatemala, our time here has been quite an exciting adventure.
Not to say our days of traveling have been all flowers and rainbows. To be honest, there are days where we are probably just counting the minutes until we can go to sleep and be one day closer to the end of our trip. At one point, we got a bad case of bedbugs and ate our fair share of cold hotdogs; however, nonetheless, those are the stories that will probably stay with me the most because they were what challenged me, made my sister and I laugh endlessly, and made us realize what really mattered to us most.
So here it goes – my list of the five things I learned from this experience thus far.
1. Manage your expectations.
This one is definitely easier said than done. Whether it's done consciously or not, we all have expectations of what something may or may not be like. Realize that the expectations that you set for yourself never will fully pan out the way you think they will. My sister and I came to Guatemala thinking that we would be wearing shorts and t-shirts every single day and instead, we ended up buying winter coats and scarves half way through our trip. One of the many times our expectations did not line up with what we actually experienced.
With any traveling you begin to realize that as much time as you spend reading the Lonely Planet Guide or talking with other fellow travelers who went there, everyone is going to have their own personal experience and opinions on what a place is going to be like and they are not all the same. I don't know how many times we ran into one backpacker who would say you must go here and then run into another backpacker a few hours later that would say it is not worth your time. Obviously, talking with others and doing some research before going anywhere is a smart idea and will help you figure out the best plan of action for yourself; however, your experience and time somewhere is yours, and only yours. Don't base your expectations solely on what one person tells you or what you read online somewhere. Instead, keep an open mind and when the expectations that you will inevitably make don't pan out, be okay with that too and just keep on going.
2. Know your limits.
So this lesson was a new one for sure. I would say for the most part my sister and I are very adventurous and open to anything, which when traveling is a trait worth having. We love a challenge and anything a bit risky or uncomfortable we usually gravitate towards. I tend to think it makes us stronger in the long run; although I think my mom would argue that it just proves us to be a bit crazy. Regardless of whether we are crazy or not (as aren't we all crazy in the end?), I have come to realize that even if you like to live life on the wild side, know your limits.
When my sister and I did our stint at volunteering at a farm and orphanage while staying with a host family in Guatemala, many events occurred that made our stay there quite uncomfortable. Of course my sister and I were up for the challenge and knew we were learning so much in the process of these constant "tests," that we began to disregard both our own physical and mental health.
Besides eating very unhealthy and spending copious amounts of time in cafes wishing to be somewhere else, we also encountered the not so lovely traveler's curse of bedbugs. After failed attempts of getting rid of the bedbugs along with insomnia and onsets of deep depression, we realized we had reached our breaking point and there needed to be a change. Yes, we wanted to toughen it out, but we also knew for our own well-being we needed to leave. It came down to the question – "would you pay to leave at this point?" and for us, there was a clear answer.
3. Be open with people and places and be willing to get out of your comfort zone.
I wanted to follow up on know your limits with also be willing to get out of your comfort zone and being open to new experiences, people, and places. Like I mentioned earlier, traveling has both its good parts and bad parts. When we were staying with our host family and volunteering, bedbugs were definitely one of the drawbacks; however, the people we met while volunteering as well as our host family were so amazing. I have never felt so much generosity and kindness. They were always willing to go out of their way to help us and even though our Spanish was minimal, they made a conscious effort to speak slowly with us and be patient with us while we stumbled through our words. Through their kindness and hospitality, we were really able to immerse ourselves within their culture and see what their true lives were like.
Yes, it may not have always been comfortable and there were times where we felt a bit lost or confused, especially since our Spanish wasn't to the level we wanted it to be, but the more that we opened up with others about who we were, the more we were able to learn about them and their home town.
4. Everyone has a story… take some time to actually listen.
With traveling you are bound to meet people from all over the world, each with his or her own story. Usually with backpackers you tend to exchange the same questions when you meet, such as "where are you from?" "how long are you traveling for?" "where are you going next?" etc. These conversations are always great because you get to learn a little bit about them, and a lot of times they can give you information for your next destination.
Along with the common travel stories and advice that get shared, sometimes you are also fortunate enough to have the chance to move past the small talk and learn a little more about who they really are and ask questions like why are they traveling? What's their purpose for their trip? What do they miss back home? When this happens, make sure to listen and take it all in, as that is when you really get to know a person for who they are.
As humans we tend to make rash judgments on someone without ever getting to really know them, because we think our time can be better spent doing something else; however, I have come to learn that's not true at all. My best traveling experiences have been spent with people I have gotten to know over time. I also have gotten to learn things about myself through these people who have been willing to share their own stories with me.
5. The company around you makes all the difference.
When my sister and I first began this trip we were a bit worried about traveling together, as we had never been alone with each other for any long stint of time and we couldn't even think of a specific time that we went out to a restaurant with just each other. It was a bit scary, to say the least, considering that we knew there were going to be times that we wouldn't be able to escape each other. However, I can say that after these past few months of traveling with my sister, we have yet to kill each other. Of course there were definitely times when it took all my power not to punch the living daylights out of her (as I am sure she can say the same about me), but overall, we have worked very well as travel partners and I am so happy to have had her by my side through this experience.
There have been times of being homesick, but I can only imagine how much more homesick I would be if I didn't have my sister by my side. She has been my saving grace on this trip. Through the tough times, she was the one that could make me laugh and she was also the one who was able to keep me from buying a ticket back home. We probably know much more about each other than we ever thought we would or want to for that matter, but I couldn't be happier that it is her I have gotten to share this trip with. Her company has made this entire experience incredible without a doubt.