1. Used furniture is your best friend
Most of us twenty-somethings don't have the money to afford the world's most amazing Pottery Barn table, despite the fact that we covet it on a daily basis. However, used furniture can really be your best friend – especially when you're trying to save money. Do you have any friends or relatives moving? Maybe you can snag their bedroom set, dining table and chairs, or office desk (I've gotten all of these items for free). Even better, become a Craigslist expert or a garage sale maven and get the pieces that really stand out to you on the cheap.
2. Use your resources
Chances are good that you have a friend or family member who dabbles in art, photography, sculpture, woodworking, or another creative trade. Use your resources! Find someone who's willing to lend you a few photo prints to put up on your walls or create an original art piece for above your fireplace. It makes your home feel warm and even more personal.
3. Display photos creatively
If you just had a wedding (or if you've just been in a lot of weddings), you probably have a ton of friend and family photos to display. While it's easy to just buy a standard frame collage from Target, you can take it one step further and display your photos creatively. Design an original photo collage including other keepsakes, with different size and shape frames all in the same color, for instance. Or if you want to get really crafty, take the Pinterest route and repurpose an old window frame to display your photos.
4. Add unexpected pieces
Ceramic artichokes? Gold paper mache reindeer? Yeah, I didn't expect to have them in my house either. But they look awesome and they are great conversation starters.
5. Take it one Pin at a time
Pinterest is both the best and worst thing that's ever happened to a budding Do-It-Yourself blogger. Start small by taking one project that you love on Pinterest and making it on your own. Oh, and Easy Ikea Hacks usually take about five times as long to complete as you think they will.
6. Paint everything
Here's where Pinterest wins the Internet: painting everything. I live for spray paint, glass paint, acrylic paint… you name it, I've painted it. Whether it's a $15 bookshelf or a $300 television console, everything looks better with a fresh coat of paint to match your color scheme (or adding a pop of color, but we'll get to that later).
7. Decorate your front door
Remember that old wreath that your grandparents used to hang on their front door? While it was probably pretty cheesy and a little outdated, decorating your front door is one of the easiest ways to make your house feel welcoming to guests. Instead of flags or wreaths, I call my door decorating alternative the "alterna-wreath" and change it a few times a year.
8. Frame it
When in doubt, frame it. Target always has frames on clearance, and I like to refer to Ikea as the mecca of frames, often for those that cost $10 or less. Garage sales and furniture resale stores are also amazing places to rifle through boxes of old picture frames. I've framed photos, thank you cards, magazine ads, scrapbook paper, posters, and more – everything looks better in a frame.
9. Start from scratch
There's something extremely rewarding about starting a project completely from scratch. It won't be easy, but it will definitely be fun and so fulfilling to have a finished product to enjoy. We made (okay, my husband made) and painted this bench from scratch and it's been the focal point of our front porch ever since.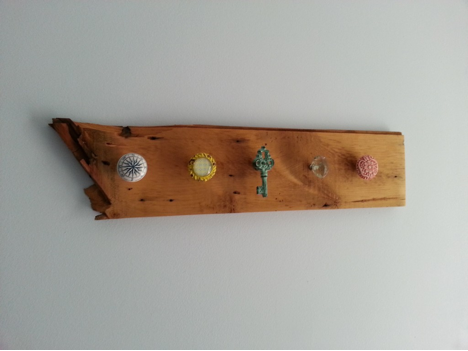 10. Add color. Everywhere.
When decorating, so many designers use white in their color schemes. I personally don't like white (or black for that matter) as a main color on which I base any design or decorating scheme. I'm not an interior designer, but I love a good pop of color like a bright area rug or even a bright colored accent wall. Color, especially in accents like curtains, art, and pillows, can warm up a room and make you feel right at home.
This is the most important DIY tip of all time. You will probably hate some of the projects that you create. You might destroy something kind of expensive in the process. You might end up throwing a hammer into a bookshelf, or setting off the smoke alarm when trying to remove a mirror from the wall (yes, both of these have happened to me). Either way, DIY is a creative process: there's ups and downs, so don't be afraid to take the leap and take the time to see it through.