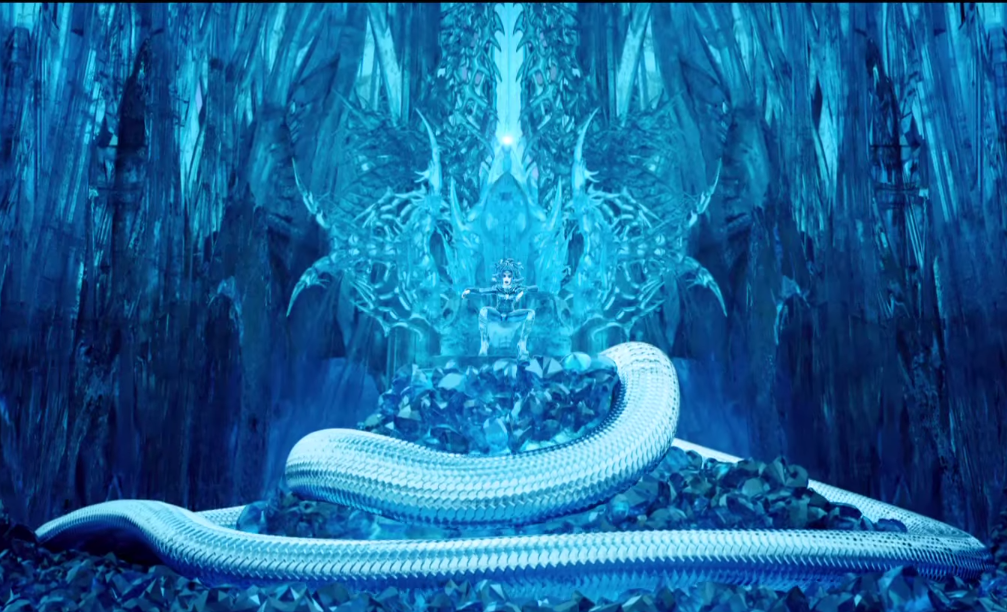 I have a 3:1 ratio of Azealia Banks to Beyoncé songs on my iPod. And it's not because I don't love me some Beyoncé. In the words of Laverne Cox, "Since 'No, No, No,' I've been saying 'YASSS YASSS YASSS!'" But I just can't resist the overall Azealia Banks persona.
Sure, I don't agree with everything she says, but who doesn't love a girl who can talk that talk like Rihanna do? (pun intended) And I don't mean to dis her singing ability, but let's be real, her R&B vocals are far from like…legendary. But when it comes to rap, the girl has got bars (rhymes), and can she ever fuckin' spit them.
Dare I say, she's a lyrical genius and innovative wordsmith. The way she rattles off a string of alliterative plosive consonants will make you wet. And sonically, her sultry timbre and smoky pitch are a cool relief from the more shrill sounds of her rapping contemporaries.
Though most label her a hip hop artist, she actually has very eclectic taste and style, making her music deliciously promiscuous in terms of genre. As a musician, she's fearless with her risk-taking and has a knack for experimentation that is refreshingly forward.
Call me a stan, but I know her discography like the back of my hand. So I've compiled a list of what are, in my opinion, the 10 best Azealia Banks songs, along with succinct reviews and of course my favorite lines from each work.
She's young, but through her studio album, EP, mixtape, and miscellaneous projects, remixes, and collaborations, she's got a lot of stuff out there. These are my personal 10 favorites, but go ahead and call me out in the comments! Are there any tracks you think I've slept on?
1. "Esta Noche"
This right here, is that song that's playing at the hip new lounge you've been meaning to check out when you first arrive, fashionably late of course. You're feeling optimistic, sexy af, and the night is full of possibilities­–you're probably gonna get some. You hit the dance floor with your girls, because you wanna give off that "I'm just here to have fun and dance with my girls" vibe to all the hot fellas standing by the wall whom you're actually very much scoping out on the low. Strangers are smiling at you, because you basically dance like J-Lo.
That's how "girls night out" was meant to start, and this song epitomizes that mood.
Of course the end of the night is a different story. Your hair looks like a lion's mane from being held back by a friend while you hugged the toilet and puked out that extra glass of rosé, when you should've known better, and you're wishing you knew a way to send out a generic booty text and BCC your entire contacts list rather than having to send them out one bye one.
"Esta Noche" has as long lineage. It samples an instrumental 2010 track by a Dutch DJ and producer named Munchi, who sampled a hit 1999 song by Montell Jordan, who sampled a 1976 track by Jamaican-born artist Claudja Barry. Munchi added the pronounced synths to the chorus sections, which some people find a bit grating, but personally I think it adds a funky twist. Azealia beautifully complements the tropical production with simple, smooth, and seductive verses while throwing a little more fire on the choruses.
Unfortunately, drama between Azealia and Munchi prevented this amazing joint from ever being released as a single.
Favorite Line:
"…I entice, I supply what your girlfriend can't provide, that tight grip twat…"
2. "Soda"
https://www.youtube.com/watch?v=1EBUGcp4PC8
Even though Azealia Banks expressed disdain for the track when her label suggested it as a lead single for her album, I love this song! Furthermore, this is actually not at all a rap song but rather features Azealia singing throughout, which like I said, isn't necessarily her strength. But somehow it works!
As implied by her label's affinity for the track, the song has a bright, mainstream, feel-good flavor (despite slightly melancholy lyrics). It's light and easy on the ears, despite mixing an blizzard of somewhat surprising different sonic elements. They all blend together harmoniously in what sounds like the background music you might hear while Santa's elves are merrily assembling toys in the North Pole.
Favorite Line:
"…A smile a guise, I'm trying to hide behind tired eyes, I sigh I might survive the nighttime, I might die…"
3. "Liquorice"
Unlike the previous two songs, "Liquorice" really demonstrates Azealia's nimble wordplay as a songwriter. The music production, on the other hand, is attributed to the talent of a British electronic musician, Lone, and is described as an acid house number that's heavy on the synthesizers. The groove is oh-so catchy and totally danceable.
Thematically, the song is about interracial dating. Azealia isn't shy about discussing her penchant for white chocolate, and she's currently dating Caucasian actor Jesse Bradford, a Hollywood heartthrob during the late nineties and early 2000's. But it's her rapid delivery of perfectly placed syllables that really wows the listener (side note: when I Googled "perfectly placed syllables" to see if I should hyphenate it, the first result was a blurb about none other than Azealia Banks!).
There are moments where you'd almost think Azealia is scat singing like the legendary Ella Fitzgerald was known for, yet amazingly the electrifying ensembles are actually just clever line after line of playful and thoughtful words.
The one drawback is that the intro section of the song is rather drawn-out before the party starts. Strangely, this is actually something of a pattern throughout Azealia's repertoire, including with the aforementioned "Soda."
Favorite Line:
"…That black girl pin-up with that black girl dip, Put that black girl spin up on ya whack girl tip, Ain't official till it been up in that black girl kit…"
4. "212"
This was Azealia's debut single and by far her most popular and critically-acclaimed song to date. Thus, by all accounts, it will probably be deemed too low on the list.
The musical production has sort of a raw, bare bones, stripped-down feel. It's repetitious, with a harder edge than her other works. Azealia has mentioned in interviews that she fell in love with the "sinister" flavor of the track.
The lyrics are incredibly raunchy yet undeniably intelligent. The song is marinated with Azealia's confident swag and sassy attitude, as she flaunts her sexual fluidity. The black & white video was a viral internet sensation racking up nearly a one hundred million YouTube views to date.
Favorite Lines (tie):
"…Kick it with your bitch who come from Parisian, She know where I get mine from and the season, Now she wanna lick my plum in the evenin'…"
"…I'm fuckin' with ya cutie q, What's your dick like homie? What are you into, huh…?"
5. "Paradiso"
Blink and you might miss it! This lil gem is only 49 seconds long–shorter than most interludes and shorter than Azealia's outro skit on the very same mixtape! But I am a total sucker for this tiny stick of bubblegum, which samples an oldie called "Weekend Special" by Brenda & The Big Dudes.
Personally, I think this track had tons of mainstream commercial potential, in a "Party in the USA" by Miley Cyrus "song of the summer" type of way. It sounds like quintessential pop music, as if Dr. Luke produced it for Katy Perry.
Favorite Line:
"…What'chu know about open out Key West, relax, recess, all up on the beach, yes…"
6. Partition (Remix)
https://www.youtube.com/watch?v=UQYdXdzkQD0
Busta Rhymes and Azealia Banks teamed up on this remix to Beyoncé's "Partition" from her eponymous 2013 album. While Busta's verse is gross, tacky, and boring (yes, that's shade for his comments about the gays in the documentary Hip-Hop: Beyond Beats & Rhymes), Azealia spits pure fire on the already piping hot Beyoncé cut.
Azealia's voice is smoldering as she delivers a verse that really exemplifies her lyrical ingenuity with rhyme schemes that are out of this world! Case in point, my favorite section listed below.
Favorite Line:
"…They digging, they lusting, the feminine strutting she hitting that button, I dip in the function, I'm prissy, I'm pumping, The tit & the rump, And I'm flipping 'em, dumping 'em, Tricking 'em trumping 'em…"
7. "Jfk"
https://www.youtube.com/watch?v=JQhD92cpmsg
There was lots of speculation that "Jfk" was a dis track aimed at Lady Gaga, but Azealia insists it's not. Or rather, she insists that it is indeed a dis track, just not one against Lady Gaga.
"Jfk" features Theophilus London and the two rappers' verses complement one another impeccably both stylistically and thematically. The track has a darker tone with a few quirky almost extraterrestrial elements mixed with lively percussion.
As much as I rock out to this song now, I must admit, it took a while for it to grow on me, and I still think it takes too long (almost a minute) for it to heat up and for Azealia to really get into her element.
Favorite Line:
"…Jet black weave 'bout the length of a mile…"
8. "Chasing Time"
Some of her interviews suggest that "Chasing Time" was Azealia's pride and joy off this album. So I feel sorta guilty (or rather, terrified should she by some miracle actually read this) that my opinion on this one is mostly a critique.
First off, Azealia feels a way too young for a song like this. It feels like something we'd hear from, say, Kylie Minogue. The lyrics are extremely plain (to the extent that I really can't honestly pick a favorite line).
The music video does nothing for me. All I see is random choreography that doesn't match the beat (while wearing oversized garbage bags) and a knockoff of Lil' Kim's 1999 MTV VMAs outfit. It feels like extra footage from Busta Rhymes and Janet Jackson's 1999 "What's it Gonna Be?!" video that should have stayed on the cutting room floor.
Never-the-less, the song itself does have some appeal as it's definitely a catchy danceable track. Also, it's a nice mixture of equal parts rap and signing. And her voice does sound lovely when she reverberates the word "time" during the chorus.
Favorite Line:
N/A
9. "Van Vogue"
Instead of the official music video, I've linked a little fashion spot Azealia did to part of "Van Vogue" for her good friend and fashion designer Alexander Wang. The bit she did for Wang is way more fun and bouncy.
Strangely, the pretty simple beat is accented with random dog barks…but it totally works! Remember that Aaliyah hit from 1998 "Are You That Somebody?" produced by Timbaland that includes random insertions of a baby making "goo goo ga ga" noises? It's kind of the same the same idea–bizarre but effective!
Also, you guys have to listen to the outro for this song! Azealia (in a modulated Scooby-Doo voice) goes in on some of her peers with a barrage of merciless zingers!
Favorite Line:
"Bang, pop, pop, this thing go pow, Dolce crop top, my play clothes now, Those Céline wedges are way downtown, Best dressed up, better, you best dressed down…"
10. "Gimme a Chance"
The bridge of this jam is to die for! After initially sampling a song called "Knock That Door" by an indie band called Enon, but adding some daring brass elements and DJ scratches, "Gimme a Chance" suddenly transforms and blossoms into a festive Latin-Caribbean tune that makes you wanna grab a partner, shake you hips, and do some bachata dancing!
During the bridge, Azealia croons at the top of her lungs in Spanish. Although, again, singing is not her forte, in this particular instance her vocals are really charming and she definitely, at the very least, deserves an A for effort!
The bridge is followed by a third verse where she raps in Spanish. Azealia slays this final verse with her a seductive voice that edges on a sexy purr or growl, leaving you cheering, "Damn, girl, you speak that Spanish!"
Favorite Line:
"…Money getting' galore, cream cover the pores, Honey drip on ya jaw, Mami spittin' allure, I'mma get it for sure, getting it all, I'm dreaming it big, 2Pac it Shakur!…"
*Lyrics for favorite lines were grabbed from RapGenius.com.