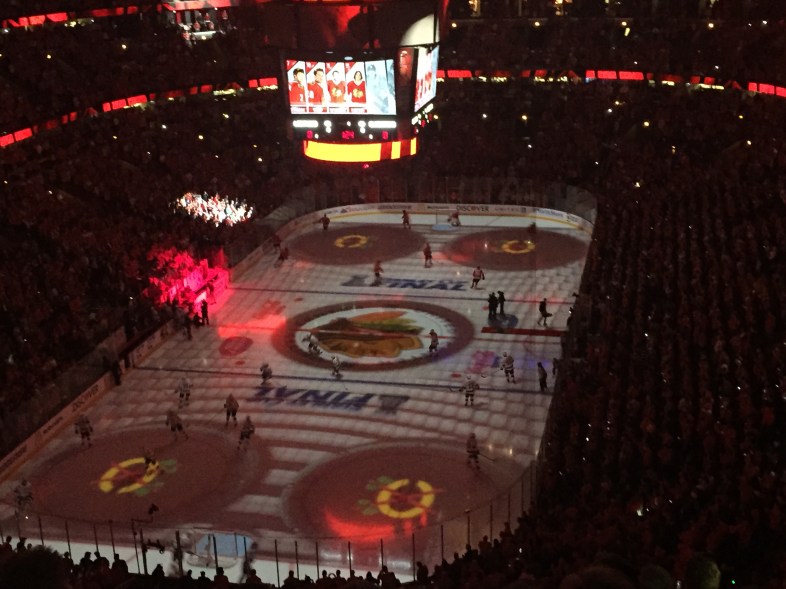 I sat on my brother's couch sometime in 2011 and a Blackhawks game was on. I don't recall which game it was. But I do remember asking him, "Can we change the channel?" Ice hockey wasn't "for me." To me, the sport was White and American – two things I am not. I had nothing against it, I just didn't see myself in it. All the sports I liked watching (or playing) – football or soccer, basketball, track & field, tennis, etc. were sports that were, thinking about it now, multicultural in representation. Or at least they were trying to be. Still, my brother told me that hockey is a "White American" sport, but I should give it a chance if I'm going to live in Chicago. I did.
---
Getting into hockey was easier than I expected. It took a few games to understand all the rules. But I took a liking to it much quicker than I took a liking to American football and baseball, the later of which still doesn't interest me all that much as a sport. (But a good reason to drink beers outdoors with your friends.) Hockey has easily become my second favourite historically American sport after basketball. Its fast-paced nature, the assertion and aggression, the strategy, the plays. It just clicked with me, and I with it. And just like that, I became a hockey fan.
I guess in this way becoming a fan of a sports team is sort of like falling in love.
But I would be lying if I didn't say Chicago's hockey team, the Blackhawks, which is in an era of greatness with three Stanley Cup trophies in five years, two of which I have celebrated as a Chicagoan; the latest most recently on Monday. (Just in case you've been sleeping under a rock.) The Blackhawks make up a part of my Chicago experience, and a part that I did not expect, and yet am so grateful for. See most sports teams that I love – from my first love, football club Arsenal, to my conflicted heart that loves both the Lakers and the Bulls, I grew up watching as a child. But with the Blackhawks, it was merely the chance of moving to this city, and the choice of giving a sport that I didn't know or care too much about, a chance. I guess in this way becoming a fan of a sports team is sort of like falling in love.
But before we get to this week's Game six, let's go back to Game four, one week ago, where I would experience my first Stanley Cup game, my face Stanley cup playoffs game, and my first Blackhawks game. Even with a calm demeanor and happy-to-be-there expression on my face, internally I was bursting with happiness. It was an intersection of gratitude to a job that allowed for such an experience, and that almost tangible apprehension you have as a fan of a sports team when your team plays.
---
It was a Wednesday evening and a rainy one at that; a thunderstorm and hail greeted the city a few hours before the game, as people tried to make their way to it by train, by cab, and some of course would walk through it. Chicagoans are of course no strangers to terrible weather, even as summer is supposed to be in season. Bad weather or not, the Hawks were playing and you were watching – the lucky ones getting to see them live in the action.
Getting there super early, it seemed the crowd was slow to arrive. But by the time the spectacular introductions had been done on ice, it was a full house as it was supposed to be. Loud cheers, already drunken cheers, serious and joyful expressions alike if you stopped to pay attention to the people around you, as I did from time to time. The United Center, a sea of red as it always is, felt like a group of random strangers who became your family for those few hours where you watched together – hoping, praying, wishing. Sports and sports events always bring people together. But in the city of Chicago which I maintain is a friendlier city than usual anyway, the Blackhawks have the hearts of people beating as one in unison.
But we had won. WE HAD WON. We were one step closer.
This game in particular seemed to get to a slow start which only made your nerves work overtime. It quickly began to feel like the kind of game that would be stolen by one team or the other, and probably towards the end. Of course that was soon proven not completely accurate. As the second period started, the Hawks looking more lively and finally getting the goal. It wasn't too long that the Tampa Bay Lightning would tie it up though, as they pulled one back in the same period.
Going into the third period felt uneasy and looking like anybody's game. But the Hawks got the second goal and the United Center erupted. It was over then but we didn't know it. Tampa looking dangerous and like they might score in the last few minutes; Hawks fans all feeling like our hearts may burst out of our chest at any moment. But we had won. WE HAD WON. We were one step closer.
To be honest, it was only a week ago but it sort of feels like it was all a dream. But goodness does it feel special to say I watched Game four of the Blachawks vs. Lightning Stanley Cup Playoffs in 2015. It was special.
---
I had been talking to many Blackhawks fans prior to watching Game four. For many young fans, this was an experience that they know so few truly get to enjoy in their youth. Many of us know and admit that the success of Blackhawks teams for the past few years certainly makes our fandom easier. But my most beautiful conversations were with older fans who felt like watching this team, in the words of one fan, was "a privilege."
A man I talked to had tears in his eyes when he spoke of the Blackhawks. Another said he couldn't believe that it was the Blackhawks of all Chicago teams that has brought many Chicagoans together, who live in a diverse but segregated city. "This is entirely unprecedented." "My heart is full," said a lady who I believe might have been in her mid-50's. She told me that she had introduced hockey to her husband when they met. He shook his head slyly and said, "She loves telling everyone that. I am sure I would have taken a liking to it….eventually."
The entire city would celebrate like there was no tomorrow.
Of course Game six on Monday, the game that saw us win it all was another bad weather day; in fact newspaper reports referred to it as, "apocalyptic." We all got text messages warning us of the bad weather. But you would think it was 80 degrees and sunny out. People completely ignoring the downpour, lining up for several hours trying to find a bar to watch the game. Everywhere was packed. And it was the kind of packed that on any other occasion was uncomfortable and annoying. But this time, all you felt was incredibly lucky to watch this with so many people who cared about the same thing. And victory, sweet victory was ours.
The entire city would celebrate like there was no tomorrow. Although tomorrow did come, with painful hangovers and lower work productivity which was all completely worth it.
---
"You know how awesome the Hawks are? This sounds messed up but it's true, they've got Black people loving hockey."
Early Tuesday morning, a funny video was circulating online which exposed just how awesome the Blackhawks are:
https://www.youtube.com/watch?v=9ZtLySyPbqw
The man said, "You know how awesome the Hawks are? This sounds messed up but it's true, they've got Black people loving hockey. Ain't that something?" And perhaps it is a stereotype and a generalization – things I generally don't care for because you know, stereotypes are incomplete and all that good stuff. But I don't know if I had moved to any other city and been in any other place during such a time as this, that I would have taken to this sport, and fallen for this team.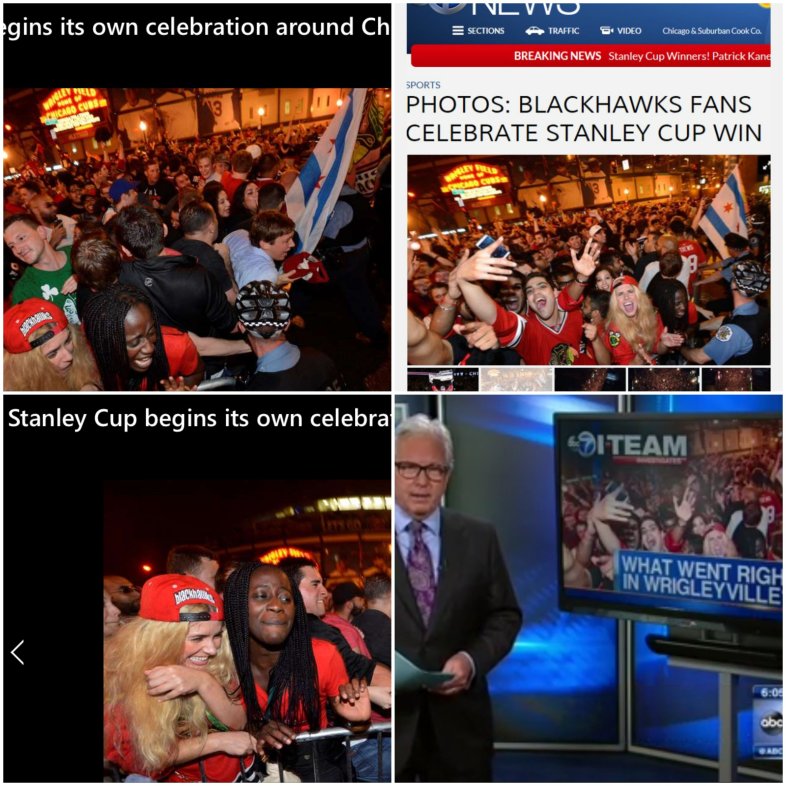 Interestingly enough, as you can see from the picture above, my friends and I made the news via our celebrations. Oh pictures, how you do lie. I look like I'm in a lot of pain from the weight of the crowd crushing on me. I was in the front of a gate the police had put up to control any rioting. But I swear the pain was worth it! Either way, there's now a running joke among friends that saw our pictures circulating that we are the face of Blackhawks fans in the 2015 Stanley Cup. Inaccurate representation of my night in those pictures, but I'll take it.
---
When a Black girl loves hockey, I've realized it might confuse people at first. How did you start, and why? Couple that with being an African, and people sometimes get entirely perplexed. But I think more people are happy to see stereotypes get broken down, interrupting a traditionally White space and sport with someone very different. But of course when that girl is celebrating, she might do the chants and scream "Go Hawks!" at the top of her lungs. But she will also bring in a little bit of who she is, culturally, to those celebrations, and party like she's at carnival.