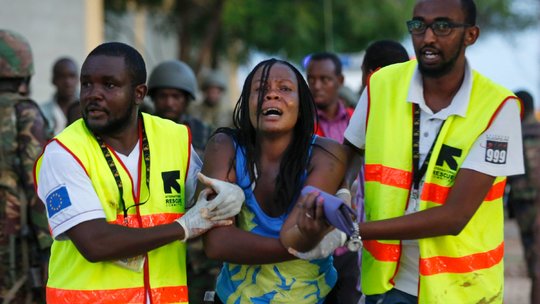 In the early hours of Thursday morning local time, gunmen opened fire in north-east Kenya, Garissa, on a university campus. For several hours, students were shot at or taken hostage by the gunmen. The news has reported these events as the mastermind of Mohamed Kuno, a high-ranking official in Al-Shabab, a jihadist terrorist group originally based out of Somalia. A total of 147 people have been confirmed dead, and 79 people injured. Based on the death toll alone, this is the largest attack in seventeen years, since terrorists bombed the Kenyan United States embassy in 1998, leaving 200 people dead. Four militants have been captured by Kenyan forces so far.
---
The coverage and global outrage has been abysmal so far. As usual, my sense is that this is because of the bodies killed and harmed, and the location involved. The reality is that countering terrorism is a global fight, and not merely several unrelated national and local fights. Every act of terrorism anywhere is an act to instill fear in free peoples everywhere. In this particular case for example, Al-Shabab allies itself with Al Qaeda. That is telling of the ideological state of mind of how terror network are connected.
There are several details in this case that also have to be considered as we learn more. The Washington Post for example, reports that an unidentified student had transferred from the school because of the threat of terrorism that has been present since last December. It has been reported by witnesses for example that Al-Shabab attacked non-Muslims in particular, although other witness reports have conflicted that by saying that the terrorists were shooting randomly. However, given that Christians are celebrating the Easter Triduum this weekend, it may have also been a timed event by Al-Shabab.
---
From a cultural perspective, African terrorism as a whole is still a mind-blowing occurrence to those who understand the cultural implications of for example, suicide-bombings or in particular, killing young people. In many traditional African societies, those are crimes that are believed to carry a great amount of retribution for the individuals, his or her family, and their lineage, and in some places, it is a curse to one's ancestors. Notwithstanding that many cultural ideologies have made room for religious ideologies, it seems that Africans from east to west are having to get used to the idea that their own people are terrorists. The effect of this on cultural perspectives is unmistakably affecting the African psyche and reflective perspective.
As for this latest attack in particular, we need to question yet again why "we" in this part of the world are not quite as outraged. Those who suffer because of the attacks are not any less human, not any less worthy of raising our voices in support for them. There is an unmistakable hatred that terrorists of this nature seem to have for young people. Young people who are educated and fearless, and striving for a better way of life – a way of life that threatens the essence of a jihadist terrorist mind. In the face of this, neither silence nor ignorance will do.
Follow #GarissaAttack for more on the story.

---
For more insightful writing from Kovie Biakolo, follow her Facebook Page:
---