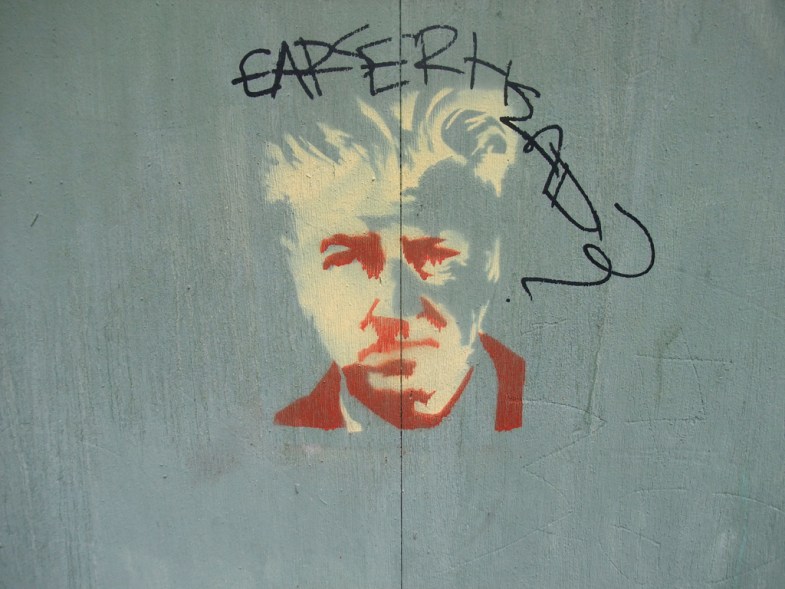 Iconic filmmaker, artist and musician David Lynch has long been an influence in my life. His strange way of seeing the world and finding beauty and a hidden reality that lies within the subconscious and elements of darkness has always been something that attracted me to his work. I've been rewatching Twin Peaks on Netflix the past few days and the odd world of the logging community in the show made me want to revisit some of Lynch's words and commentary on the creative life. Here are 15 of his best quotes. 

I look at the world and I see absurdity all around me. People do strange things constantly, to the point that, for the most part, we manage not to see it. That's why I love coffee shops and public places – I mean, they're all out there.
I love child things because there's so much mystery when you're a child. When you're a child, something as simple as a tree doesn't make sense. You see it in the distance and it looks small, but as you go closer, it seems to grow — you haven't got a handle on the rules when you're a child. We think we understand the rules when we become adults but what we really experienced is a narrowing of the imagination.
I learned that just beneath the surface there's another world, and still different worlds as you dig deeper. I knew it as a kid, but I couldn't find the proof. It was just a kind of feeling. There is goodness in blue skies and flowers, but another force—a wild pain and decay—also accompanies everything.
I'm lost in a transition. The old is dead, and I don't know what the new is. The only way to find the new is to start different things and see if there's something that can come out of experimentation. It's somewhat unsettling, but it's a hopeful thing in a way. I've been here before, lots of times.
I don't know why people expect art to make sense. They accept the fact that life doesn't make sense.
. . .a person needs new experiences. They jar something deep inside, allowing him to grow. Without change something sleeps inside us, and seldom awakens. The sleeper must awaken.
It's so freeing, it's beautiful in a way, to have a great failure, there's nowhere to go but up.
Forget being the best of anything. That's the fruit of the action, and you do the work -they say- for the doing, not the fruit. You can never really know how it's gonna turn out in the world but you know if you enjoy doing it. And ideas start flowing and you start getting, you know, excited about stuff. Then you're having a great time in the doing and that's what it's all about. If you don't enjoy the doing, then do something else.
I like things that go into hidden, mysterious places, places I want to explore that are very disturbing. In that disturbing thing, there is sometimes tremendous poetry and truth.
Intuition is the key to everything, in painting, filmmaking, business – everything. I think you could have an intellectual ability, but if you can sharpen your intuition, which they say is emotion and intellect joining together, then a knowingness occurs.
I don't think it was pain that made [Vincent Van Gogh] great – I think his painting brought him whatever happiness he had.
You've got to let accidents and strange things happen – let it work, so it's got an organic sort of quality … By trying to remove yourself you can see some fantastic things sometimes.
Being in darkness and confusion is interesting to me. But behind it you can rise out of that and see things the way the really are. That there is some sort of truth to the whole thing, if you could just get to that point where you could see it, and live it, and feel it … I think it is a long, long, way off. In the meantime there's suffering and darkness and confusion and absurdities, and it's people kind of going in circles. It's fantastic. It's like a strange carnival: it's a lot of fun, but it's a lot of pain.
I wouldn't know what to do with color. Color to me is too real. It's limiting. It doesn't allow too much of a dream. The more you throw black into a color, the more dreamy it gets… Black has depth. It's like a little egress; you can go into it, and because it keeps on continuing to be dark, the mind kicks in, and a lot of things that are going on in there become manifest. And you start seeing what you're afraid of. You start seeing what you love, and it becomes like a dream.
If you have a golf-ball-sized consciousness, when you read a book, you'll have a golf-ball-sized understanding; when you look out a window, a golf-ball-sized awareness, when you wake up in the morning, a golf-ball-sized wakefulness; and as you go about your day, a golf-ball-sized inner happiness.
But if you can expand that consciousness, make it grow, then when you read about that book, you'll have more understanding; when you look out, more awareness; when you wake up, more wakefulness; as you go about your day, more inner happiness.
We all have at least two sides. The world we live in is a world of opposites. And the trick is to reconcile those opposing things. I've always liked both sides. In order to appreciate one you have to know the other. The more darkness you can gather up, the more light you can see too.