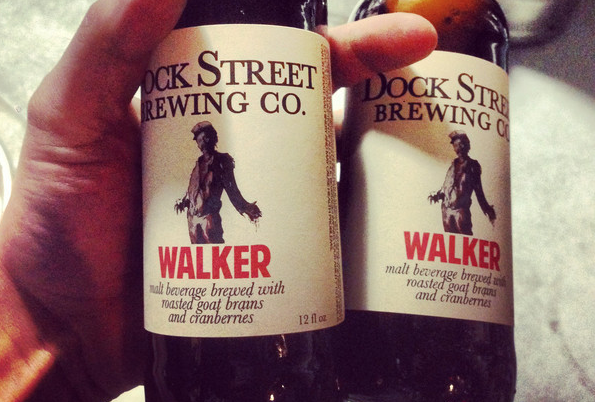 The Season 5 premiere of The Walking Dead airs on Sunday and there's no other perfect way to get ready for the show than by ordering a pack of Walker, a brew inspired by the very show itself.
Dock Street Brewing Company, the creator of the popular beer, is re-releasing it just in time for the premiere so fans can sip on it while watching zombies getting their brains smashed in. Sounds pretty great, right?
You can either join them in Philly and get a taste of it at their screening OR you can order it online at their Shopify page, assuming you're of legal age to drink and everything.
Walker is an American pale stout and brewed with an interesting combination of cranberries, flaked barley, and smoked goat brains. Yes, there are actual brains in there. Hannibal Lecter would be so proud.
It's a 7.2% ABV American pale stout and available to purchase in four packs for $18. I'll be ordering my own pack of brain beer and getting pumped up for the new season. Wanna watch it with me?