As a private school lifer, I wore a uniform for more than a decade. We looked like little sailors in our red ties, white flaps and navy blue skirts. It was easy not worrying about what you were going to wear everyday (although we spent a significant amount of time and probably more money on our shoes than our outfit). But I always looked forward to casual Fridays so I could rock something not so formulaic and show off my individual style.
As an adult, I'm working on minimizing my cluttered closet. I have a few pairs of jeans collected from over the years, even though I don't love wearing them because of the way my muffin top spills over. Overalls are another story because they can be quite roomy and I can wear them saggy-baggy. Nowadays, there are so many cool ones. So I thought, why not try styling overalls for a week the way people wear jeans like an everyday staple? Here's my daily style diary:
Day 1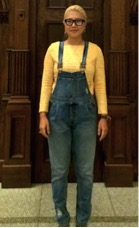 It's a Sunday and today's a challenge because not only am I going to mass, but I'm lecturing, which means I'll be standing in front of the entire church audience. We've gotten an email about dressing nicely as we're representing the parish. But I've committed to this project and hope to make myself look classy somehow. It's halfway through Easter so I put on a preppy yellow sweater and pull my hair back into a bun and read prayers. Yes, you can class up overalls religiously!
Day 2
I'm off to a happy hour. Someone takes a picture of me and the angle makes me look like a big baby. So are the bib and brace an adult onesie? Another person mistakes me for being straight out of college. Maybe if the overalls were darker or a different material, I wouldn't look so Osh Kosh.
Day 3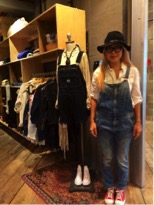 I'm off to Williamsburg and borrow my roommate's slightly darker, differently fitted overalls, put on a Fedora and some Converses with a white button down I got for Christmas. I'm walking around the neighborhood doing some research when I stumble into an Urban Outfitters. I look like a filled-in replica of one of several mannequins sporting overalls, so I know I'm blending right into this hipster neighborhood. I'm so on trend I feel like a walking cliche.
Day 4
I wake up not feeling so well but I make it to an audition where I'm supposed to look more upscale which generally means a bright dress with jewelry. I muster up some energy and pick out a silk red button-down with fancier winter heel boots and even talk about this experiment. Clothes are a great conversation starter. But hey, denim can be high fashion too right? When I get home, I almost wear the overalls back to bed. Actually, overall pajamas sound like a swell idea…zzz
Day 5
I'm excited for book club, held at the apartment of a friend who works for Ralph Lauren. I appropriately choose a salmon RL sweater. But I can't sit and cross my legs on the floor in the once-again roomie-borrowed overalls. Also note that going to the bathroom is an annoyance as you have to make sure not to drag the clasps on the ground or worse, have them drop in the toilet! What's a girl to do?
Day 6
I'm producing a wellness event; I feel like a real handiwoman with the flaps down, my preferred way of chilling in baggy overalls. I feel cool in my dungarees.
Day 7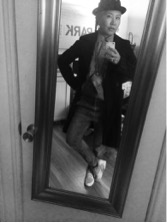 I adore the denim on denim look. It's not so lumberjack and more jeans-don't-care kind of feel so it's off to the library in a bowler hat, braids and an oversized boyfriend shirt covered by the criss cross of suspenders. I'm aware of the twisted Kangaroo pouch as part of the Charlie Chaplin-inspired look. On my walk over I start to wonder if you can look sexy in overalls and I remember New Yorker Leandra Medine even put them on the cover of her hilarious life-fashion memoir. Her now husband found her unique look intriguing.
Afterthoughts
In college, sweatpants were an every other day item. More recently, I was all about stretchy yoga pants. I'm not sure I'd want to wear overalls every week. Still, I'm convinced overalls, jeans or denim shorts could be that one item you pack for a trip if you're looking to downsize your luggage to carry-on.
Overalls are more protective than professional. In general, I think one feels more comfortable overdressed, which is more difficult to pull off. I look to Karl Lagerfeld, who's known for wearing his impeccable black suit everyday.
For now, I'm a little tired of the overalls. They're headed for the laundry hamper.