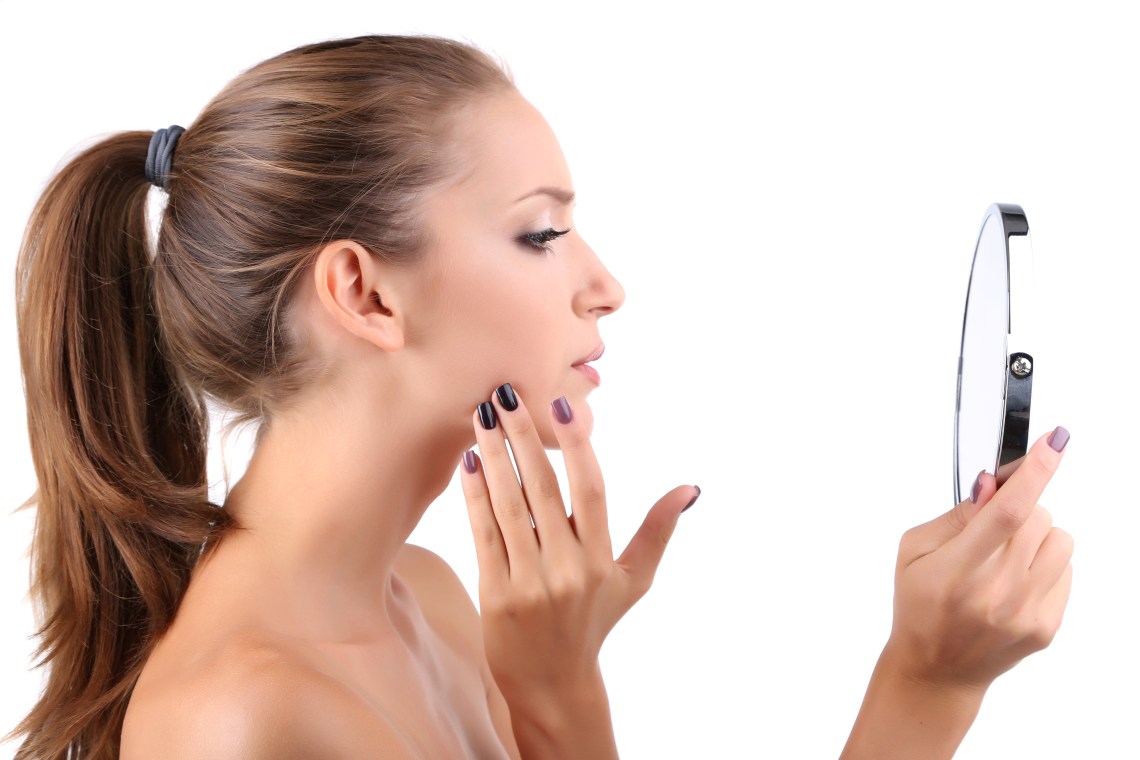 All week your skin has been looking flawless and this morning you woke up feeling great. You may even be werrrrkin' it to some Yonce and BOOM you notice a pimple (and what seems to feel like the world's largest zit––but probably isn't)! After a few moments of panic the haunting question occurs…. Can I cover this up or will it make my skin worse? Have no fear, there are a lot of products out there that will cover up blemishes without creating more of a breakout.
The first thing you'll want to do is to cover up the redness of the blemish. Most concealers have a thick creamy consistency which isn't the best to put onto an already irritated area. Luckily for you, there are concealers out there formulated with acne treatment! These are great because they aren't as heavy on the skin and will help treat the area. As for your foundation, try using powder instead of a liquid. Powder foundations are better for the skin when you're breaking out because they're light, absorb excess oil, and allow your skin to breath. For the rest of your makeup routine, stick with powders for your bronzer, blush, and brows. Again, powders will give your skin more opportunity to breathe and won't clog pores like liquids can.
The most helpful and effective thing you can do for your skin is to not wear makeup when you don't need to! As much as I love makeup and wearing it, when I don't have a job or I'm not going out anywhere special I don't wear any. If you absolutely can't be seen in public without some coverage, try using a BB cream. BB creams give your skin a sheer coverage, think of tinted moisturizer.
Washing your face twice a day using warm water to open your pores and rinsing with cold water to close them will give your skin just the right cleaning it needs. If your feel like your skin needs a deep cleaning try using a face mask twice a week.
Also keep in mind the dirtier your brushes are that you are applying your makeup with, the more likely you are to break out from that. Check my last article on how to clean your brushes and when it's time to toss out expired makeup for tips!
My favorite products to use for break outs:

GlamGlow Super Cleanse ($39): I recently started using their new line of facial cleansers and so far so good! The cleanser is applied to dry skin as a mud and when water is added it becomes a foam.
GlamGlow PowerMud($69): This is my favorite mask of the Glam Glow line! Though it's a bit pricey, it is worth the money. Anytime I've ever had a breakout, I've used this and in the morning my blemishes are less noticeable and clear up within the next day or two! It goes on like mud, let sit for 15-20 min and rinses off like an oil.
Smashbox Photo Finish Primer Water ($32): This is Smashbox's latest primer––what's great about this is that it's water based! It's free of silicone, alcohol, and oil which are all things that can cause or make breakouts even worse. A few spritzes on your face will give your face a sheer, full-coverage primer.
Clinique Acne Clearing Concealer ($17): Clinique is known for their skin care solutions and their makeup is formulated for sensitive skin. This concealer is offered in three different shades and is made to be applied to blemishes without clogging pores.
bareMinerals Original Foundation ($28): This foundation is offered in a variety of colors that will match most skin tones. It has SPF 15 in it too to help protect your skin from the harsh UV rays.

Urban Decay de-slick Setting Spray ($30): Setting spray really does work! When breaking out, this is a great setting spray to help alleviate the issue of oily skin.