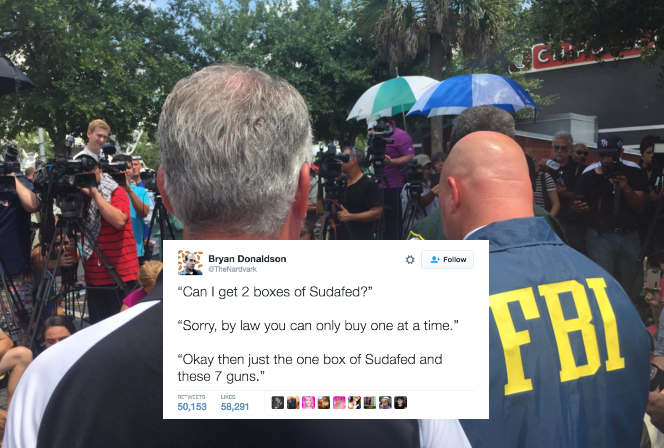 1. 
"Can I get 2 boxes of Sudafed?"

"Sorry, by law you can only buy one at a time."

"Okay then just the one box of Sudafed and these 7 guns."

— Bryan Donaldson (@TheNardvark) October 9, 2015
---
2.
Gun control is hard, so let's focus on *realistic* goals like building giant walls, banning an entire faith and deporting 11 million people.

— Kevin M. Kruse (@KevinMKruse) June 12, 2016
---
3.
The NRA's message is clear: Guns should be available to everyone at all times to protect us from the guns available to everyone at all times

— (((dennis tennis))) (@pharmasean) June 14, 2016
---
4.
Trump wants club goers to carry guns for their safety. Because arming a bunch of drunk people in a club with firearms is a brilliant idea.

— George Takei (@GeorgeTakei) June 14, 2016
---
5.
If there were a medical treatment that killed dozens of people for every one it saved, it would be banned immediately. But guns are exempt.

— Katie Mack (@AstroKatie) June 14, 2016
---
6.
Just want to remind everyone who's asking how guns keep getting in the hands of awful people that Walmart sells guns. Walmart.

— Ryan Broems (@ryanbroems) June 14, 2016
---
7.
Concerned NRA Official Rushes Out To Purchase Congressman Following Mass Shooting https://t.co/oGaeK3zPRE pic.twitter.com/8G88jwZOsl

— The Onion (@TheOnion) June 13, 2016
---
8.
"Most People are idiots, but damn it, they should all have unfettered access to guns."

-Americans.

— Chocolate Moose (@moose_chocolate) June 13, 2016
---
9.
solution: what if we take your guns but let you walk around with your dick out?

— Morgan Murphy (@morgan_murphy) June 14, 2016
---
10.
"Guns aren't the problem."
Let's tell that to all of the victims of Columbine, Aurora, Virginia Tech, Newton, and Orlando.

— Stephen Parker (@Stevoptweets) June 13, 2016
---
11.
I feel like buying guns cuz ur afraid of guns is like eating an edible, geting way 2 high, then eating another edible cuz u hav the munchies

— Charles (@Charlesdecrema) June 14, 2016
---
12.
No ones trying to take away your goddamn guns!They're simply trying to make it more difficult for those that shouldn't have em, to have em!

— devon sawa (@DevonESawa) June 13, 2016
---
13.
are gun rights more important than the right to live and love freely, without fear? The "land of the free" needs to free itself of guns

— Snow Whitehall (@CMWhitehall) June 13, 2016
---
14.
I will never understand why people would rather see two men holding guns then two men holding hands

— Charlie Payne (@__DragonLord) June 14, 2016
---
15.
This is more than than a mass shooting & beyond terrorism. It's hate crime on a micro-genocidal scale, bc that's what assault rifles enable.

— Julie Klausner (@julieklausner) June 12, 2016
---
16.
Guns killed more Americans in the past 50 years than every US war ever https://t.co/AbP7Cmj7Eu pic.twitter.com/h3D5EfXejq

— Vox (@voxdotcom) June 13, 2016
---
17.
MORE GUNS is not the answer. That's like saying the answer to lung cancer is more cigarettes.

— Nice Eric (@ericsshadow) June 13, 2016
---
18.
If we screen guns the way we do refugees, there would be less than 3,000 in America.

— LOLGOP (@LOLGOP) June 13, 2016
---
19.
Don't worry, the shooter was Muslim. So you don't need to examine our nation's hatred of LGBT or access to guns. It's all okay. Hush now.

— Catherynne Valente (@catvalente) June 13, 2016
---
20.
The vast majority of guns used in 16 recent mass shootings were bought legally https://t.co/oDg6DXDhw6 pic.twitter.com/7pjMj6gJHq

— The New York Times (@nytimes) June 13, 2016
---
21.
Why can someone with a history of domestic violence legally buy guns? Can we agree that beating up women is a sign of mental illness?

— Chris Sacca (@sacca) June 13, 2016
---
22.
Guns kill people. People kill people. Assault weapons kill catastrophic amounts of people.

— Eli Graham (@eli_graham_) June 13, 2016
---
23.
let's stop allowing guns in this country, just until we can figure out what's going on

— Bez (@Bez) June 13, 2016
---
24.
The GOP blocked a bill that would have prevented those on the terrorist watchlist from buying guns. This sadly doesn't surprise me.

— Robert Kazinsky (@RobertKazinsky) June 13, 2016
---
25.
Those with ties to terrorists can't fly on a plane but can walk into a gun store and buy dozens of guns, hundreds of rounds of ammo. Why?

— Chris Murphy (@ChrisMurphyCT) June 13, 2016
---
26.
i wish republicans were as interested in controlling guns as they are controlling my body

— lauren ashley bishop (@sbellelauren) June 13, 2016
---