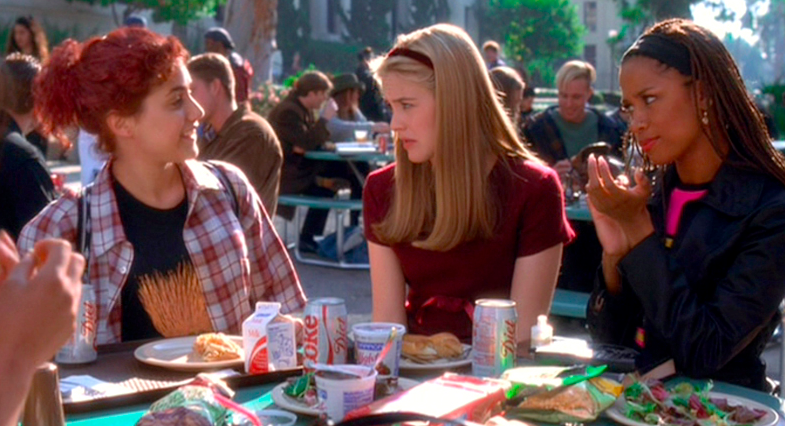 1. Planning out the Friday or Saturday extravaganza several days in advance, because you needed time to call each other up on your landlines, figure out who could host the big night, have your moms talk to one another to coordinate details and get very specific directions to the host's house, etc.
2. Picking out the late-night movie ahead of time (by either going to Blockbuster or checking the Friday/Saturday night schedule in TV Guide) because you couldn't just turn on Netflix and see what was available at the touch of a button.
3. And never straying from your classic sleepover movie choices: Clueless, Center Stage, Save the Last Dance, She's All That, or Bring It On. 
4. Complimenting each other when you all showed up to the sleepover in classic weekend chic attire: a sparkly cami with a built-in bra from Limited Too, a tank top that said "Too Cute" from Limited Too, flared jeans from Limited Too, a fake sports team t-shirt from Limited Too, or a sweatshirt with a smiling dog on it from…. Limited Too.
5. And never showing up to a social event without the coolest accessories: tattoo choker necklaces, 'girly' visors, sequined belts, black platform shoes, and butterfly clips galore.
6. Sitting on the host's inflatable furniture while you waited for the other guests to arrive.
7. Organizing the CDs next to the stereo according to what everyone wanted to listen to next – *NSYNC's Celebrity, Britney's Oops!…I Did It Again, or, most likely, the latest NOW release because that had some variety.
8. Flipping through magazines like YM or Teen People obsessing over the flawlessness of Mischa Barton, Lindsay Lohan, and Tara Reid.
9. And – if you were lucky – getting your hands on an issue of Cosmopolitan, skipping right to the "sex story" section, and giggling uncontrollably while you elected someone to read it aloud to the group.
10. Chatting with boys from school on AIM and then daring them to call the house you were all at.
11. Then screaming like idiots when the phone rang, and forcing your bravest friend to answer it.
12. And eventually passing the phone around one by one so everyone could talk to the boys, once everyone calmed the fuck down and realized it wasn't that terrifying.
13. Whipping out your disposable camera at some point and using up all of the film in a matter of minutes – with 50% of the shots containing at least one peace sign.
14. And then bringing the developed pictures to school a week or two later to show all of your friends (after you threw out any ugly ones of yourself).
15. Saving a large portion of the night for makeover time – when you'd whip out the purple, glitter-splattered, plastic box containing all of your makeup, and begin giving each other what you deemed were gorgeous new looks.
16. And in the aftermath of the makeover, turning to stare in the mirror at your glitter lotioned, Lip Smackered, neon eyeshadowed, hair crimped new self and screaming, "I love it!"
17. And, finally, when it came time for bed, getting out your Limited Too pi's that matched all of your friends: either a silk combo with a flower print, or a cotton duo with clouds all over it.