Conditions like Seasonal Affective Disorder and depression are serious illnesses and this post is in no way meant to address those situations. But for those who just struggle with a little extra sadness and listlessness during the winter and need a little help perking up, here are 15 things you can do to make the adjustment a little easier.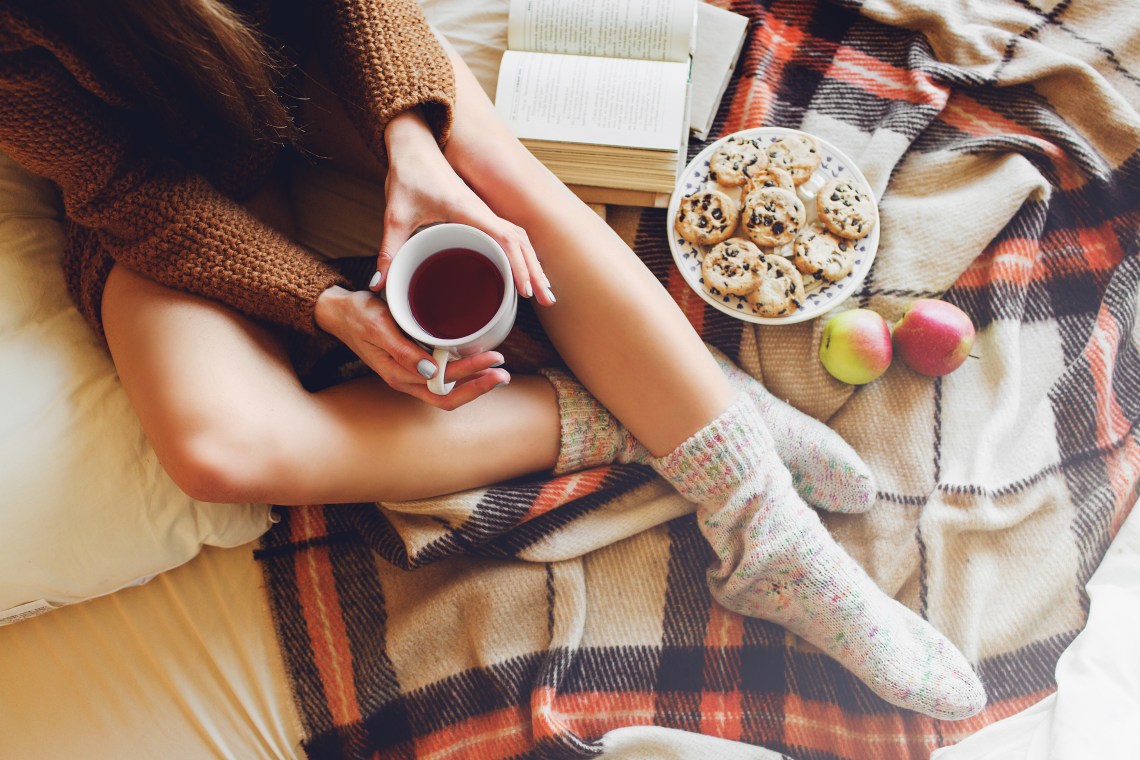 1. Invest in a few solid pairs of warm socks, and/or a decent pair of slippers. Have something comfortable on your feet at. all. times.
2. Get out of the house as much as you can. Even if it's just to sit at the nearby cafe, being in a place other than your own home – where there are other people are nearby – can make you feel much less lonely.
3. String up fairy lights in your home. They're cheap, easy, and they have a really pleasant and positive effect on the atmosphere of your home.
4. Use a wax melts, wall plugins, or automatic air fresheners to make your place smell consistently cozy and inviting each time you walk in the door. They're available at any convenience store and are extremely inexpensive.
5. Embrace the Danish art of hygge, which is about "taking pleasure from the presence of gentle, soothing things"
6. Drink a lot of tea. Coffee is a great way to stay warm and perk yourself up too, but tea is better when you're just trying to relax and calm your system. (Ginger tea is particularly helpful when dealing with stomach aches or cramps). Here's one of my favorite brands.
7. Consider getting a light therapy lamp. I haven't personally tried one yet (the price is not ideal), but I'm most likely going to get one this winter anyway – partially because countless people have recommended it to me and said it's really helped them, and partially because I live in Chicago and I'm desperate, girl.
8. Pick a new tv show that you can binge watch with a friend, roommate, sibling, or significant other – especially if you live by yourself. It'll give you just one more reason to make (easy, lazy) plans with somebody.
9. Speaking of which, force yourself not to cancel plans with people. A rain check is understandable every once in a while. But with the short days and the cold nights of winter, everyone is going to feel tempted to bail every time they make plans. But as soon as you make it out of the house and meet up with your friends/family/coworkers, you'll enjoy the fresh energy it brings back into your life.
10. Buy a lot of candles. Sign up for the emailing list of whatever candle company you like best. Although they can get spammy, they frequently send out really great buy-one-get-one deals or even half-off sales.
11. If candles from companies like Yankee or Bath & Body Works are outside your budget, pick some up from your local convenience store. Places like CVS and Walgreens have a ton of options under $10, and from my personal experience, a lot of them smell delicious.
12. Spend time in front of the fireplace as much as possible.
13. And if, like me, you don't have an actual fireplace, use "Fireplace for Your Home" on Netflix. It's just what it sounds like. You'll be surprised at how quickly you become obsessed with it.
14. Listen to Spotify playlists designated to improve your mood. They have just about every option you can think of – Good Vibes, Feel Good Indie Rock, Afternoon Acoustic, and a dozen more that will take you out of the dreary days of fall and winter.
15. Use this hibernation-focused season to read all of the books you've been putting off. If you don't know where to start, let Goodreads do the work for you. They have recommendation lists for just about every genre, sub genre, and category you can think of.