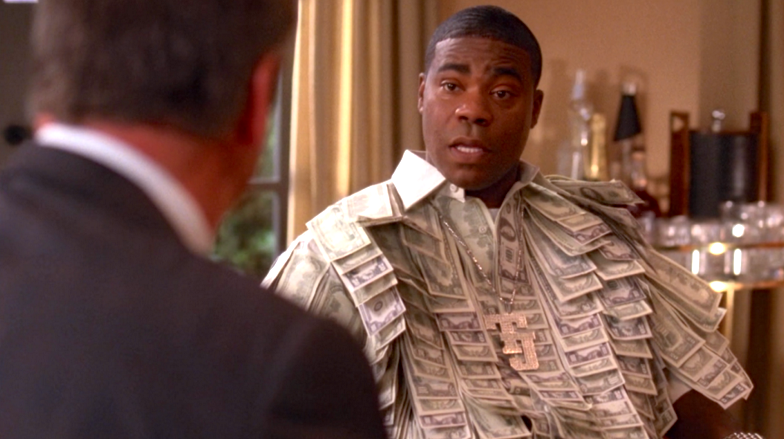 1. 
"Affirmative action was designed to keep women and minorities in competition with each other to distract us while white dudes inject AIDS into our chicken nuggets."
---
2. 
"I don't need a birthday, 'cause I buy myself all the presents I need. And because of my drinking, they're often a surprise."
---
3. 
[Flirting advice] "Tell her that you want your privates and her privates to do a high five."
---
4. 
"Cornell commencement address? Sorry, but Tracy Jordan doesn't do safety schools."
---
5. 
[Speaking to a bird on the sidewalk] "Stop eating people's old French fries, pigeon. Have some self respect! Don't you know you can fly?"
---
6. 
"I wonder if they give awards for tarantula displacement?"
---
7. 
"The holidays without drinkin' is rough. Turns out football is boring, my wife's sister ain't as cute as I though she was and I can not play the guitar."
---
8.
"Florida – the penis of America!"
---
9. 
"My attorney told me I should join a church preemptively, 'cause juries are suspicious of celebrities who find religion after getting into trouble."
---
10. 
"You don't have to thank me, Lemon. We're a team now. Like Batman and Robin. Like chicken, and a chicken container."
---
11. 
"You know how pissed off I was when U.S. Weekly said that I was on crack? That's racist! I'm not on crack – I'm straight-up mentally ill!"
---
12. 
[Crowd booing] "Your boos are not scaring me. I know most of you are not ghosts."
---
13. 
"I'm whipped. [My wife] got me up at 7:30 today. Did you know in the morning they got food, TV, almost everything? It's pretty good."
---
14. 
"I remember going to the Statue of Liberty Centennial, cause that year someone had spread a rumor that she was gonna slip out of her toga, and I wanted to see some green boobies."
---
15. 
"A book hasn't given me this much trouble since Waldo went to that barber pole factory."
---
16. 
"Live every week like it's shark week."
---
17. 
Jenna: "Acting is about consistency and control."
Tracy: "Got it. No farting."
---
18. 
"I'm gonna have so much money, my grandkids are gonna play lacrosse. Lacrosse, Liz Lemon."
---
19. 
"What is this, Horse-ville? 'Cause I am surrounded by nay-sayers! Wordplay!"
---
20. 
"I don't get why people like brunch. What's the benefit of combining breakdancing and lunch?"
---
21. 
"I love my wife. I want her to be happy. But more than that, I want to do nothing."
---
22. 
"I want to hold a mirror up to society and then win World Record for biggest mirror."
---
23. 
"I'm not going to rehearse. I'm going to get a sandwich and then eat it on the toilet."
---
24. 
"Thanks, Jack, for coming to this emergency meeting. I'm sorry I'm four hours late, but my alarm clock didn't go off because it died in a cock fight last night."
---
25. 
Tracy: "I've poured more cash into Donald's restaurant than my money pit in Connecticut."
Jack: "You have a house in Connecticut?"
Tracy: "No, I do not."
---
26. 
"If I won an Oscar, everyone would have to respect me. My obituary will read 'Oscar-Winner' instead of 'Children's Soccer Heckler.'"
---
27. 
"I yelled 'bababooey' at Walter Cronkite's funeral, so I actually have no idea of what's rude or not."