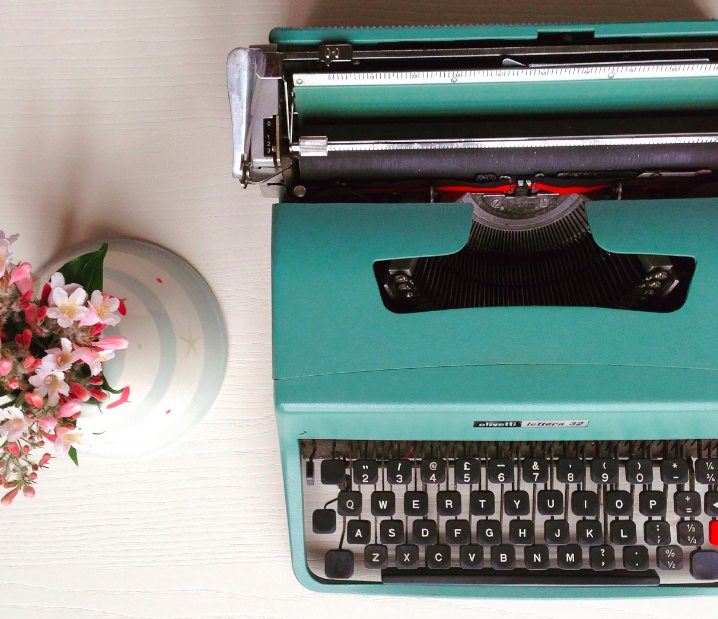 If you haven't yet heard about it, National Novel Writing Month (or #NaNoWriMo) is a yearly, internet-based project that encourages participants to write a novel during the month of November. From November 1st until the deadline at 11:59 PM on November 30th, people are encouraged, inspirited, and motivated to write 50,000 words (the general minimum number of words for a work to be considered a novel). Here are 23 tweets from participants and supporters to get you inspired.
1. 
"When you sit down to write, write…" Stephen King #quoteoftheday #amwriting #NaNoWriMo pic.twitter.com/1EKFeGt25l

— Loretta Milan (@lorettamilan) October 26, 2015
2. 
I really wish #NaNoWriMo was starting this weekend because my characters are calling! #amwriting pic.twitter.com/rswjGGyvhi

— Jackie Dana (@jadana17) October 26, 2015
3. 
For everyone doing #NaNoWriMo, I'm cheering you on! Write the crappiest first draft & be proud! Just write. Write. Write. Edit later!

— HELLO?ween (@LizaWiemer) October 26, 2015
4. 
if you don't have vulnerability, you don't have a story. #amwriting #NaNoWriMo

— writingsecrets (@writingsecrets) October 26, 2015
5. 
Naysayers of #NaNoWriMo always make me laugh. This is a personal journey, so criticism of someone's method is a complete waste of time.

— Nicole L'autore (@NicoleLautore) October 26, 2015
6. 
When u sell a man a book, you don't sell him 12 ounces of paper & ink & glue; you… #amwriting #nanowrimo pic.twitter.com/RPCZBYzUWG

— Susan McIntire ☆彡 (@susanjmcintire) October 26, 2015
7. 
Ordered myself two candles from Yankee Candle because #NaNoWriMo is approaching and I like to BURN THINGS when I write. #veryserioustweet

— Paige (@enchantology) October 26, 2015
8. 
Just one week from today, it all starts: this crazy, rollicking, novel-writing shindig called #NaNoWriMo. I hear my novel calling me!

— Grant Faulkner (@grantfaulkner) October 25, 2015
9. 
#NaNoWriMo is the one month of the year that I don't have to pretend to be normal.

— Arumi Writes NaNo (@ArumiWrites) October 25, 2015
10. 
Thank you for this quote @jodipicoult: "Everyone has a book inside them, but it doesn't do much good until you pry it out." #NaNoWriMo

— Grant Faulkner (@grantfaulkner) October 23, 2015
11. 
It's almost #NaNoWriMo! Enjoy these free character names: Doug Frunch Bethesda Saint-Cartwheel Charlotte MacGuyver Annie May Phillip Shrek

— Daniel Kibblesmith (@kibblesmith) October 23, 2015
12. 
With #NaNoWriMo 2015 soon upon us, here are some classic novels which were written rapidly: https://t.co/qCBKgVAdKM pic.twitter.com/glVWU78Wr3

— Literary Interest (@InterestingLit) October 23, 2015
13. 
Life is so busy right now, but I just signed on for #NaNoWriMo and all the feelings I had when I passed 50,000 last year came flooding back.

— Andrew Fendrich (@AndrewAnmark) October 17, 2015
14. 
Wrote 1K, now off to socialize. If I do it enough this month, maybe I can stay in my writing cave in Nov. #NaNoPrep #NaNoWriMo #writerslife

— Elyne (@elynewrites) October 17, 2015
15. 
Six days until #NaNoWriMo. Thirty-one days until The Great Turkey Heist. Thirty-six days until #OccupyTree. I need a nap.

— Cat Food Breath (@CatFoodBreath) October 26, 2015
16. 
I KNOW WHY MY WITCH NEEDED A BABY I HAVE THE FULL SKELETON OF MY NANO NOVEL BOOM. #nanowrimo

— Ashley M. Hill (@CleverlyTitled) October 17, 2015
17. 
I'm gonna #NaNoWriMo so hard this year.

— Jenna McCord (@ohlordjenmccord) October 17, 2015
18. 
*takes a deep breath* Registering for #NaNoWriMo and filling out my profile *more deep breaths*

— Alex Murphy (@kitsunehime21) October 17, 2015
19. 
I love being an ML for #NaNoWriMo. It's such a buzz as the days get darker. Helps the mental frame of mind, for me.

— Alex Klages (@alexklages) October 17, 2015
20. 
1 8th-grade nephew + 1 insane sister + 1 clever husband + >1 glasses of wine = 1 AWESOME new book idea. #NaNoWriMo, here I come. #amwriting

— Christina Dalcher (@CVDalcher) October 17, 2015
21. 
After weeks of procrastinating and dawdling, I'm finally back to some proper #NaNoPrep. Feels so good! #NaNoWriMo #writerslife #amwriting

— Elyne (@elynewrites) October 17, 2015
22. 
Signed up 4 #NaNoWriMo & am super excited! A new story awaits to be written. 50k words. 1 month. 📝

— Cassie Burr (@Cassie_Burr) October 26, 2015
23. 
Well, I've developed a rough plot outline. That's a start. #NaNoWriMo #FirstTimer

— Lisa Barnes (@LivePrayRun) October 26, 2015