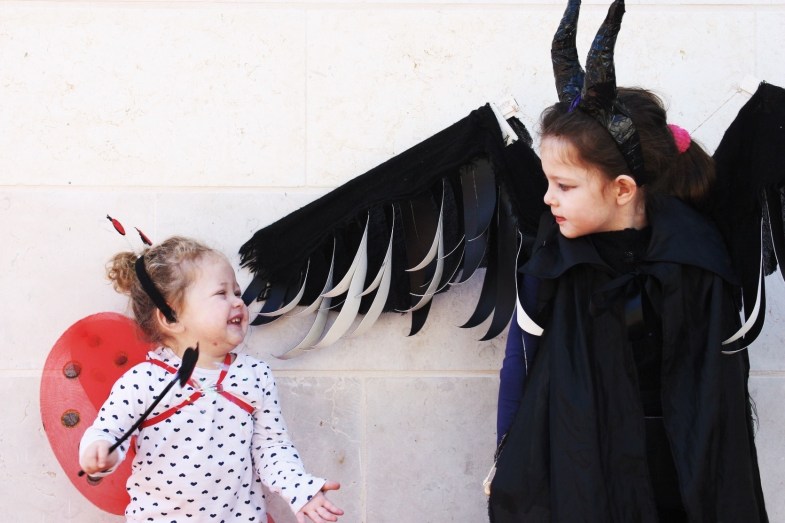 1. Hand-me-downs applied just as much to Halloween costumes as they did to everyday clothing.
2. So if your older sibling was a ghost or a pirate one Halloween, you knew that would be your fate in another year or two. Many of your family's old Halloween photos involve the same few costumes floating around year after year.
3. Occasionally your mom or dad would agree to take you guys to a Halloween mecca like Party City, and when they did, all hell broke loose. You guys would run around the candy aisles, stare up in awe at the wall of costume options, and almost always convince them to let you bring a cool little decoration home with you.
4. And when it was time to pull out the Halloween decorations out of the storage closet each year, the excitement you all shared together was almost uncontainable.
5. You guys spent pretty much all of September discussing which movies you were most excited to watch again come October – Hocus Pocus, Mom's Got a Date With a Vampire, Halloweentown, The Nightmare Before Christmas, etc.
6. There were never arguments over who got to control the tv, because you guys were always in agreement: ABC Family's 13 Nights of Halloween or bust.
7. And if your parents took you to Blockbuster on Friday night to rent a Halloween movie? Life could not be better.
8. A great deal of time was spent in pumpkin patches throughout the years, where you discussed in great detail which pumpkins you thought would best fit the vibe of your front porch.
9. Haunted houses or spooky hayrides always led to you clutching on tightly to one another, sometimes even holding hands. And then never speaking of the tender moment afterwards.
10. Any and all pictures you have from these pumpkin patches and hayrides show you guys all wearing the same classic 90s jeans, usually paired with a sweatshirt displaying your favorite Disney cartoon. And probably some Reeboks.
11. You always got so excited to pick out a costume for your dog or cat together. Even though they usually wore it for 46 seconds before they tore it off.
12. After sneakily staying up to watch one of the Chucky movies and terrifying the crap out of yourselves, one of you would inevitably climb into the other's bed.
13. You loved trading scary stories with each other that you heard at school, on the bus, or during a late-night (10:00 pm) ghost story session at a sleepover.
14. In the days leading up to Halloween, you would plan your trick-or-treat route together and discuss which streets would lead to the greatest Return on Investment.
15. "I heard the blue house two streets down from us gave out Gameboys last year!" You cannot count how many lies/rumors like these were swapped between you and your sibling(s) each year.
16. If a friend wanted to trick-or-treat together, you always invited them to your house, because you secretly wanted to be with your siblings on Halloween night.
17. When the trick-or-treating grew long and you were tempted to retire for the night, one of your siblings was always there to keep you going, by saying something like, "Come on. Just 5 more houses! We'll get so much more candy!"
18. And when you finished your hard night's work, you loved gathering in the family room, emptying your pillowcases, and marveling in the giant, delicious, diabetes-inducing candy pile that your individual collections formed.
19. But if you guys preferred to keep your candy to yourselves, you would at least make trades with each other, according to which candy you guys each liked and disliked. There was nothing better than morphing together an unwanted pile of candy bars and giving them to your sibling in exchange for something that was (in your mind) so much better. That's what family's for, right?