After the recent Emmy win for Outstanding Variety Sketch Series, it's time to look back at some of the funniest 'Inside Amy Schumer' sketches so far. Here are 11 of the strongest and most stirring sketches.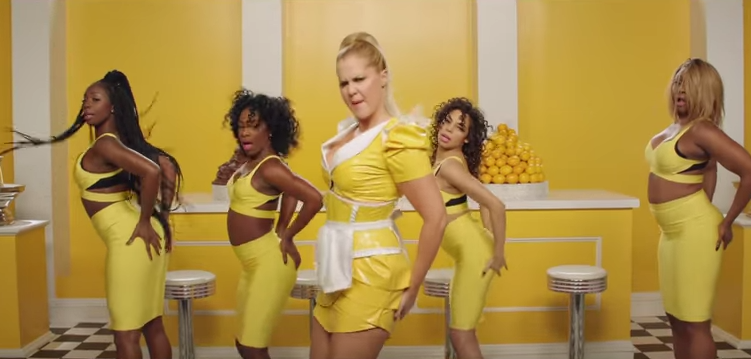 1. Sex Stories
This sketch points out the hypocrisy in the way that some men talk about women, cleverly highlighting the fact that every woman is somebody's wife, daughter, mom, sister, etc. Plus, there's a Zach Braff cameo. Always a plus.
2. Girl, You Don't Need Makeup
A group of One Direction-esque man-boys start singing to Amy about how she actually doesn't need any makeup because she's beautiful the way she is. Then, the minute she takes it all of, the lyrics are a little different. "Hold up girl, we spoke too soon" Or "Just a little mascara, and you'll look female." Pretty much the real life version of "What Makes You Beautiful."
3. Sexting
The tiniest amount of comedic exaggeration in a scene about exactly how ridiculous sexting can be.
4. Last Fuckable Day
Possibly the best Inside Amy sketch so far. But with Tina Fey, JLD, and Patricia Arquette, how can it not be? This is just a wonderful scene about the pressures women can feel both inside and outside of Hollywood.
5. Milk Milk Lemonade
It's absolutely bizarre, yes. How can she possibly think it's funny to make a video about butts while she sings "This is where my poop comes out"? Then you remember that that's basically what half the music videos look like now a days. There's also some great appearances.
6. Compliments
An oldie but a goodie. The ending is a little much, but the sketch itself hilariously portrays the way that women refuse to take compliments or think highly of themselves in any way whatsoever. It also suggests why we're like this in the first place.
7. Celebrity Interview
The more ridiculously bronzed that Amy's legs get in each shot, the more you realize exactly how similar this sketch is to actual celebrity interviews.
8. Football Town Nights
Rape is an extremely sensitive subject, especially in comedy. But I think this sketch handles it so well. It's not about making fun of the victims – it's about making fun of the perpetrators themselves and showing how many little things in our lives are contributing to rape culture.
9. New Body
It just puts into words something we've all gone through, where we want to start planning for our new body before we've even put in any work into getting healthier. Best line: Amy walks into the store and the clerk says, "Let's walk over to the 5 months from now section!"
10. A Very Realistic Military Game
An unapologetic sketch about the issues that are often swept under the rug when it comes to women's safety and wellbeing in the military. The alarmingly realistic part comes when Amy tells her boyfriend what happened and he says, "That's never happened to me."
11. Court of Public Opinion: The Trial of Bill Cosby
The name says it all. The only part I found not at all funny was the ending.