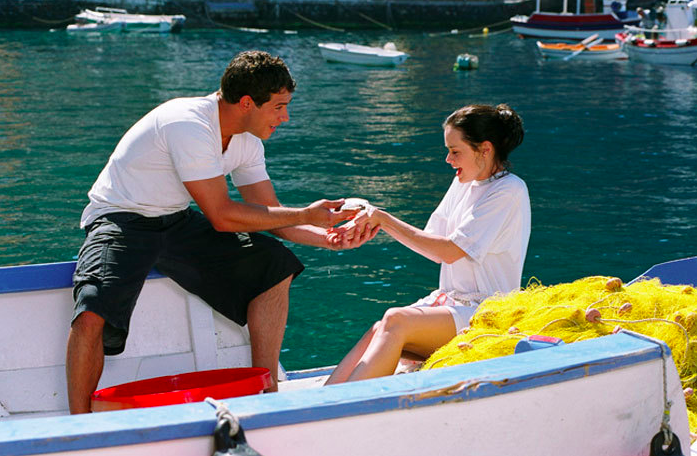 John Tucker Must Die (2006)
The person who you may have initially thought of as a friend, but who as more in common with you than any other person you've ever chased after. It might be fun to try to go after someone you consider "out of your league," but at the end of the day, you want to be with someone who likes you for you, not someone who likes you for a part you're playing.
Save the Last Dance (2001)
The person who comes out of nowhere and ignites a desire within you to expect the best of yourself.
The Sisterhood of the Traveling Pants (2005)
The person who pulls you out of your shell and brings back a much-needed sense of excitement in your life. LEEH-NAH!
Juno (2007)
Awkward, quirky, goofy, and shy might just be your type. And that's perfectly fine. Only the best of the best should get to talk to you on your hamburger phone.
The Lizzie McGuire Movie (2003)
You might initially fall for the cheeseball that tells you "you shine with da light from de sun" but at some point, you'll see that your steady, loyal, caring Gordo is the one that's been there for you all along.
Crossroads (2002)
Somebody who has a good sense of humor and loves doing spontaneous, silly things with you, like watching movies that have Queen Britney in them but aren't exactly critically-acclaimed.
Bring It On (2000)
A laid-back, converse-wearing goofball who teaches you how much fun it can be to laugh at yourself and how to avoid taking anything too seriously.
What a Girl Wants (2003)
A person with an irresistible accent who – although quiet, calm, and low-key – is incredibly sweet, helpful, and supportive of helping you be your most genuine self.
A Cinderella Story (2004)
Someone who seems completely unattainable and more like an idea of perfection than a person… but who ends up surprising you by forming a deep and meaningful connection with you.
Step Up (2006)
A person with an outward nature of being tough and aloof, but whom you find to be totally irresistible. They'll probably come from a totally different background than you, and you'll love how much you'll have to learn about them and how much you'll learn from them.
Mean Girls (2004)
The one who's off-limits, but that you can't resist staying away from… even though it's against, like, the RULES of FEMINISM.
13 Going on 30 (2004)
The shy, loyal one who has always been and always will be by your side.
The Princess Diaries (2001)
The person who makes you feel like you can be yourself, whatever that means to you – whether you're an artist or a business executive or a teacher or the Prin-CESS of Genovia.
Confessions of a Teenage Drama Queen (2004)
Somebody who embraces you for the enthusiastic, fast-moving, exhilarating whirlwind that you are.
She's the Man (2006)
Someone who would be very understanding of any kind of crazy, wild, self-expoloration-themed adventure you might want to go on. You'll go after somebody who will like you for who you are, but who you also feel you can have a healthy dose of competition with.
A Walk To Remember (2002)
The person you initially despised and completely butted heads with will probably become, in the blink of an eye, the person who will do anything to keep you happy.
High School Musical (2006)
The person you'd never put yourself with in a million years, but who ultimately surprises you with their willingness to put you above all else. They'll probably be multi-talented, friendly, and have a weird dad.
The Prince and Me (2004)
Somebody who will initially drive you nuts, either from arrogance or cockiness or privilege, but will manage to change your opinion of them when you get to know them on a deeper, more intimate level.
Or, somebody who is "Danish" but has a British accent.
Freaky Friday (2003)
Ah, those brooding, misunderstood musician types who find themselves inconveniently attracted to your mom.